If you have ever wondered how to rank higher on Google, then you have come to the right place. There are a few important elements that you need to include in your blog posts. 
Post contains affiliate links and we earn commissions if you shop through the links on this page. For more information please read the disclaimer on the About Us page.
My blog may focus on crochet patterns and recipe; however, I have learned so much these past few years. Therefore, I am sharing with you so you can be successful too!
Let's explore how to get your blog post found by those searching for your topic.
Search Engine Optimization for Bloggers
Have you heard about the importance of Search Engine Optimization (SEO)? If not, I am telling you now that if you are a blogger, you need to know about SEO.
When I first started blogging, I did not realize the importance of ranking high on Google when someone searches for terms that relate to your blog post. At first, I thought that just sharing things on Pinterest, Facebook, Instagram, and Twitter would bring all the traffic to the website.
Well, I quickly realized how wrong my thinking was. Now, I do get a large amount of traffic from Pinterest. Not much though, from the other social platforms. 
However, there is a free way to get tons of traffic to your site. It is like free advertising for every blog post you have ever written. 
What is SEO?
SEO is basically a term used to describe the practice of improving your website in various ways to help rank higher on search engines like Google. There are various ways to improve your ranking including:
Using more keywords
Improving your website's code
Optimizing your website's loading speed
Having quality linkbacks from other top ranking sites
Generating activity on social media
Those are to name just several of the ways you can use SEO to your advantage and drive traffic to your website.
How can you get more traffic to your site?
It is called Search Engine Optimization – it really is that simple.
When someone searches for something online, search engines like Google take those keywords and tries to find them the best match for their search terms. Those search terms are called keywords.
Understanding keywords and the specific ones that are relevant to your blog post is critical in getting traffic directly from Google without any promotion or cost. The important thing to note is worth repeating, without any promotion or cost! SEO optimization should be an important aspect of any marketing plan of both bloggers and businesses. What business doesn't want free advertising?
Therefore, it is important to learn how to write a blog post that is both useful to your readers and visitors. If your potential audience never visits your website, they will neve know how useful you could have been. Therefore, along with getting your post found when someone searches for information related to your blog. That means you need to write SEO-friendly content on your blog.
What influences my ranking on Google?
Before we dive into how to optimize your blog posts, you should understand some of the other elements of website ranking. Some elements are easier to influence than others when it comes to optimizing your ranking on Google. There are two main sources of ranking factors. Let's refer to them as primary sources which are on your site and secondary sources that come from elsewhere.
Primary Sources
The primary sources are factors on your site. These are things that are definitely within your control and can be easier to control. These factors include; keywords, page loading speed, and website coding quality. However, today, we are focusing on SEO keywords for attracting an audience.
Secondary Sources
There are also secondary sources that influence your site's ranking. These include; social media traffic, links from other sites to yours, and ads or promotions. The main attraction in this category is the links from other sites to yours, especially if those are high ranking websites. The more high ranking sites that link to yours, and are relevant, the better your ranking in this category can be. It is obvious that these factors are more difficult to influence. The easiest one in this category to shape would be the social media sources. What is the take away? It is so important for bloggers to be highly active on at least one social media platform that links back to your website.
How do you Write a Blog Post That Will Rank High in Search Engines?
First, determine what keywords might be used to find your blog or blog post. You might be asking yourself; how do I figure this out. It does take a bit of time, but you can learn a lot just by doing a little bit of research and digging.
First Step
Think about terms you would use to find the information. Start typing those in the Google search bar and see what suggestions pop up for you to choose. For instance, I typed in "cake". Here are the suggestions: Cake, Cake mix, Cake recipe, Cake pop, Cakes near me, etc. All of those could be potential keywords for SEO ranking. 
Next Step
Now do this same thing for Pinterest. Cake recipes, Cake, Cake pops, Cake designs, Cake decorating, Cake ideas, etc.
Just think, if you were writing a blog post about a cake recipe or decorating a cake. There are words that make sense to include as you talk about the recipe, or show the various elements of the cake, or even how to decorate the cake. 
Your Key Words Need to Be Relevant to the Search Terms
Therefore, when someone searches on Google or another search engine for cake decorating, hopefully, the search engine algorithm would pick up your blog post and show it to the person doing the search.
This is why it is so important to know what your keywords are. Additionally, it is important to make sure that you are not being SPAMMY when using keywords. Make sure that you are providing good solid information that your reader will find useful. Once the reader has found you, it is important to have them come back to your website in the future. 
Along with finding the right keywords, it is important to use long-tail keywords. 
Since I am using the Cake example, thought I would make you hungry too.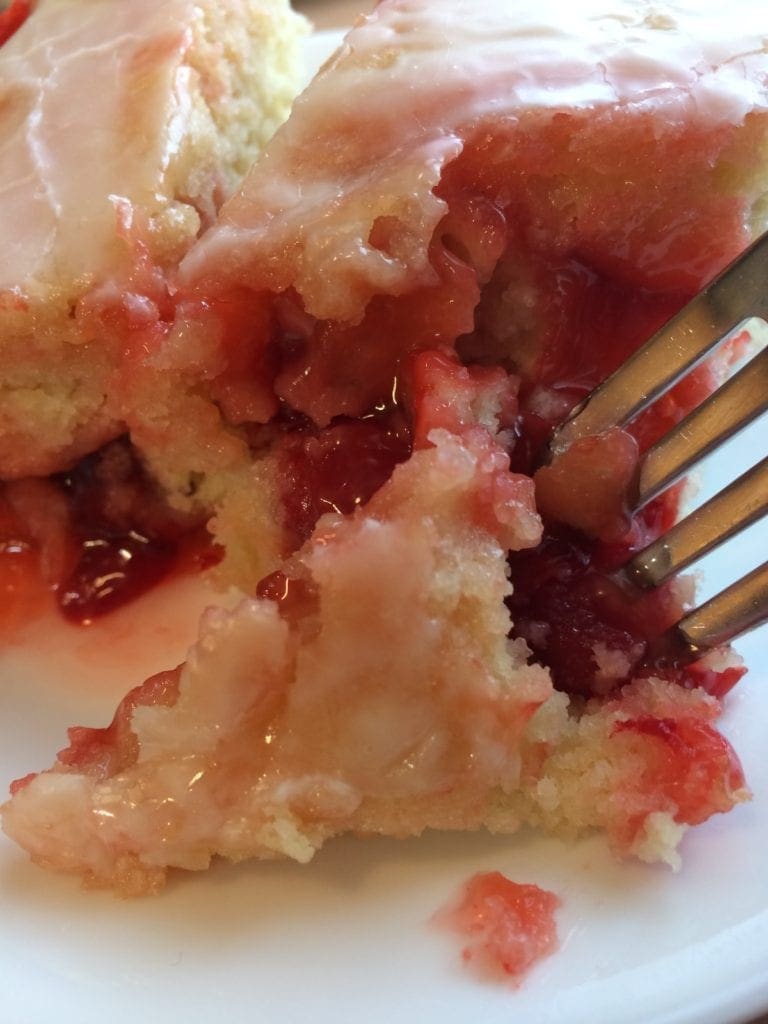 Using Long-Tail Keywords in a Blog Post
Rather than focusing on "cake" as a keyword, try to rank for a longer phrase such as, "cake decorating for beginners".
Does this mean that you should be using keywords throughout your entire blog post? No.
While this is an important element in writing, it is not the end all, be all. Make sure that you are writing for your audience. The information needs to be genuinely useful or your visitors will not return to the blog.
Where Should SEO Keywords be Used in a Blog?
Make sure that the URL has the keywords included. Often, when writing my blog post, my WordPress software does this for me automatically based on the title I have typed in the space. Therefore, the title should contain at least the short keyword.
The headline is a great place to make sure that it is used, and it is the place to use the keyword in a long-tailed method. This can gain the attraction of people browsing the web. It is the first step a potential reader will take prior to clicking on a link leading to your website. Generally, I make sure to use the title of the blog post in the first two or three lines of the blog post. This helps the reader understand more about what they can expect to learn. 
The first two or three lines of the blog post is often referred to as the "meta description". This is what shows up in the search engine results as a brief overview near the clickable link. Keep this part concise; approximately 150-160 words. Help readers want to click on your link by writing something enticing or a call to action. Let's break down an example using the "cake" theme.
One of my recipes is called "Super Moist Cherry Butter Cake." Let's use that one for this example. When I type just "cherry butter cake" into the Google search box, my recipe is the second that appears thanks to my SEO. It appears as follows:
Super Moist Cherry Butter Cake
This Cherry Butter Cake is super easy, tastes great, and is moist. I am a lover of moist cakes – no dry and crumbly for me. Take a few minutes to …"
Let's break this example down.
I have the keywords right in the title of the blog, or recipe in this case. The keyword was cake, but other keywords could be any other combination of search terms a user would type to find a recipe for cake, or even a type of cake. In this instance, another keyword option is "cherry butter cake" and that is also right in the title.
Now, look at the metadata that appears underneath the link. I have repeated my keywords right there! I've also included an enticing description to help readers want to click the link. It also helps them understand what the article will be about.
Further, subtitles and subheadings can impact the blog post SEO. They can move the topic along and show search engines what the main topic is and other supporting topics as the article moves along. 
Free SEO Tools
Use Your Website Builder to Your Advantage
Some website builders provide you the tools at your fingertips to gain a grip on SEO. For example, when you are working on a blog post in a WordPress website, it automatically checks your SEO on the bottom of the blog post. You may have to do some digging to find where it is located on other hosting providers or website builders and platforms, but if the ability is there, it is a really handy tool!
This tool allows you to check how well you are using keywords in your blog article and can help you tailor it as you go. It is not an exact measure of how well your post would perform on a search engine, but the tool gives you an idea of how good your search engine optimization is.
Sign up for Google Search Engine Console
There is so much information available once you link your blog to Google. I use this daily to find out my traffic patterns for the day. It is easy to see where your visitors are coming from, what blog posts are the most popular. You can even see how long visitors stay on the site and how many people are returning visitors. If you are a data person, this is the place to be. However, it does take time to learn and figure out how to improve and use this information to improve.
To Summarize How to Rank Higher on Google
Figure out your Keywords by doing some research
Once you begin to get a handle on that, make sure that the keywords are in a variety of formats in these places:
Headline: the title of your blog content. This is the first thing that search engines will check. Therefore, it is vital to get at least one keyword in. 
Meta Description: Restating the headline and adding long-tailed keywords along with more information about the blog post and a call to action can help your reader continue on your website.
URL: Make sure that the URL is unique and the keyword is in there too. 
Subtitle Headings: Throughout the blog post, make sure to have various heading levels. H1 is for the main topic, H2 is for the next level. Think of writing a term paper. Each subtopic under the main heading gets another heading level lower. Write engaging blog posts
Write longer blog posts
Optimize the blog for fast loading times
Use back links to other well-known sites (if appropriate)
This will all help the search engines quickly search through data to find YOUR article. 
If you loved this post, please share. It helps to show me that these types of posts are helpful – thank you!
I hope that you learned at least one nugget from this article. If you are interested in learning more about blogging, here are a few other reads you might be interested in.