This Caramel Banana Bread is Sinful!
So, the two pieces on the picture that are cut – I ate those. Then a few hours later, I ate another! This is not a good bread to have in the house if you want to be on a diet. However, if you are feeding your family and want to make sure that they rave about the dessert-yes, I said dessert, then make this. It really is so good, it tastes like a dessert.
*Post contains affiliate links*at no additional cost to you for more information please read the disclaimer on the About Us page.
Caramel on Banana Bread?
You bet!
The caramel is so good, that you will not want to waste a drop. Tastes great with the banana bread. I normally put a dusting of sugar on top of my banana bread, or a crumb topping, this time, I thought I would try a caramel sauce topping. So glad that I tried this one. This certainly puts this banana bread in a category that is worthy of gifting to someone.
Be Frugal and eat good food. Caramel Banana Bread is a penny pinching quick bread.
Freezing Bananas
My husband does not eat bananas. When I purchase bananas, very often, I can't eat the bananas before they start to get brown spots. When I have bananas that are on the verge, I peel them and put them in a ZipLoc Bag and pop them in the freezer. I can't stand to throw away food. When I make banana bread, it is always when I have 2-3 bananas in the freezer waiting to be used. By the way, my husband normally does not eat the banana bread – I asked him if he wanted some of this bread-he said yes. I couldn't believe it. He is my worst critic sometimes! He liked it!
How to Use Frozen Bananas in Cooking
The pictures below show the bananas frozen. In the picture on the left, you can see the one on the right is starting to turn a light brown from the freezer. These have been frozen from 3 months ago to a few weeks ago. I should probably date the bags for food safety. But, I rarely let them in the freezer longer than 3 months. In the middle picture, I have the bananas out of the bag and in a microwave-safe bowl. I microwave them for about 3 minutes on power level 30. Once thawed, I used the hand mixer to mash the bananas.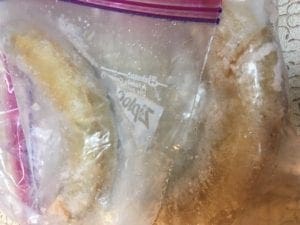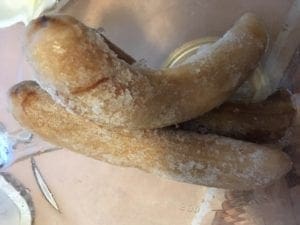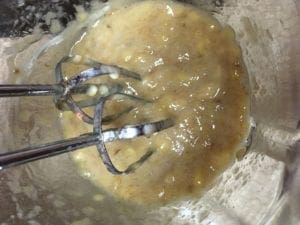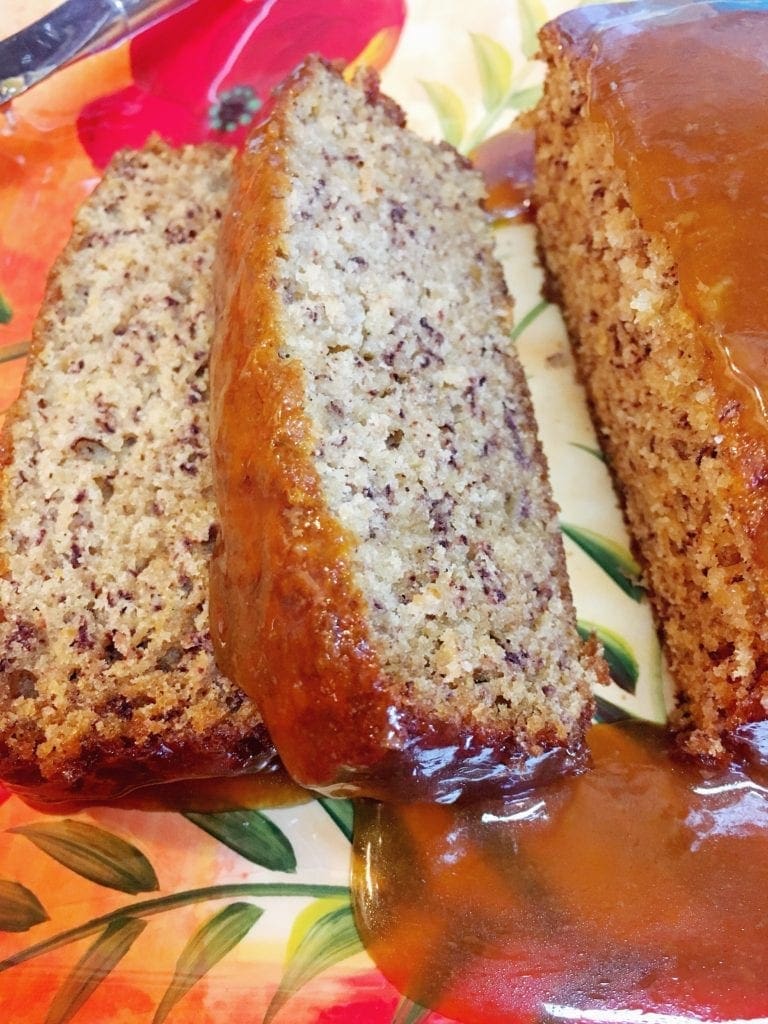 | | |
| --- | --- |
| | |
Preheat oven to 325 degrees F. Grease two 7X3 inch loaf pans.

In a large bowl, cream butter, sugar, and eggs.

Add mashed bananas, sour cream, vanilla, and cinnamon

Mix flour and baking soda-then add to the banana mixture.

Divide into prepared pans.

Bake 1 hour and 10 minutes on 325 degrees F.
Add butter, brown sugar, and milk in sauce pan. Continuously stirring, heat over medium-high heat until rolling boil. A rolling boil is when the boiling action continues even when you are stirring.

To help you visualize what a rolling boil is...This picture is of the caramel mixture just starting to boil.

This picture is of the caramel mixture at a rolling boil. When the mixture gets to this point, boil for 2 minutes. After 2 minutes, take off heat and let caramel cool for 30 minutes to 1 hour.
Once both the banana bread and caramel mixture are cool. Divide the caramel mixture between the two loaves of bread and spoon the caramel over the top of the loaves. enjoy!