This chili recipe is satisfying, filling, easy to make, and feeds the whole family.
Chili Recipe Season
It is fall is Wisconsin and that is chili season. This chili recipe has been made by me so many times, it is one of those that I know by heart. This was not always the case. For years, I worked at tweaking a chili recipe until I got the right amount of tomato chunks, pasta, hamburger, tomato taste, and seasoning. I also wanted something that was extremely easy to make. Often, I need to pull a great meal together for my family un 30-60 minutes. This is one of those recipes that everyone looks forward to and it feeds a crowd.
 *Post contains affiliate links*at no additional cost to you for more information please read the disclaimer on the About Us page.

Crowd Pleasing Chili Recipe
While some people like their chili hotter and some may like more pasta, there are others that like cheese and raw onions on top of theirs. So, I made the chili recipe the way that I personally like it…I don't need to add a thing when done except a side of saltine crackers or corn chips. However, I have no problem enjoying the chili with nothing else. I find that a crowd can be kept happy if you let them dress up the chili to their specific taste with toppings.
Get 50% off Family Meals from Sun Basket! Fresh organic and sustainable ingredients and kid-friendly recipes delivered!
Topping Ideas
As I mentioned, the chili is amazing on its own; however, I do provide diced onions, shredded cheese, sour cream, and hot sauce for people to top their chili with. My family also has different likes for what to have with their chili. Some like oyster crackers, saltines, Ritz crackers, or corn chips.
Join the Sun Basket Affiliate Program!
No matter which way you have your chili, you should give this recipe a try and see if you like it.
Foodie Cook Books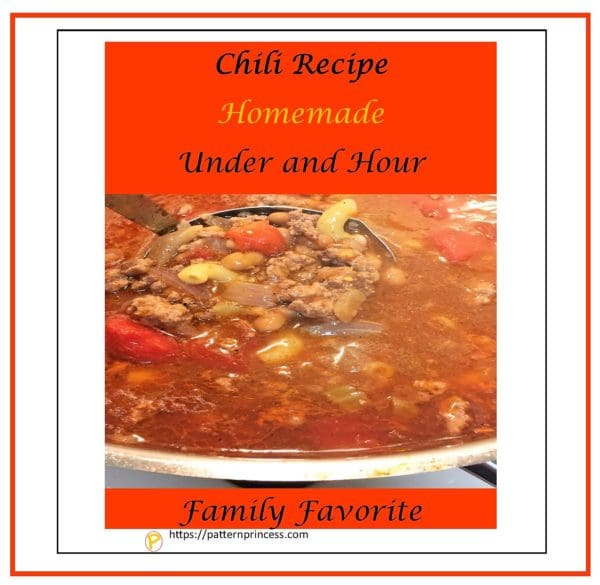 | | |
| --- | --- |
| | |
Using a 5 Qt kettle, brown the hamburger and break apart. When about half way cooked, add the onion, celery, salt, and pepper.

Once the hamburger is cooked through, add the tomato soup, diced tomatoes, baked beans, and chili seasoning.

Rinse the cans and pour the water in the kettle filling it to about 1/2 inch from the top with water

Add the elbow macaroni. Bring to a boil and turn down temperature to low. Put cover on kettle and simmer about 10 minutes or until the pasta is just cooked. Turn off heat and let sit covered another 10 minutes. If you want to provide toppings as I mentioned above, now is the time to be preparing these items. Enjoy.
Here are some other recipes you might enjoy.