This crab salad is a quick and easy recipe that can be used in a variety of ways. Have it plain, as a dip, in a macaroni salad, or even on bagels. Whichever way you decide is your favorite, this is a recipe that you will want to save so you can make it often.
There are affiliate & ad links throughout this website. I will receive a commission. More information in the about us section.
While you can dress this crab salad up to be fancy, I prefer to keep the ingredients super simple.
Plain
This crab salad tastes wonderful all on its own. If you decide to have this dish as-is, you could serve it on a lettuce leaf to be a bit fancy, or in a pretty bowl.
Macaroni with the Crab Salad
If you like to make and eat tuna macaroni salad, you will probably like this crab salad with macaroni. Add two cups of cooked and drained pasta to the crab salad for another culinary delight. Serve this as a side dish. Again, great for a dish-to-pass, or other gathering.
Crab Salad Dip
If you are throwing a dinner party, going to a pot luck, or having family over for the holidays, you can't go wrong with serving this crab salad as a dip. I would just make sure to chop the ingredients a bit smaller when making the recipe. It will be easier to serve on a cracker.
Crab Salad Sandwich
In the photo the crab salad is piled on top of bagels for a delicious duo. However, if you wanted to have this in more of a sandwich form, you could make mini sandwiches out of Kings Hawaiian Dinner Rolls filled with this crab salad. Yum! In the last few years, we have had these dinner rolls at every holiday meal.
Delicious Salad
Hope this photo entices you to grab a spoon and dig in. Just like you would at home 🙂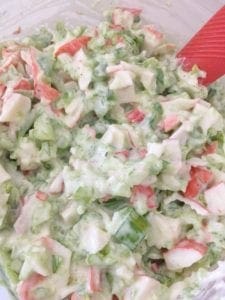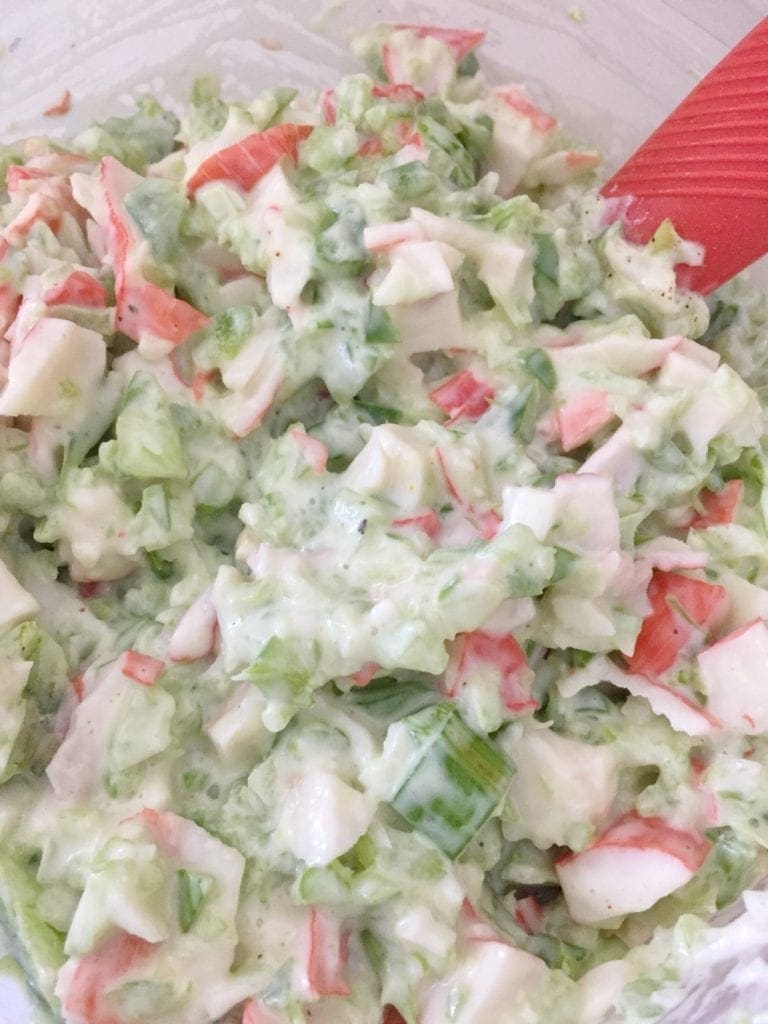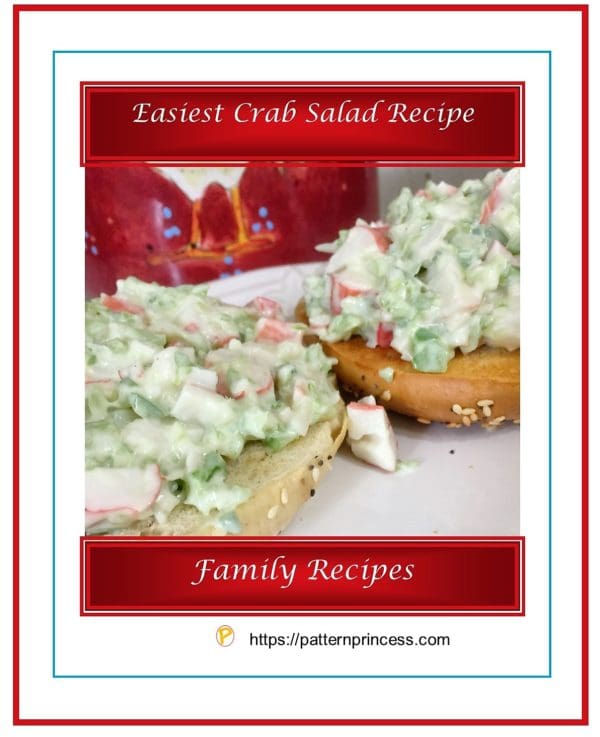 | | |
| --- | --- |
| | |
Break imitation crab meat into small pieces or coarsely chop. Place in a medium-sized bowl. Toss with the chopped green pepper, onion, and celery. Add the Miracle Whip, salt, pepper, and sugar and mix until combined.

Serve plain or on top of lettuce. Can serve on bagels, or in rolls. Serve as a dip (chop the ingredients smaller so it is easier to spread on crackers or dip into).
If you loved this post, please share on your fave social media links at the bottom. It helps to show me that these types of posts are helpful – thank you!
[DISPLAY_ULTIMATE_PLUS]
Here are a few other easy recipes with great taste you might enjoy adding to your weekly meal planning.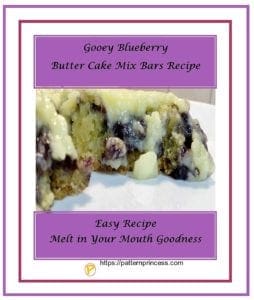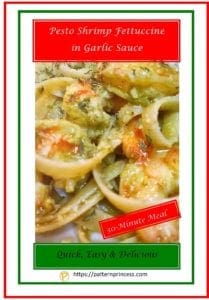 The recipe list continues to grow.