What a treat to have fresh garden tomatoes!
Here is a recipe for my favorite tomato sandwich. It is simple, with a few ingredients, but the flavor and fresh taste are out of this world to me. I hope you try this for yourself and it will become a treat when you have Garden Fresh Tomatoes available to you.
*Post contains affiliate links*at no additional cost to you for more information please read the disclaimer on the About Us page.
Just a Few Times a Year
In Wisconsin, we do not get garden fresh tomato sandwiches year round. Therefore, when the first tomatoes are ripe in the garden, it is such a treat to have our favorite Tomato Sandwich. The tomatoes are so big, hearty, and flavorful.
Just look at the size of these tomatoes!
Thinly sliced tomatoes ready for my sandwich…okay…two sandwiches. I just can't help it. It has been a year since I have had this last.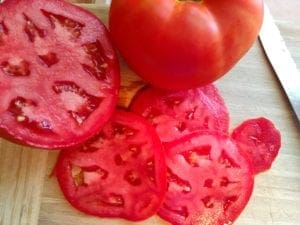 I wish I could take credit for these big and beautiful tomatoes, but I can't. A family friend is an amazing gardener and he brings me tomatoes, onions, and cucumbers. We are so blessed to have such wonderful friends.
I hope you don't mind, but I have provided some great information for you if you are a fellow blogger. They have been amazing partners for me. If you are not interested, by all means, scroll down to my Absolutely Favorite Garden Fresh Tomato Sandwich. Enjoy!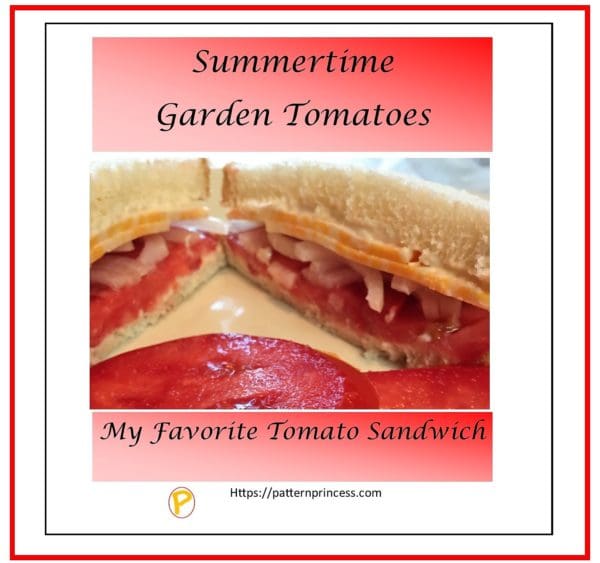 | | |
| --- | --- |
| | |
Spread miracle whip salad dressing on the bread.

Slice the beef steak tomato approximately 1/4 inch thick. I like to use a serrated knife to slice the tomatoes. I find I can get very thin and evenly sliced tomatoes with little effort. Nothing is worse than trying to cut a tomato with a dull knife.

I used two pre-sliced pieces of colby/jack cheese. I also will use colby cheese on this sandwich.

I slice a medium sized yellow onion thin and put 2-3 slices on a sandwich. However, you should alter this to your taste.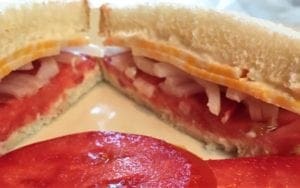 If you loved this post, please share on your fave social media links at the bottom. It helps to show me that these types of posts are helpful – thank you!
[DISPLAY_ULTIMATE_PLUS]
Here are a few more recipes you may enjoy making.