This recipe for french bread bake for two might be really for three or four if you can all just have one piece. My husband and I often have it one day and save two portions for the next day. It is very budget friendly.
 *Post contains affiliate links*at no additional cost to you for more information please read the disclaimer on the About Us page.
Easy Recipe
This meal is very easy to prepare and can be made ahead of time and reheated. Enjoy a cup of coffee while you cook. Mix the ingredients and get it in the oven, it is as simple as that. If you are entertaining, this recipe allows you to spend time with your guests.
My husband normally puts maple syrup over his pan cakes and french toast. With this recipe, he doesn't need to. He said it is more like a dessert or like bread pudding than anything. He has this on his "ask" list for breakfast food.
Cook for a Crowd
This would also be great as a doubled recipe and made in a 9×13 cake pan or even the crock pot.  There are so many things that we make in an oven that can really be made in a crock pot.
Use that Stale Bread
If you are a saver like me, you will soon realize that this is a recipe that is perfect for using up that stale bread. Personalize this recipe with your tastes. You can certainly use a wide variety of bread. Use what you like to eat.
Breakfast in Bed Day Recipe
Whether it is for Mother's Day, Father's Day, or some other special occasion to serve breakfast in bed for someone. This is so easy and would mean so much to the lucky recipient that gets to enjoy this French Bread Bake.
No matter which way you try, I hope that this will become one of your go-to recipes for french toast bake.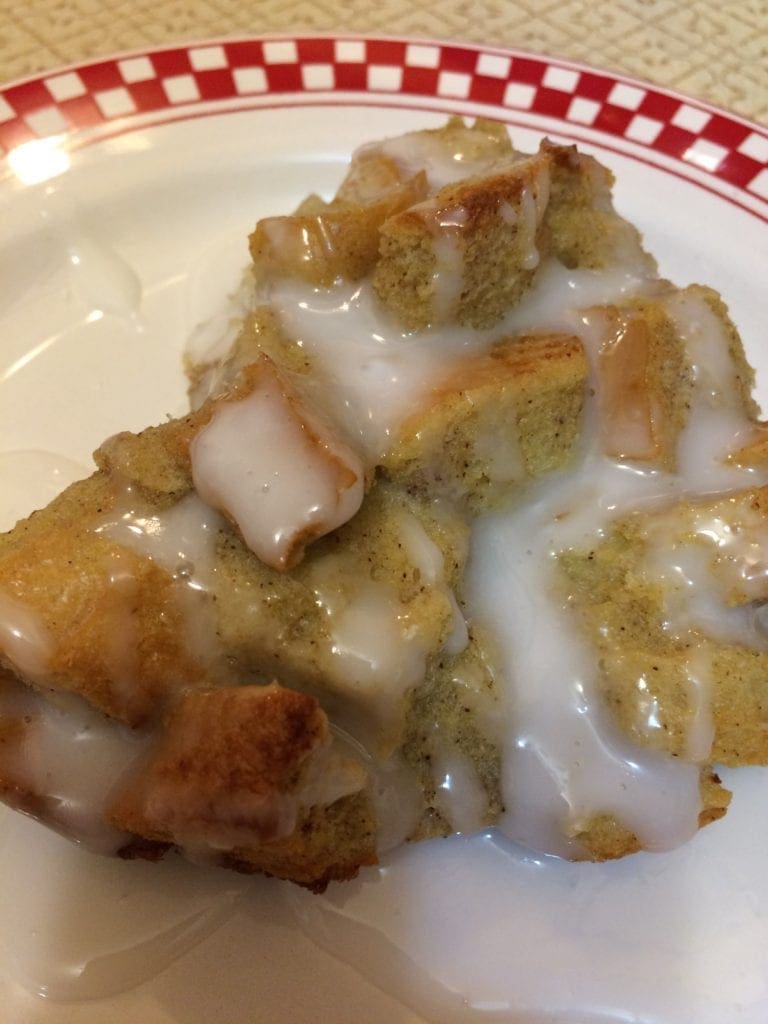 Print Recipe
French Bread Bake for Two
Yum
French toast prepared ahead of time with a few ingredients. Baked in the oven.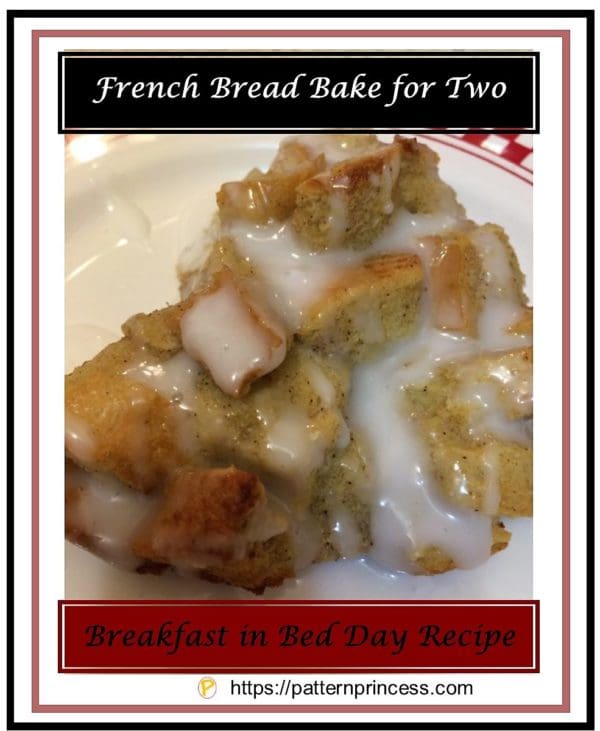 | | |
| --- | --- |
| | |
Prehead oven to 350 degrees F.

Melt butter in cast iron skillet or (melt butter and pour in 8x8 cake pan)

Put the eggs, milk, sugar, vanilla, and cinnamon in a large bowl. Use whisk to mix all the ingredients. note: when I add farm fresh eggs. I break them in a bowl first to make sure that they are okay. I break one open in the bowl, add it to the large bowl, and so on. I have another bowl handy for the egg shells.

Cube 12 slices of french bread and add to the bowl of wet ingredients.

Mix until all the bread is coated with the mixture.

Pour the batter/bread into the pan with the butter on the bottom.

Bake at 350 degrees F for 45 minutes. Longer if you desire your french bread drier and crispier on top.

Once done, remove to cool slightly
Mix the powdered sugar and water together in a bowl.

Serve individual servings on a plate. Using a spoon, drizzle some of the glaze on top of the french bread bake.
You can make this with our without cinnamon. I like mine with cinnamon. You can also add things like nuts or raisins. If I did this, it would probably be 1/2 cup. Or you could even sprinkle with brown sugar on top.
If you take a look at the final product in the skillet, you will see it rises slightly.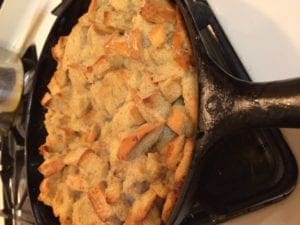 I recommend cutting out a piece and putting it on a pretty place and drizzling on the glaze. It gives it such a great look for serving.
If you loved this post, please share on your fave social media links at the bottom. It helps to show me that these types of posts are helpful – thank you!
[DISPLAY_ULTIMATE_PLUS]
Here are some other posts you might be interested in.