This fresh strawberry pie is quick and easy to make. The freshness of the strawberries are the center of attention in this recipe. Add a dab of homemade Whipping Cream and you have a perfect pairing.
*Post contains affiliate links* for more information please read the disclaimer on the About Us page.
No Soggy Crust
I have had strawberry pies like this where a gelatin was used and it makes a watery and soggy crust. That is because the gelatin is not firm and it soaks into the crust. This recipe firms up like jello once it is set up, which does not take long at all. This keeps the crust from turning soggy. I have purposely had a pie in the refrigerator for two days just to see what would happen with the crust. My crust was still great after two days. To me, this helps this easy recipe be a go-to recipe.
Whole Versus Sliced Strawberries
Here is just my opinion on this. While I think that whole strawberries look beautiful in a fresh strawberry pie, it is harder to eat without having to put the whole strawberry in your mouth. This makes it a bit hard to eat. My family has also given me their opinion on this. As you can see, I cut up my strawberries for easier eating. My family appreciates that. They actually mention it when they are enjoying the pie.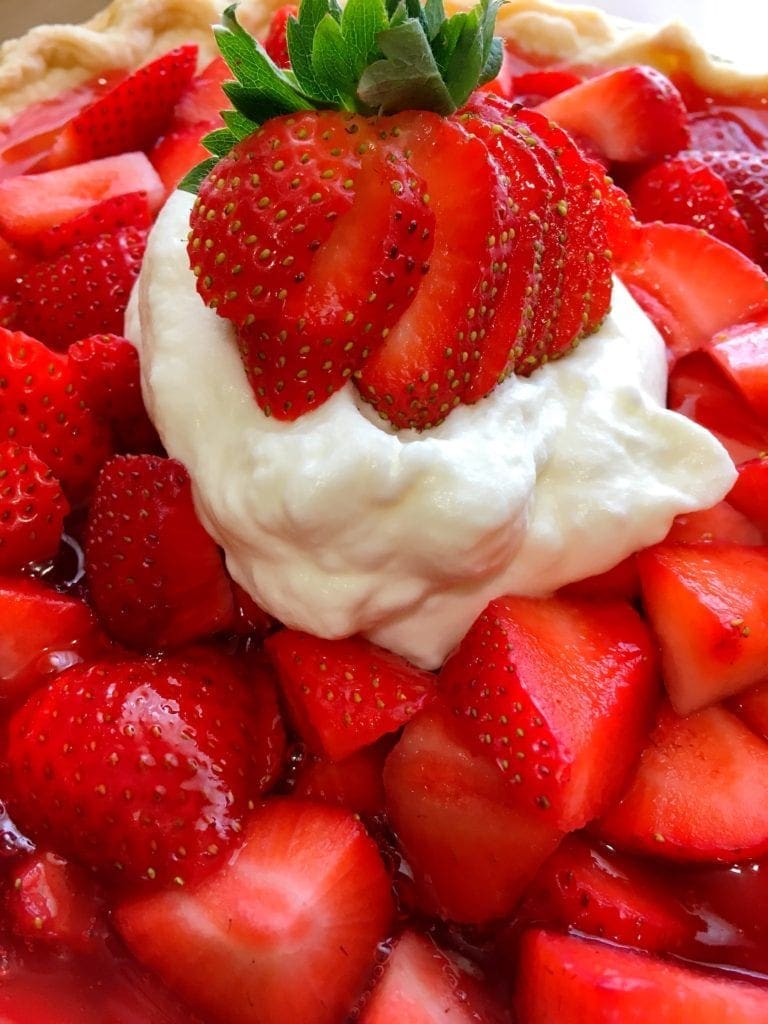 Sweet Stabilized Whipped Cream
As you can see in the picture above, the pie is topped with real whipped cream. I love the taste of real whipped cream with this fresh strawberry pie. However, sometimes, the real whipped cream does not hold its shape-it can get runny within hours. Here is a recipe for the sweet stabilized whipped cream. It will stay set up for a few days. The picture above was on a day with temps into the 80s. Still looked and tasted great. Once it was sliced, nothing was left.
Homemade Pie Shell
You can certainly use a store bought pie shell for this recipe. However, if you are inclined to make your own, here is a recipe for a delicious pie crust that I have used for years.
Pie Plate
While my pies are in pie tins in this picture as they were sold at a pie sale. This would make a great display for the fresh strawberry pie.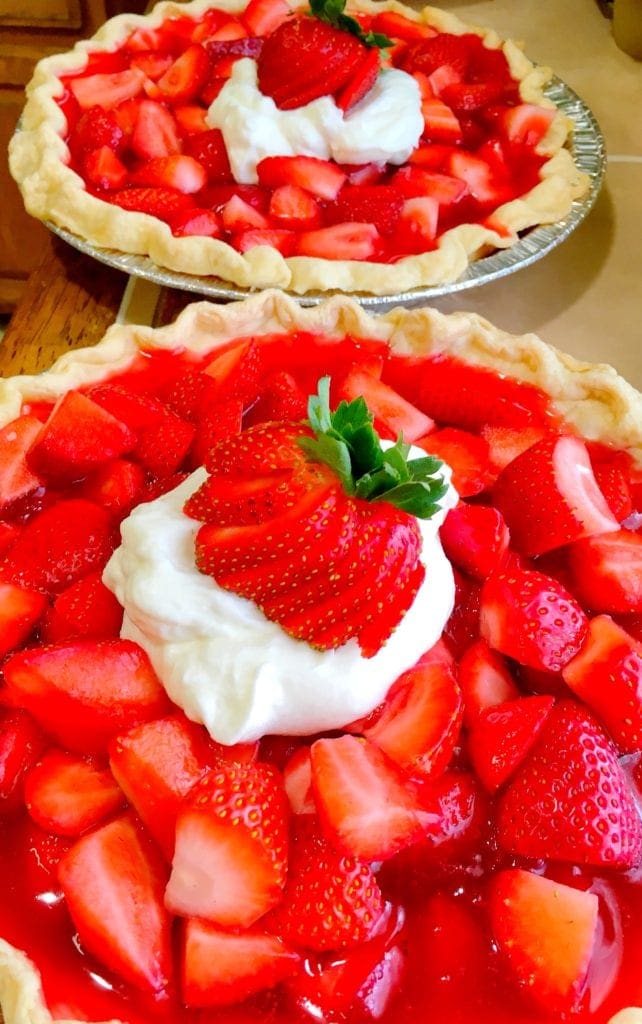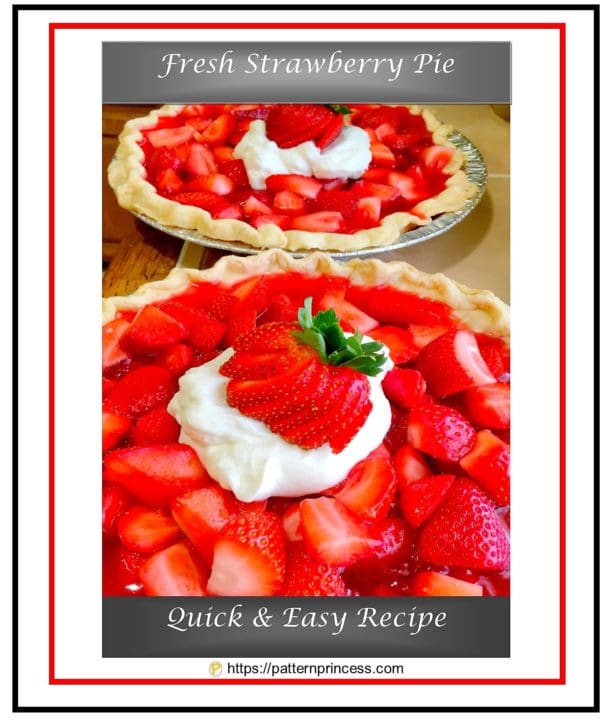 | | |
| --- | --- |
| | |
Place the uncooked pie shell in a pie tin. Prick with a fork on the bottom and sides about every inch. This is called docking. This will help the pie shell not bubble up when baking. Bake at 350 degrees for 5-10 minutes or until the crust is golden brown. Once baked, set aside to cool.

In a small saucepan, combine the sugar, cornstarch and water stir until smooth. Heat to boiling and cook for approximately 2 minutes or until thickened. (stir the entire time boiling). Remove from the heat; stir in gelatin until dissolved. Let sit until room temperature - approximately 20 minutes.

Wash, dry, and cut strawberries. Arrange on pie crust. (You certainly can arrange the strawberries whole with the pointed side up for a beautiful display)

Once the gelatin is cool, pour over the strawberries. Cover and refrigerate until the gelatin is set.