Healthy Garden Salad
This salad is a great way to use things from your garden. The simple dressing gives just enough flavor to not overpower the vegetables. If you are like me and trying to lose weight, this salad is a good meal to have at lunch time.
Farmers Market Friendly Recipe
If you frequent that farmers market and are able to find those great tasting veggies, this light dressing is a great accompaniment because it lets them shine. I actually add whatever vegetables are either on sale in the grocery store, or available seasonally. when I think farmers market, I think healthy garden salad.
Garden Flavors
Years ago, I used to have time to plant a garden. However, when you work many hours per week, time for things like a garden goes by the wayside. I do have some friends that supply me with zucchini, cucumbers, and the best tasting tomatoes. Tomatoes always seem to have more flavor when locally grown and eaten when they are just ripe.  The best kind of friends to have. Yum.
Tips and Notes
Rice vinegar is what I prefer over an apple cider vinegar. You might want to have a tasting to see which one you prefer. I think that the rice vinegar has a milder flavor and to me that lets the vegetables take center stage.
I like to use olive oil whenever I can in cooking. So, while I specify olive oil, you might really like some other oil, by all means, use the oil that you prefer.
Don't be afraid to experiment with different flavors and additions to this recipe. Make it your own and something that you like to eat.
Print Recipe
Healthy Garden Salad
Yum
Healthy garden salad for one person.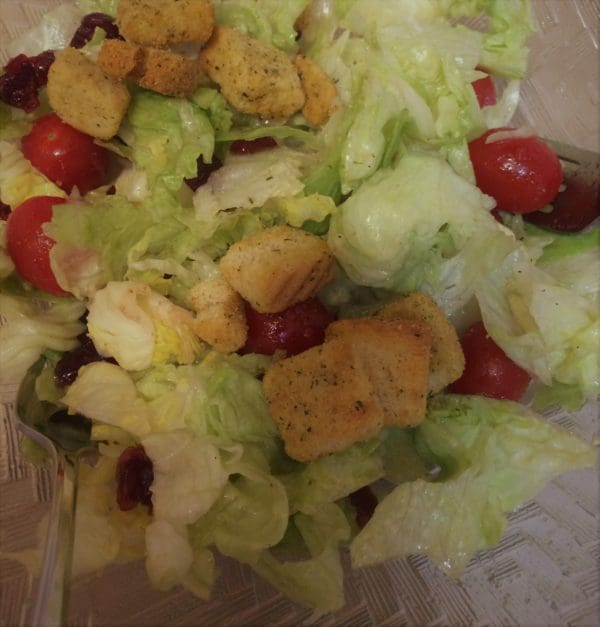 | | |
| --- | --- |
| | |
I like to put everything into a larger bowl so it is easier to mix and incorporate all the dressing. Cut up the lettuce to the desired size.

Add the other ingredients and mix.

Spoon into serving bowl and enjoy.
Variations:
I add whatever I have on hand at the time; such as green pepper, onion, asiago cheese, or spinach. The possibilities are really endless.
If you loved this post, share on your fave social media links at the bottom. It helps to show me that these types of posts are helpful – thank you!
 *Post contains affiliate links* for more information please read the disclaimer on the About Us page.