Noodle Salad for a Potluck
This noodle salad recipe is great for bringing to any occasion when you need to bring a dish to pass. I rarely take any home and always have people asking for the leftovers. Any recipe that is used often is a keeper and this is in the pack. The hardest part is cooking the noodles. Dicing the veggies and other ingredients can be done while the pasta is cooking.
Creamy Salad Dressing
If you are looking for a salad dressing that is a versatile salad dressing that has many great uses, this one is for you. Here is the recipe for that Ultimate Creamy Salad Dressing. The dressing can be used for this noodle salad and coleslaw.
Bonus Recipe
I used to work in a restaurant and the coleslaw was a staple recipe that was used everyday. (shredded cabbage, salt, pepper, and the ultimate creamy salad dressing). 
Variations
It is a very versatile recipe. You could add ham and diced cheese with the onion and celery for another unique taste. This is the way that my husband likes it.
There are also a number of ways to make the ultimate salad dressing. My grandmother did not use sugar, instead, she used the juice of mandarin oranges. I have also tried pineapple juice. Here are those great recipes too.
Light and Refreshing Pineapple Creamy Dressing
Mandarin Orange Creamy Dressing
Ultimate Creamy Salad Dressing
Here is another recipe that you might be interested in trying if you like the flavor of this noodle salad.
Creamy Cucumbers with Miracle Whip
All the recipes that are shown here are quick and simple and very budget friendly. Be that frugal cook  that gets compliments on your cooking too.  No one will ever know that you are a frugal cook, they might think you just know how to make good food.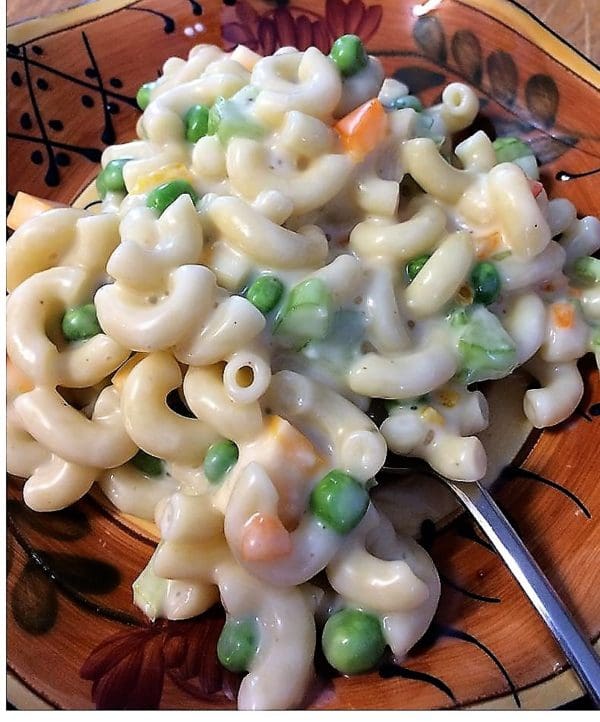 Ultimate Creamy Salad Dressing
| | |
| --- | --- |
| Ultimate Creamy Salad Dressing | |
Cook the macaroni according to package directions; drain and rinse and set aside. This is the only cook time needed in this recipe.

In a bowl add the celery, onion, sweet peppers, sweet peas, and cheese. Add the macaroni to the bowl.

Pour the sauce on top and mix.

You can eat right away, but it gets even better after a few hours as the flavors will be enhanced. Enjoy!
Variations:
I have also added diced, cooked ham or sausage to this.
You can change the type of cheese
You can add a variety of vegetables
Note: if you add a lot of extra ingredients to this salad, I would increase the amount of sauce as it will become dry if you don't.
If you loved this post, share on your fave social media links at the bottom. It helps to show me that these types of posts are helpful – thank you!
*Post contains affiliate links* for more information please read the disclaimer on the About Us page.