This savory crockpot mushrooms recipe has just three ingredients create an indulgent tasting mushroom side dish. Here is a recipe for two distinct flavors of mushrooms. No matter which way you decide is your favorite, they are both easy to make and will have the crowd coming back for a few more.
*Post contains affiliate links* for more information please read the disclaimer on the About Us page.
Make this recipe with Ranch or Italian Seasoning
My neice had posted a recipe on Face Book and my daughter wanted to make the mushroom recipe. I looked at the recipe and told her, that's not the recipe for the crockpot mushrooms. I had been making savory crockpot mushrooms for well over 20 years and I quickly rattled off the recipe that I made. Well, she tried the recipe from Face Book and it was not very good. WAY too much butter and seasoning for the amount of mushrooms.
We had a mushroom cook-off
My daughter wasn't giving up. She still wanted to try making the recipe. I told her my recipe and she used a packet of ranch dressing mix powder instead of the italian dressing seasoning I use. Here are some photos of the results.
Ranch Mushrooms
This batch tasted wonderful. If you like ranch flavoring, this recipe would tickle your taste buds.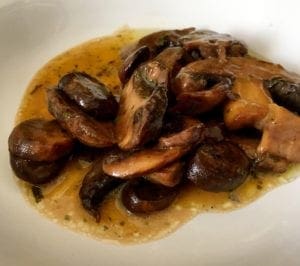 Doesn't this just look like you could pick up the fork and eat?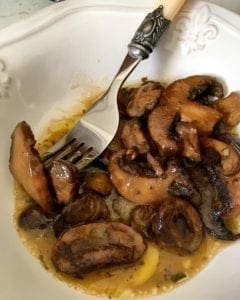 Italian Mushrooms
Here is my recipe that I have been making for years. Savory Crockpot Mushrooms. Yum.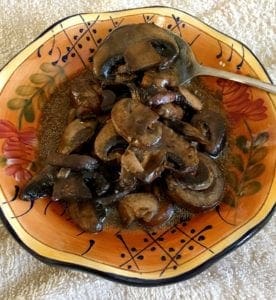 Serving Suggestions
Serving a large crowd? Leave the mushrooms right in the crockpot to stay warm. Let the guests serve themselves as an appetizer or side dish.
Serve the buttery and savory sauce with the mushrooms over a steak or chicken. What a great sauce to compliment the meat.
I have also used the savory mushrooms added to pasta with cut up chicken, pork, or steak cut up. Very taste all by itself.
Links for the seasoning packets
Some people may not be familiar with the Italian or ranch seasoning packets. Here is a link to each so you know what I am talking about. You can certainly find them in your local grocery store.
Types of Mushrooms for this Recipe
Today, the photos show that we used Portobello Mushrooms.
Quite often, we use the White Button Mushrooms that are commonly found in the local grocery store or even the Cremini Mushroom with is a baby Portobello Mushroom
Mushrooms are high in fiber and vitamins. They are low in fat and cholesterol-free too. With the versatility of this little gem, they are popular throughout the world. There are so many great varieties available, I hope that you take the time to explore them all. .
Turn the crockpot on low. Add the butter and either the italian or ranch seasoning packet. Add the mushrooms - they can be sliced or kept whole. Cook for 3-4 hours on low. Serve and enjoy. Note: the mushrooms will shrink and be about 1/3 of their original size when they are cooked. So if you want a lot, use a very large crockpot and double or triple the recipe.