This key lime pie recipe is a classic. Four ingredients for the filling and three ingredients for the crust. Get rave reviews about your pie that was easy to make.
There are affiliate & ad links throughout this website. I will receive a commission. More information in the about us section.
Yes, it is possible to make a key lime pie with four ingredients and ordinary limes. This recipe comes out perfect every time.
Traditional Flour Pie Crust Versus Graham Cracker Pie Crust
While I show this pie with a graham cracker crust, you could certainly make this with a traditional pie crust too. Here is my traditional pie crust recipe. You can certainly use a traditional pie crust; however, our family prefers the buttery flavor of the graham cracker crust with this key lime pie. To us, it just tastes great together.
Lime Juice
While it is nice to be able to use key limes for this pie, if you are not able to find them, by all means, you can use bottled key lime juice to make this recipe. You would not have the lime to zest of course; however, you will still have a very tasty and successful pie that is a crowd pleaser.
Doesn't this Key Lime Pie look yummy?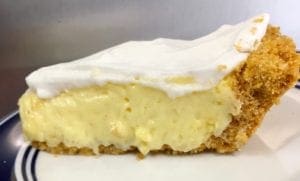 In a medium sized bowl, combine the graham cracker crumbs and the sugar, mixing to incorporate the sugar throughout the graham crackers.

Melt butter and add to the graham cracker and sugar mixture. Stir to combine.

Transfer to a 9 inch pie plate.

Press crumbs firmly into the bottom and sides of the pie plate. As I noted, it is easier to use the bottom of a measuring cup.

Bake it at 350 degrees F. for 15 minutes. Let cool and add your ingredients.
While the graham cracker crust is resting and cooling, in a medium-size mixing bowl, whip the egg yolks until they are a light lighter in color and slightly frothy.

Add the lime zest and the sweetened condensed milk, continue to mix until thick. Approximately 3 minutes.

Add the lime juice a little at a time and continue mixing at a lower speed until incorporated.

Pour mixture into the pie crust and bake for 15 minutes. Remove from the oven and let cool.

Once the pie has been cooling approximately 20 minutes, it should be cool enough to add the whip cream topping.
In a medium-sized mixing bowl, add the whip cream and mix until the cream is holding its shape. Add the confectioners' sugar and vanilla extract. Continue to mix until stiff peaks form.

You can serve on the side, add a dallop on top when serving, use a pastry bag to pipe a fancy design on the pie, or spread it over the top of the pie. No matter which way you decide, it is just one more element that makes this pie taste wonderful.

Serve chilled or at room temperature.
If you loved this post, please share on your fave social media links at the bottom. It helps to show me that these types of posts are helpful – thank you!
[DISPLAY_ULTIMATE_PLUS]