This dressing recipe is a recipe that I have been making for over 30 years. This recipe is wonderful for Thanksgiving, Christmas, and wedding dinners. Anytime that you want a wonderful side dish to go with your chicken or turkey, this dressing would be a perfect fit.
*Post contains affiliate links* for more information please read the disclaimer on the About Us page.
Bread Cubes
While I normally use stale bread for the unseasoned bread cubes, you can certainly not feel bad about purchasing a bag of bread cubes. As far as the seasoned bread cubes, I actually prefer to get the pre-seasoned bag of bread cubes. Saves me one more stop of adding seasonings. I also prefer the texture of the dressing when the bagged bread cubes are used too. However, I often have stale bread ready to be used in a recipe and therefore; turn to that.
Chicken Broth
You can certainly use homemade chicken broth for this recipe, it adds so much rich flavor. I make my chicken broth throughout the year when I bake chicken. There seems to always be extra drippings in the pan. I pour that into approximately 1 cup containers and freeze. That way, they are ready when I need them for recipes like this. However, lets just say that I don't have any in my freezer. If I had a can of chicken broth, I would use that. I have used chicken broth from a box and if I don't use it all over the holiday baking, I will take what is left and freeze for later.
Optional Additions to the Dressing Recipe
I have provided the basic dressing recipe and ideas for additional ingredients. People have all types of preferences and when we have our holiday meal, we have three kinds of dressing! I know right? My sister-in-law likes the Stovetop dressing. My husband and daughter like the dressing with raisins added. Everyone else likes the basic dressing recipe. Me? I like all three.
I hope that your family will add this dressing recipe to your Holiday meal and please all the taste buds of your family members too. 
This photo shows the dressing recipe with raisins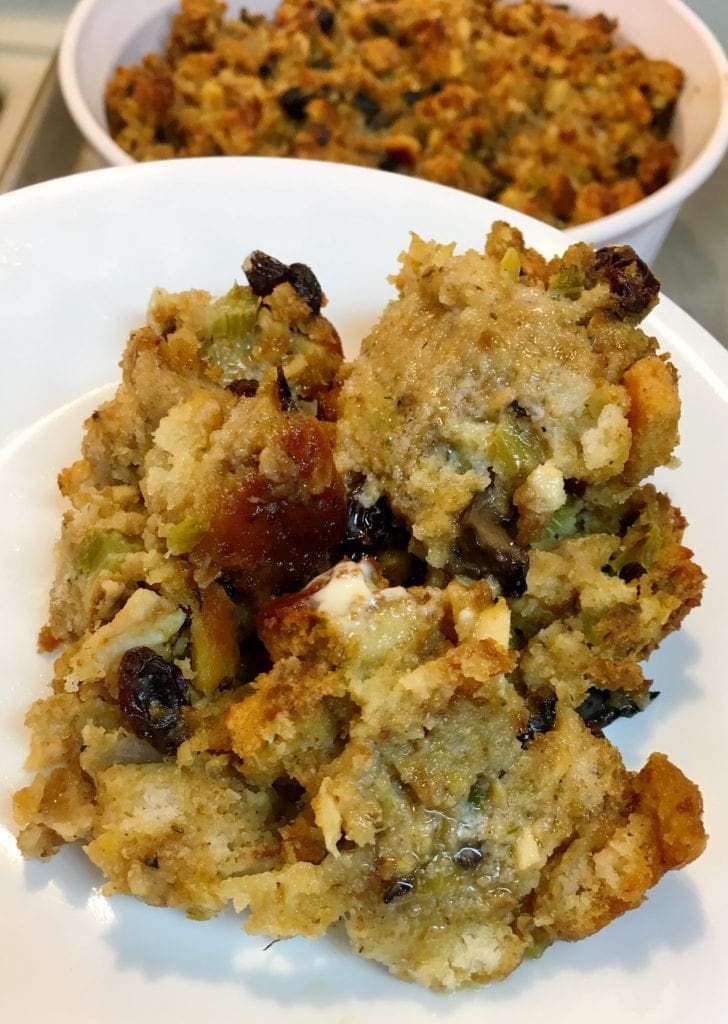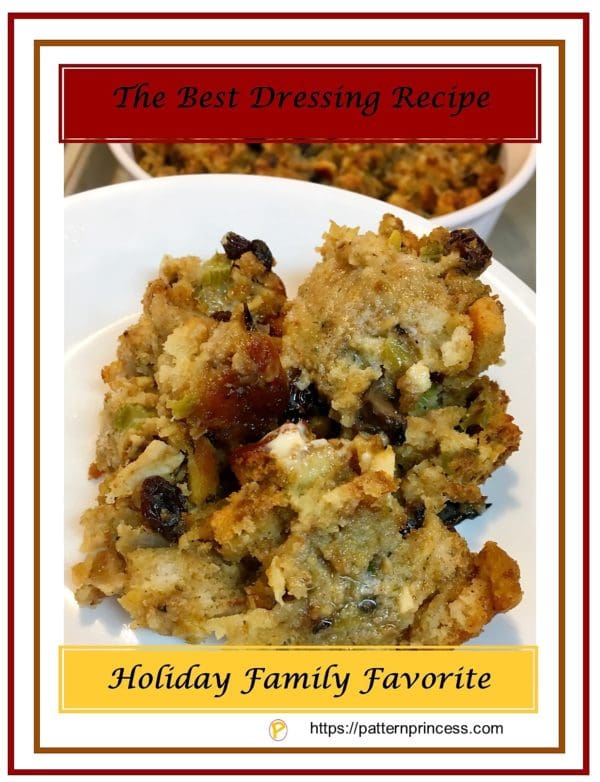 | | |
| --- | --- |
| | |
Preheat oven to 350 degrees F. Dice the celery and onions. In a saucepan, add the diced celery and onions. Saute until soft. Set aside to cool

Dice and cook the giblets or chicken or ground pork. Set aside to cool

In a large bowl, add the seasoned and unseasoned bread cubes, the eggs. (note, I always crack the eggs in a separate bowl and add them one at a time - just in case there is a shell or something else). Continue adding the chicken broth, sugar, salt, pepper, the celery and onions, and the meat. (Hint: if you warm up the chicken broth slightly, mixing the ingredients is easier).

spray a baking dish with oil or butter it if you wish. If you are going to put this all in one container I would use a 9 X 13 baking pan. At our house, I make variations of the recipe using the optional ingredients for different family members. In this photo, you can see that I need to split mine into 3 containers. Using your hands, mix all the ingredients until fully incorporated. (I use one hand and keep one clean to get things.)

Either put the dressing all in one container, or put part of the recipe in a container. In my case, I need to split the remaining into two more containers. One gets a cup of raisins (for my husband and daughter). Split your dressing as you need to and put it in the baking dishes.

Slice the stick of butter thinly. (this works best with chilled butter). Divide the better between your dressing containers, pushing it in the dressing.

Bake uncovered at 350 Degrees F. for 60 minutes.
If adding optional ingredients, this can either be added to the entire dressing recipe or part of the mixed dressing can be divided out and the optional ingredient can be added. Then put in separate container and bake.