Plenty of soft and chewy good taste in this chocolate chip cookie. This is my favorite chocolate chip cookie recipe. You choose the type of chip that you want in your cookie. This recipe is in my easy-to-make file.
Varieties of Chips
There are so many varieties of chocolate chips to choose from in the store now days.With or without milk, this chocolate chip cookie is one that will please your family. The combination of butter and shortening creates a soft and chewy cookie. I have also made these with many other chip flavors, another one that I like is cherry chip and vanilla chip. You should try it sometime. I think that you will make this your favorite chocolate chip cookie if you do.
School Favorite Too
These cookies have been made for a variety of fund raisers for our school. They always sell out fast. I mean, who doesn't like a great tasting chocolate chip cookie or one of the other varieties of chips that you dream up. This same recipe can be made using vanilla and cherry chips-delicious. Or try using butterscotch and chocolate chips for a richer flavor. I have not tried the toffee chips in this cookie yet, but I bet that would be good too. Be creative with this one.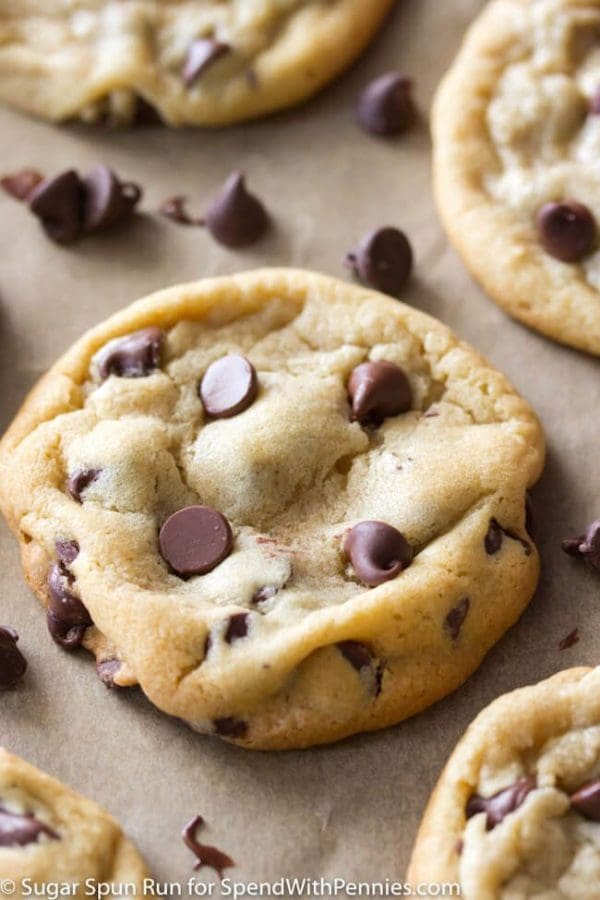 | | |
| --- | --- |
| | |
Cream together butter and shortening until smooth.

Add sugars, eggs, and vanilla; mix until well blended.

In a separate bowl, mix dry ingredients; flour, salt, and baking soda.

Gradually add this mixture to the butter mixture.

Fold in chips by hand with a spoon.

Drop by teaspoon or cookie scoop onto baking sheet lined with parchment paper or silpat silicone baking sheet.

Leave 2" of space around each cookie as they will expand a bit.

Bake for 8-12 minutes. Enjoy!
Note:
The cooking time will depend on your oven temperature and your desired chewiness. The longer you leave the cookie in the oven, the more crisp it will become.
Variations:
For the 1 cup of chips, you can use two-four kinds of chips.
2 kinds could be ½ and ½ or ¾ and ¼ of each
3 kinds can be 1/3 of each
4 kinds can be ¼ of each
If you loved this post, share on your fave social media links at the bottom. It helps to show me that these types of posts are helpful – thank you!
 *Post contains affiliate links* for more information please read the disclaimer on the About Us page.