Learn How to Use Tailwind to Increase your Traffic. How did I get my first 100,000 monthly page views on Pinterest? Well, a lot of hit and miss and help from some folks that know what they are doing when it comes to social media.
*Post contains affiliate links*at no additional cost to you for more information please read the disclaimer on the About Us page.
I am a Blogger…Now What?
As a blogger, I should only recommend products that I personally use. With that said, one of my favorite additions to my blogging website tools is Tailwind. It is my hands-down favorite tool for scheduling not only to Pinterest, but to Instagram too.
Disclaimer
The views in this blog post are mine. My results with Tailwind may not be the same results that you achieve. However, with that said, I will share with you my story.
Social Media Leader
Before I joined the ranks of Tailwind users. I did my research. It meant a lot to me that Tailwind is an official Pinterest Marketing Developer Partner for Content Marketing, as well as, an Instagram Partner Badge for Community Management (Tailwind, 2017). As of right now, there are over 500,000 users of Tailwind. That alone speaks volumes. They are a social media leader for both Pinterest and Instagram.
This post contains affiliate links, which means I will make a commission at no extra cost to you should you click through and make a purchase.
How has Tailwind helped me?
I started blogging in January, 2017. It was a New Year's resolution. I had been thinking about getting online for a while and finally made the leap. Of course, my Pinterest presence was new so I had very low monthly views and engagements. However, as my content continued to grow on my website, so did my content on Pinterest, which is one of the best methods of getting people to visit my website.
In the early days of blogging, I actively started working on finding group boards to join on Pinterest. After joining about ten group boards, it became very time consuming to reshare my pins and those of others to the group board. I had to have a separate Excel spreadsheet to remember where I shared which pin. Okay, when I say a lot of time, I actually mean hours! Just imagine how much time this would continue to consume as I continued to grow. This left little time to work on creating recipes, and crochet patterns to share with my followers.
This is not where I want to spend my time!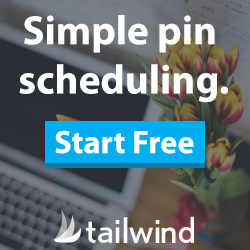 Even when I got my first 100,000 monthly viewers in Pinterest, it took a lot of work and time. It was time to start using Tailwind. With Tailwind, I was able to sit down once or twice a week and schedule my pins. Tailwind even helps me find the best times to pin. After using Tailwind for a few months, my monthly viewers has increased to over 133,000. Check out my screen shot of my Pinterest Analytics below. This was just a few months after I started using Tailwind. Remember, these are my results and your results may be different.
I was so excited when I first went over 100K. It was a big deal. We all have to start somewhere.
Update on my Stats
I am a few years into blogging now. It is amazing how much I have learned and how my online business and presence has grown. Wow! It is amazing what can happen if you just stick with it. When I think back to how excited I was to get my first 100K views on Pinterest – I have come a long way. I have already reached over a million views on Pinterest and while the views do fluctuate, I continue to remain very high in the view range. Additionally, when looking at the website traffic that is generated from Pinterest, that grows right along with the views. However, I don't spend all day on social media. Tailwind is a HUGE time saver and one of the best things I could have done to get my blog out there.
Please take a moment to see the typical Pinterest results of Tailwind members after six months of use. Additionally, you can find links to our typical results page for Pinterest here: and Instagram here: Note: their trial is based on 100 scheduled Pins or 30 scheduled Instagram Posts – NOT 14 or 30 days.

With Tailwind-You can balance your online presence with your life!
Save Time with Tailwind
It truly doesn't get much easier than pointing and clicking your way to posting – getting noticed and followers. More importantly, Tailwind lets you have a presence by pinning throughout the day without having to do it manually. Use the best times to reach your audience, share the content that your audience is looking for, and find new content to share too. The analytics helps you see the content that resonates with others and shows you so many measures that can be used to improve your audience engagement and follower growth.
People Helping People
Have you ever heard of a Tailwind Tribe? Don't worry, until I joined Tailwind, I had never heard of it either. These tribes are groups of people that help each other grow in various content areas. For instance, I am a member of over 30 crochet tribes and over 20 food tribes. I can share my Pinterest content with these tribes and quite often, other members of the tribe share my content on their Pinterest boards. This helps grow my Pinterest community reach even more. I will take about SmartLoop in a bit; however, it is good to know that additional SmartLoop and Tribes functionality can be purchased through PowerUps.
Increase Your Traffic
When using Pinterest for business, it is not a good idea to just drop links and post images hoping for the best. It is crucial to have an idea of what types of content and images you should create to win over your audience and make connections. Not only is it important to create eye-catching pins, and have content that engages and inspires, it is important to publish at the right time for increased engagement.
SmartLoop is another tool that is available to Tailwind users. I have some top performing pins (found this out through the analytics section). Therefore, it is a good idea to keep these pins circulating. Rather than trying to remember to schedule these pins, I can set it and forget it on SmartLoop. My best content is shared at the best times for engagement. However, more recently, Pinterest is focused on new and fresh pins. Therefore, it is a good idea to change up the photo that is used in SmartLoops a few times throughout the year.
Both Tailwind and Pinterest do not want you to be Spammy! They have worked together closely to develop a looping system that works without breaking any Pinterest rules.
Some Best Practices on Pinterest
Pinterest wants you consistently using the platform! As a Pinterest marketer, avoid inconsistency and plopping a bunch of pins on the platform once a week or so. Get into a regular habit of pinning when your audience is using the platform. Create multiple pins to the same source. Pin that pin to other boards no more than 10 times. Keep the content fresh. I like to use Board Lists on Tailwind. This helps me keep my types of boards organized and if I try and repin a URL, I am immediately alerted when I have shared to the board before and when. Such a great time saver and it helps keep my content fresh.
If you have top evergreen content or seasonal content, I highly recommend creating new pin images for those same landing posts. I have been doing this with success for the last few months and getting new visits and traffic from older blog posts that had already performed well on the platform.
How Pinterest Works
Let's step back just a bit for a reminder of how Pinterest works. Here are just a few of the main criteria that they use when deciding which pins to show each pinner.
Domain Quality — Make sure you have a business account and verify your site, and get this will help you show rich pins..
Pin Quality – Ensure your pins are engaging.
Pinner Quality – Pinner quality is largely based on how well your content is received. You're considered a high quality pinner if your content gets saves, comments and clicks, and your audience is also sharing for you from your site or sharing your pins. If people find it valuable, it's quality. It's the "why didn't I think of that" moment on Pinterest.
Relevance – Keyword targeting.
Consistent in daily pinning. However, with that said, you don't want to be spammy or have your account deactivated. Pinterest has grown because of people sharing content and they want to keep fresh content in front of Pinterest users. Therefore, they have gotten a bit more strict on what is acceptable and what is not.
I use Tailwind to help me know if I am within the acceptable range of pinning and repinning my images and URLs . Here is a photo of my All Clear message. This helps me have the confidence that I am following best practices for sharing my content and that of others. They call this their SmartGuide.
Pinterest Profile Insights
A few of the analytics included with Tailwind include your follower growth, pin performance, board performance, and comments that have been added to pins. There is even pin engagement scores, which helps show repins per pin per follower. If you have connected your website to your Pinterest account, then you will have the data to show how many pins were save from your website and how many visits you are getting from Pinterest. Very fun to dig into the data.
You too can get Tailwind FREE to Try
Tailwind for Pinterest and Tailwind for Instagram are two separate paid subscriptions. While I have used Tailwind for Pinterest for a few years now, it has just been this past year that I started using the Tailwind for Instagram.
Tailwind for Instagram
More recently, I added to my Tailwind plan. I had been holding off on Instagram because I was frustrated that people could only visit my blog if they went to my profile. It is not a site that is user friendly for sharing links unless you are over 10K followers. Well, I am not even close to that so, this was not high on my to-do list. However, Tailwind came out with Smart.bio. I must admit, I was intrigued, but not ready to jump right in. Then I saw other bloggers that had links on their posts and additional links within their Instagram profile. Needless to say, I was a bit jealous and tried to figure out how they did that!
Well, it took me a bit, but I realized that these bloggers were using Tailwind! I added the Smart.bio and haven't looked back since. I feel like a boss lady now!
Smart.bio
At first, I just used my Smart.bio for a link to my website. It took me a few weeks of digging into a few other Smart.bio profiles on Instagram to really figure out the power that I had at my fingertips. I realized I did not have to be limited to just one link. Here is a photo of my links. This is only a photo, if you would like to see my real Smart.bio on Instagram, you can see that here.
Instagram Data
Now that I am using Smart.bio, I can see how many people click on the links and which subject areas receive the most attention. If you use the auto-posting feature for Instagram, you can add links to each post too. Just love these features.
Automatic Hashtags and More for Social Sharing
Tailwind offers help in determining which hashtags should be considered when sharing content; green being the most relevant and useful, yellow a little less, and red are hashtags you might want to reconsider. Save your high-performing hashtag lists and add to them as needed. Such a time saver and great way to find new hashtags to consider.
Automate Your Instagram Feed
For my Instagram feed, I can autopost, post right away, or save drafts and Que them later. For me, I like to upload photos and sit down a few times a month to finish adding anything I want to say about the post, add hashtags and link the content to my website. As I complete each one, I click on Que and the photo is automatically in the next time slot. Previsously, I set up my autoposting time slots to happen twice a day when it is a good time for my posts to appear. Tailwind calls this SmartSchedule; which automatically chooses the best post times when your audience is most likely to be browsing their feed.
More attention = more likes and followers.
The SmartSchedule can be changed at any time. In addition to scheduling my social medial sharing, I can add a photo and post it right away to my Instagram. Oh, BTW: I have grown my followers on Instagram every week since I started using the tools that are available to me.
The photo below shows my last seven days of daily likes and follower growth. Remember, this is my results and yours will be different.
The photo below shows the follower growth of three for this past seven days. While this is a small number, it is still better than the three followers I would have gained in a month or two previous to using Tailwind.
Social Media Connections
As I continually research best practices for my online presence, there are a few key ingredients that are continually rise to the top.
1. Pin to Pinterest and Instagram daily.
2. If you are a blogger, provide quality content and great pictures.
3. Pin quality content to your Pinterestand Instagram business accounts.
4. Pin your pins on Pinterest, but also that of others think of the 80/20 or 70/30 rule – mostly your content, but others as well.
5. It is important to share to multiple relevant boards
6. It is important to share on multiple social media platforms, i.e. Facebook, Instagram, Twitter
7. Don't be spammy-share each pin no more than ten times
8. Interact and engage with your audience
9. Don't go it alone, find ways to reduce your time spent on this activity so you can continue to grow your business and create.
Having a tool like Tailwind available to you is a true game changer. At least, it was for me.
If you loved this post, please share on your fave social media links at the bottom. It helps to show me that these types of posts are helpful – thank you!
Here are some other blogging posts that you might be interested in checking out.
Critical Steps to Setting up your Website
How to Paginate your Word Press Site