French toast prepared ahead of time with a few ingredients. Baked in the oven.
You can make this with our without cinnamon. I like mine with cinnamon. You can also add things like nuts or raisins. If I did this, it would probably be 1/2 cup. Or you could even sprinkle with brown sugar on top.
If you take a look at the final product in the skillet, you will see it rises slightly.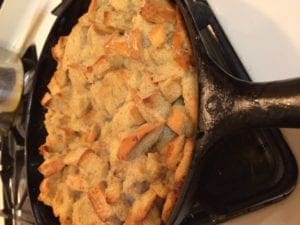 I recommend cutting out a piece and putting it on a pretty place and drizzling on the glaze. It gives it such a great look for serving.