This mandarin orange creamy dressing is easy to make and tastes great.
My grandmother used to make this for me when I was young.
So, this recipe has been around for a long while. She has passed away many years ago, and when I make this recipe, it takes me back to sitting at her kitchen table with her. Grandmother recipes always seem to taste better when they made it. I can only hope someday that my family will think of me fondly when they make one of my recipes.
This mandarin orange creamy dressing is creamy, but fruity at the same time. The juice from the canned mandarins is what gives it the fruity and sweet flavor. No need for sugar on this one, the sweetness is already there.It stores very well in the refrigerator for 1-2 weeks in a covered container.
When making your salad, use the ingredients that you like the best.  for salt, pepper, sugar preference and check for the consistency you like. If you like it thinner, add more milk, but then you will have to probably add more sugar, salt, and pepper.
Side note: You could also add the mandarin oranges from the can too. They are a great addition to a salad.
You might also be interested in these recipes:
Light and Refreshing Pineapple Creamy Dressing
Ultimate Creamy Salad Dressing
Creamy Cucumbers with Miracle Whip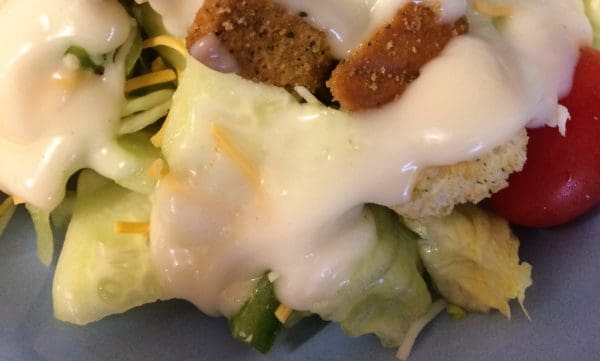 | | |
| --- | --- |
| | |
In a large bowl, mix all ingredients together with a whisk until smooth.
Variation: The juice of a pineapple could be used to get the same result and a slightly different fruity taste. Enjoy!
If you loved this post, share on your fave social media links at the bottom. It helps to show me that these types of posts are helpful – thank you!
 *Post contains affiliate links* for more information please read the disclaimer on the About Us page.