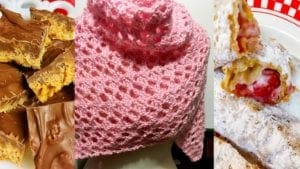 Welcome to
Pattern Princess
We are glad you are here. Please pull up a chair and join us for a bit. At Pattern Princess, we want to share our love of creating and learning. We are continually learning new crochet patterns, tips, recipes, sewing, and various DIY projects.
Inspire You to Create
Learning how to read a pattern can be challenging. Basic crochet stitches learned from my grandmother was all that I knew until recently. It is my hope that you will enjoy the crochet patterns as much as I do.
The rich colors remind me of caramel delight crochet shawlette. This is an easy crochet pattern to work and it …
Read More
This Silver Bells Crochet Shawl Wrap is one of those easy crochet patterns for a simple and elegant handmade accessory …
Read More
Easy crochet patterns like this Gem of the Sea Asymmetrical Crochet Shawl are keepers. I have made a few of …
Read More
Sharing a new & free crochet shawl pattern: the Whimsical Woods Triangle Shawl. This lace shawl features a repetitive and …
Read More
Cooking is something that we do everyday. Often, we pride ourselves on how well we can take care of our families. When someone likes what I have made, that is the best compliment. If you are looking for recipes that you will get compliments on, check out the growing list of recipes we have for you.
This rhubarb custard pie is super easy to make. The hardest part is cutting the rhubarb. Delicious custard sauce is …
Read More
This recipe truly is the best pecan pie bars. With a caramelized pecan goodness set on top of a shortbread …
Read More
This raspberry chiffon pie is so delicious and easy to make. It is the perfect light and creamy dessert at …
Read More
This key lime pie recipe is a classic. Four ingredients for the filling and three ingredients for the crust. Get …
Read More
This classic graham cracker pie crust recipe has been a staple in dessert making for many years. Three simple ingredients …
Read More
Fresh lemon taste with an impressively high meringue top. Easier to achieve than you think. Full recipe here for this …
Read More