Make this delicious split pea soup with ham with just a few ingredients. After the Holidays I always have ham juice in my freezer along with the meaty ham bone.
*Post contains affiliate links* for more information please read the disclaimer on the About Us page.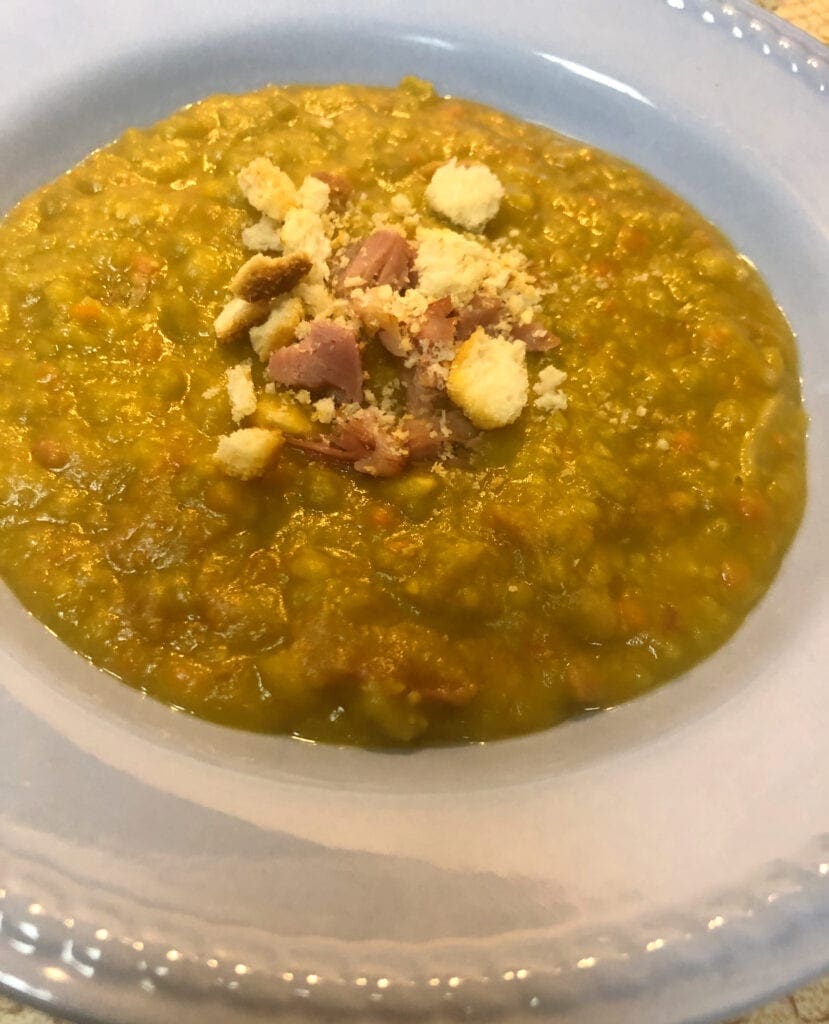 7-Ingredient Split Pea and Ham Soup
Freeze Your Ham Bone and Juice From The Holiday
I save it on purpose for this soup or one of my other soups. this ham and vegetable soup is scrumptious.How about a creamy ham and potato stew, Oh my! The flavor is just amazing and this is true comfort food. Just perfect on a cold day at our house.
This is truly a very simple recipe that uses pantry items and leftover frozen items. So, I had the meaty ham bone in the freezer from Easter. I also saved a small container of the ham juice and froze that.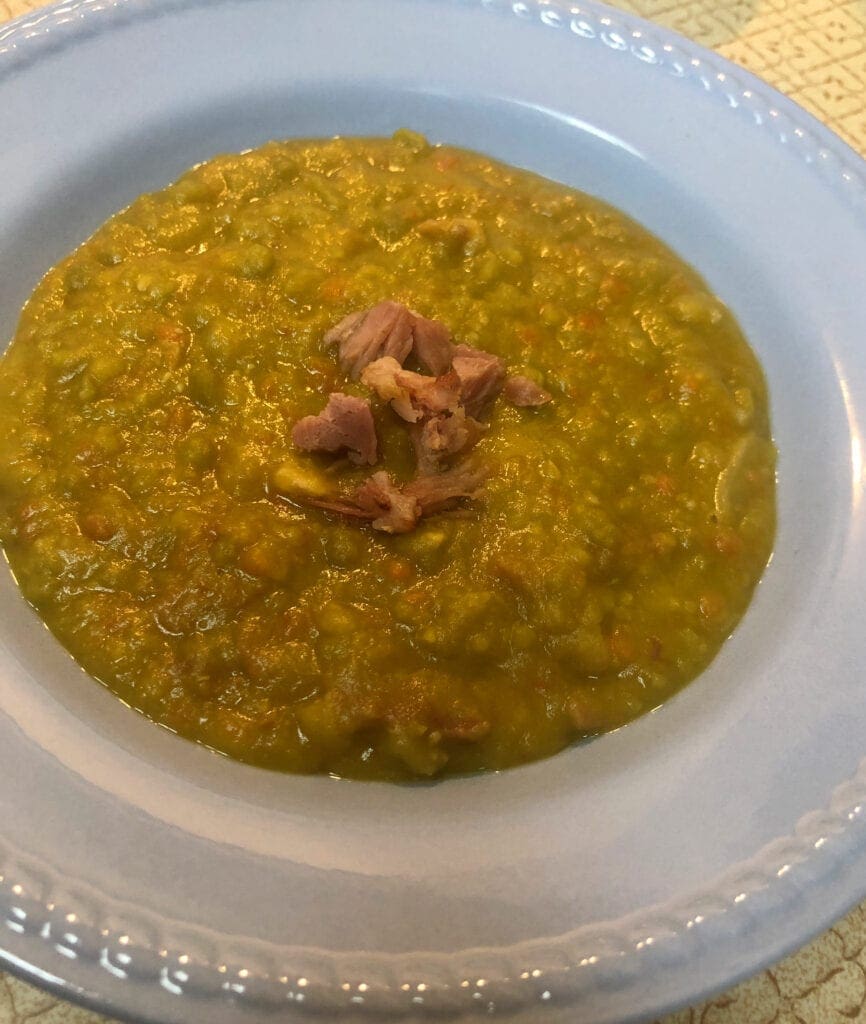 When I make dressing during the Holidays, I use celery and sometimes, I don't use it all. Before it goes bad, I always dice it up and freeze it in 1 cup portions. This recipe is half done and all I had to do it take things out of the freezer.
Family Memories
This is my recipe for Split Pea Soup. Years ago, my father-in-law told me how much he loved my soup.
He swore it was "just like his mother's."
As we were enjoying the soup, he asked me how I made it. I told him what was all in it. He started complaining that there were carrots or anything else besides the split peas!
I remember thinking how awful that would taste and how funny it was that he was complaining.. Seriously!
Previous to that day, I diced the carrots and other ingredients. However, after that day, the next time I made the soup, I grated the carrots and diced the celery and onion very fine.
Guess what? He loved the soup and exclaimed, "See, just like my mothers."
My husband saw me make the soup. We didn't say a word, as we both knew I just hid the same ingredients in the soup. My father-in-law passed over 20 years ago now. However, in his memory, I still kind of hide the ingredients in the soup. I am so lucky to have many good memories.
It is almost a thick stew that is simmered with aromatics until thick and hearty, Just a comforting bowl the has hearty, smoky and a little sweet flavor. So satisfying!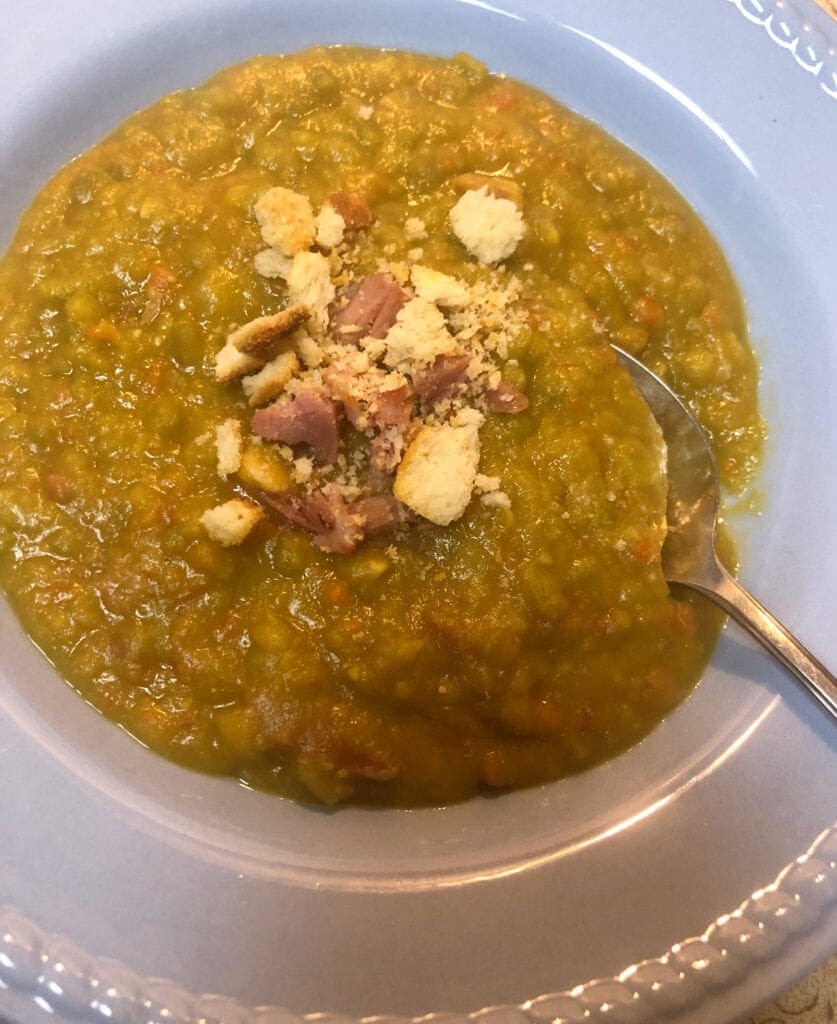 This soup is so full of flavor from the ham and juices. It is just a perfect way to use leftover ham.
WHAT ARE SPLIT PEAS?
Split peas are field peas that are dried, peeled, and split in half for cooking. They can be purchased in both a green and yellow variety. However, yellow split peas tend to be the mildest in flavor, and green split peas, are generally sweeter.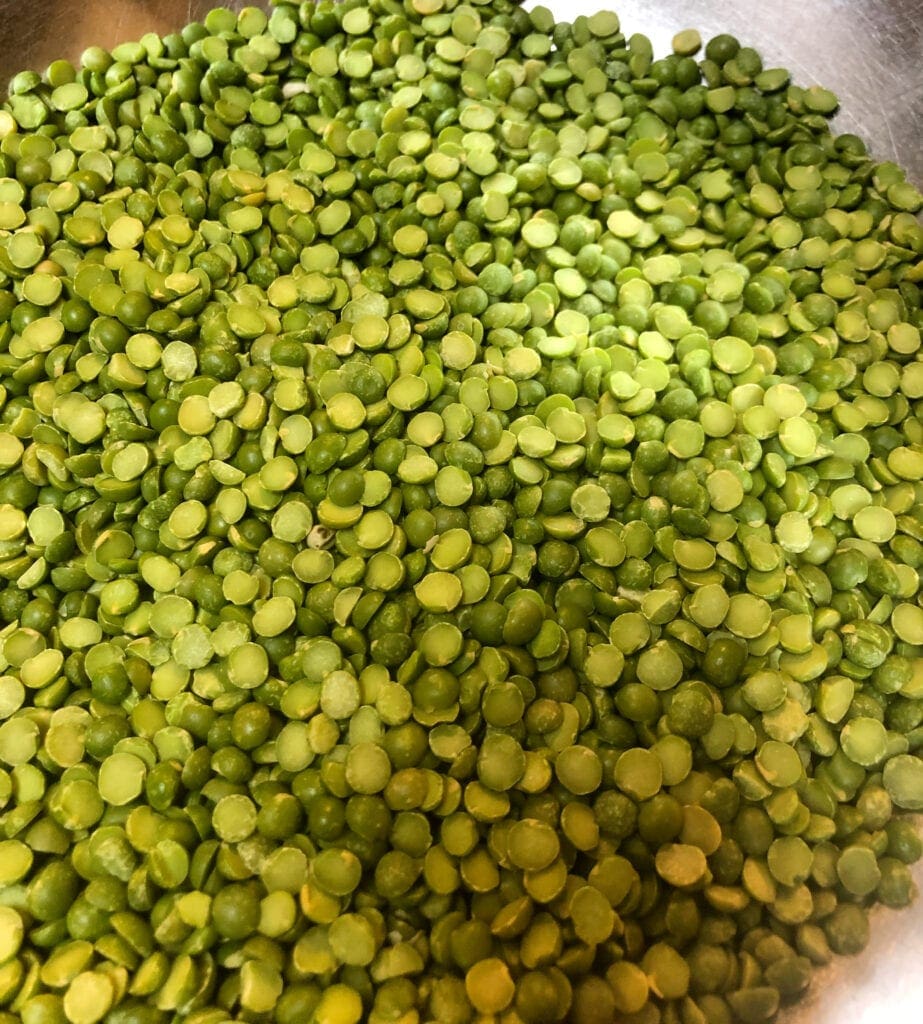 When you purchase the dried bag of split peas, make sure to put them in a large bowl to check for any little pebbles or anything that does not look like a split pea. Then give them a rinse. You do not have to pre-soak the split peas before you use them.
Quick Split Pea and Ham Soup Preparation
I fill a 5 quart stock pot about 1/2 full with water.
No need for chicken stock – unless I didn't have any ham juice. However, since I have the ham juice, it is packed full of flavor. Therefore, I just use water.
Add your meaty ham bone, bring to a boil, then turn down to a simmer for about an hour.
While the ham is cooking, prep your carrot, onion, and celery.
Put the split peas in a large bowl so you can spread them around to check for any pebbles. In the photos in the recipe, you will see I picked out two little split peas today. Nothing else was found.
After the ham bone has been cooking for the hour, remove it and let it cool. Add the peas and other vegetables to the water. Lastly, add the ham juice.
When the ham is cool enough, cut the meat off the bone and dice in small pieces. Add the meat to the kettle.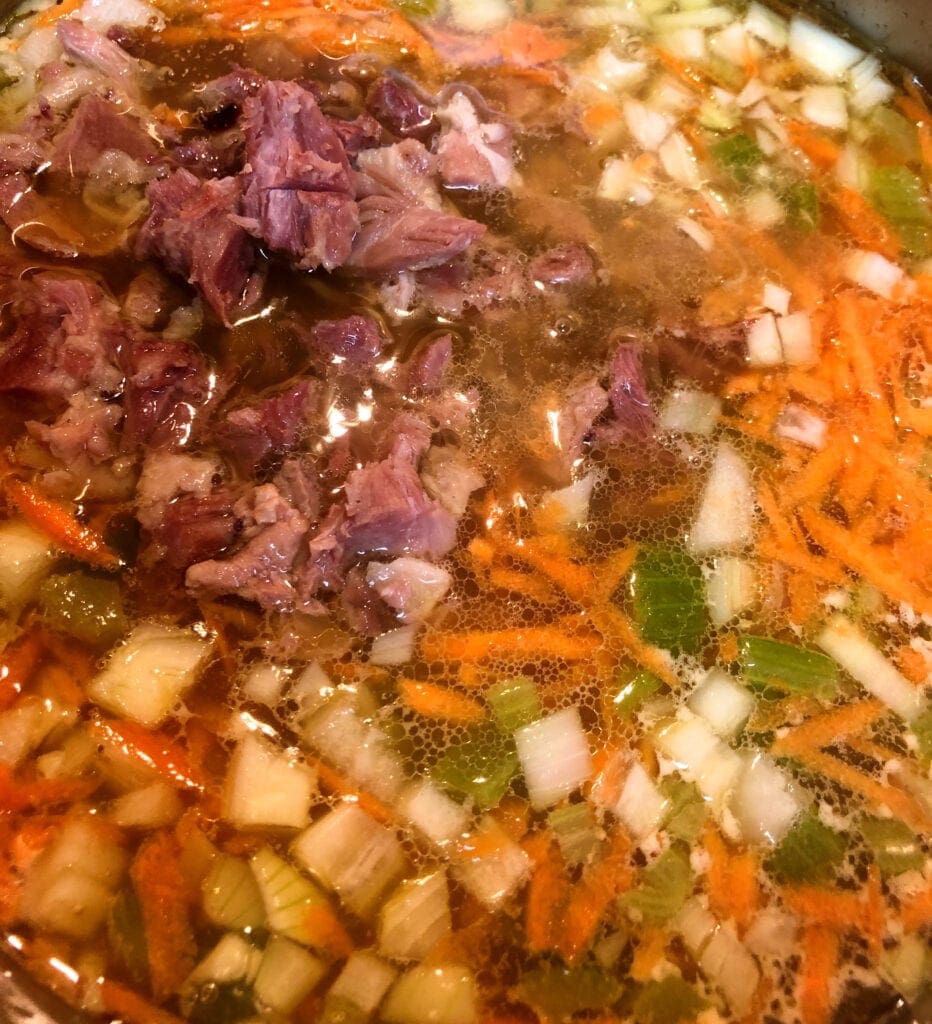 I generally add 1 or 2 cups of water at this point. Bring the soup to a boil, them turn down the heat and summer for about 50 minutes until the split peas are soft. Make sure that you stir ocassionally.
It is that easy!
Once the split peas are cooked, you can adjust the soup's thickness to your preferences. If you find that it's too thick, add some extra stock. For a very thick soup, simmer longer. The soup will continue to thicken as it stands.
Split Pea and Ham Soup
This soup uses a meaty ham bone and leftover ham juice. So full of flavor and very easy to make this scrumptious soup.
Ingredients
1

Meaty Ham Bone

6-8

Cups

Water

2

Carrots

peeled and shredded

1

Onion

diced

2

Stalks

Celery

diced

1 1/2

Cups

Ham Juice

16

Oz.

Split Green Peas
Instructions
Fill 5 quart pot about 1/2 full of water and add the ham bone. As you can see, I added mine right from the freezer. Boil about 1 hour.

While the ham bone is boiling, dice the onion, celery, and shred the carrots. Set Aside

Also, check over the dried peas for any little pebbles or anything. Just rinse and sort.

After boiling the ham bone, remove and set aside to cool until you are able to handle it.

Add the ham juice. I had saved some from my holiday ham. It is partially frozen, just enough to slip out of the container.

Add the split peas (remember, no need for any pre-soaking), onion, celery, and carrot.

I use a pairing knife to help clean off the ham pieces from the bone. By boiling the ham, the meat comes off very easy. Dice it into bite-sized pieces and add that to the soup. (I reserve about 1/2 cup for a garnish if I want to be fancy).

Bring all the ingredients back to a boil, then turn the heat down and simmer for about 1 hour. Until the peas are soft. This photo is after 1/2 hour of cooking.

The split pea soup and ham has been simmering almost 50 minutes. The peas are soft and the soup is ready. Notice how soft the peas are? The carrot, onion, and celery is hardly noticeable anymore as well. It is ready to be served.

The soup on the photo is slightly thick. I like it that way; however, I will probably add a cup or two of water to the soup so it is a little less thick. I have crumbled a few croutons on top with the few ham pieces. Just Delicious!
Nutrition
Calories:
171
kcal
|
Carbohydrates:
30
g
|
Protein:
12
g
|
Fat:
1
g
|
Saturated Fat:
1
g
|
Sodium:
40
mg
|
Potassium:
551
mg
|
Fiber:
12
g
|
Sugar:
5
g
|
Vitamin A:
2142
IU
|
Vitamin C:
3
mg
|
Calcium:
40
mg
|
Iron:
2
mg
Environmental Information
If you loved this post, please share. It helps to show me that these types of posts are helpful – thank you!
I hope that you liked this recipe. If you are looking for more ideas on what to make, here are a few other recipes that you may enjoy.