Learn how to make turmeric golden milk and enjoy the Chai Latte flavor profile. Mix enough of the spices to store and quickly brew up a cup of this delicious and healthy drink in minutes.
Post contains affiliate links and we earn commissions if you shop through the links on this page. For more information please read the disclaimer on the About Us page.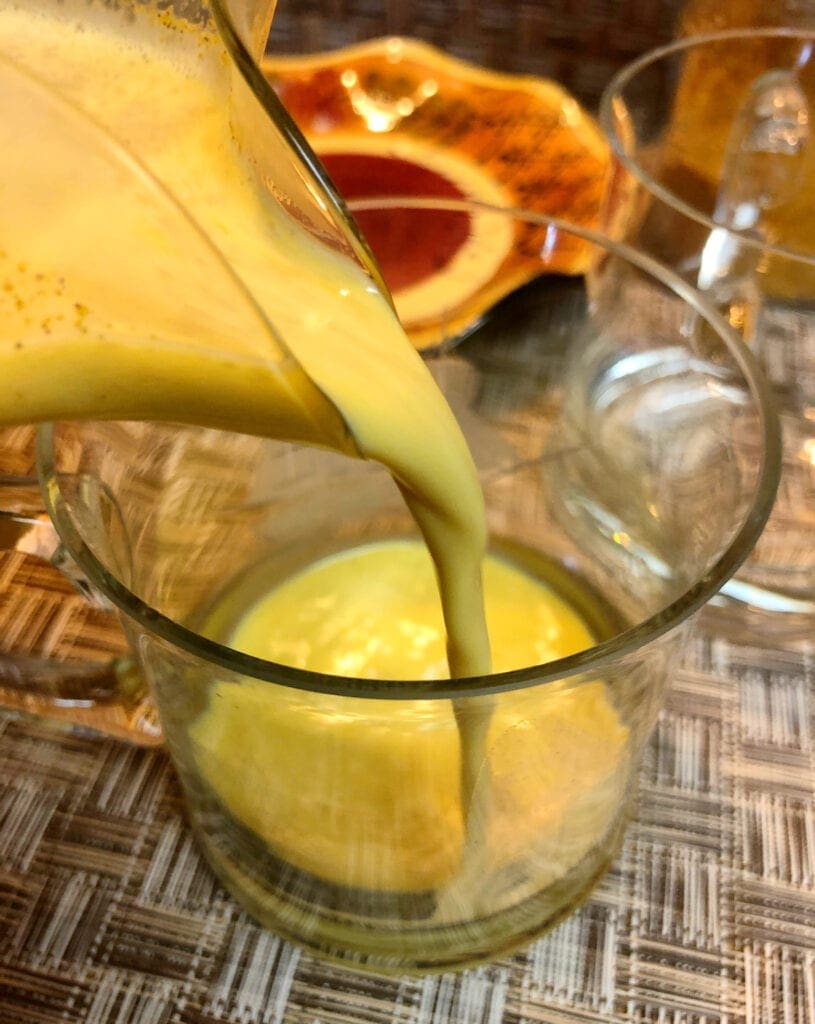 Getting More Turmeric in my Daily Routine
Personally, I suffer often from bladder infections. More recently, my daughter did some research and found that Turmeric had strong antibacterial properties help treat urinary tract infections and boost immune system activity. Therefore, I needed to do some research and find ways to get more of this into my daily routine. I also have arthritis and this really helps with the inflammation. This Golden Milk Turmeric drink really helps me. Your experience with this drink may not be the same as my experience. I hope you do see benefits like I have though.
Turmeric Golden Milk is easy to make and if you have this in the evening, it could help you fall asleep too.
It is worth noting: Since turmeric is fat-soluble, it needs a bit of fat to be absorbed into the blood stream. Therefore, full-fat milk is perfect for making this beverage. If you are lactose intolerant, no worries. I make this with full-fat Lactade Milk all the time. You can also use Almond or Soy; however, to help with the fat, add a bit of coconut oil or even butter to your beverage. One more thing, pepper helps the absorption even further.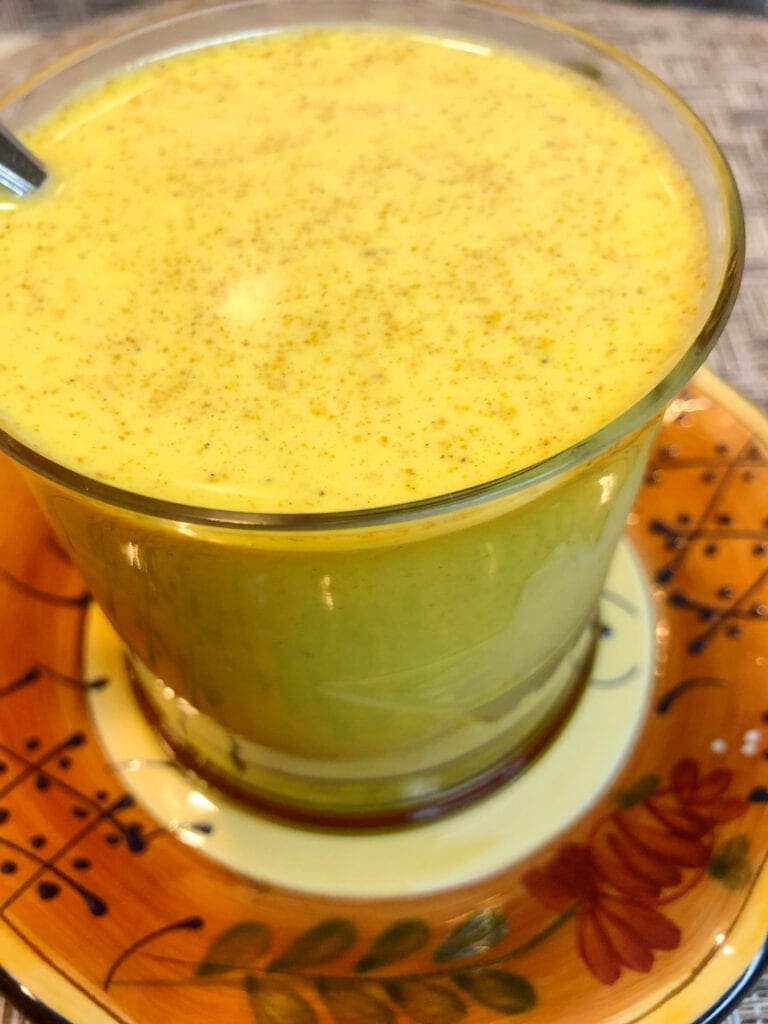 What Are the Health Benefits of Turmeric?
You may have heard that turmeric has health benefits. I did a bit of research and I found that there are a few advantages to drinking this beverage.
Let's explore together.
According to WebMD, there are a few important benefits for including Turmeric in your diet.
Several compounds in turmeric may support your health. The most well-known of these is curcumin.
Diabetes: Because curcumin can help fight inflammation and keep blood sugar levels steady, it could be a useful tool to prevent or treat type 2 diabetes. One study followed 240 adults with prediabetes and found that taking a curcumin supplement over 9 months lowered their odds of developing diabetes. This is exciting to find out for me as I have a close family member that was recently diagnosed with type 2 diabetes. We will have to do some more research on this one.
Flu Fighter: Curcumin might help you to fight off a variety of viruses, including the flu. However, the research was done in a lab and not on people. Additionally, turmeric is only about 3% curcumin, and your body doesn't absorb curcumin well, so the occasional cup of tea won't be a cure-all. (note: pepper helps the curcumin get absorbed. That is why it is included in this recipe).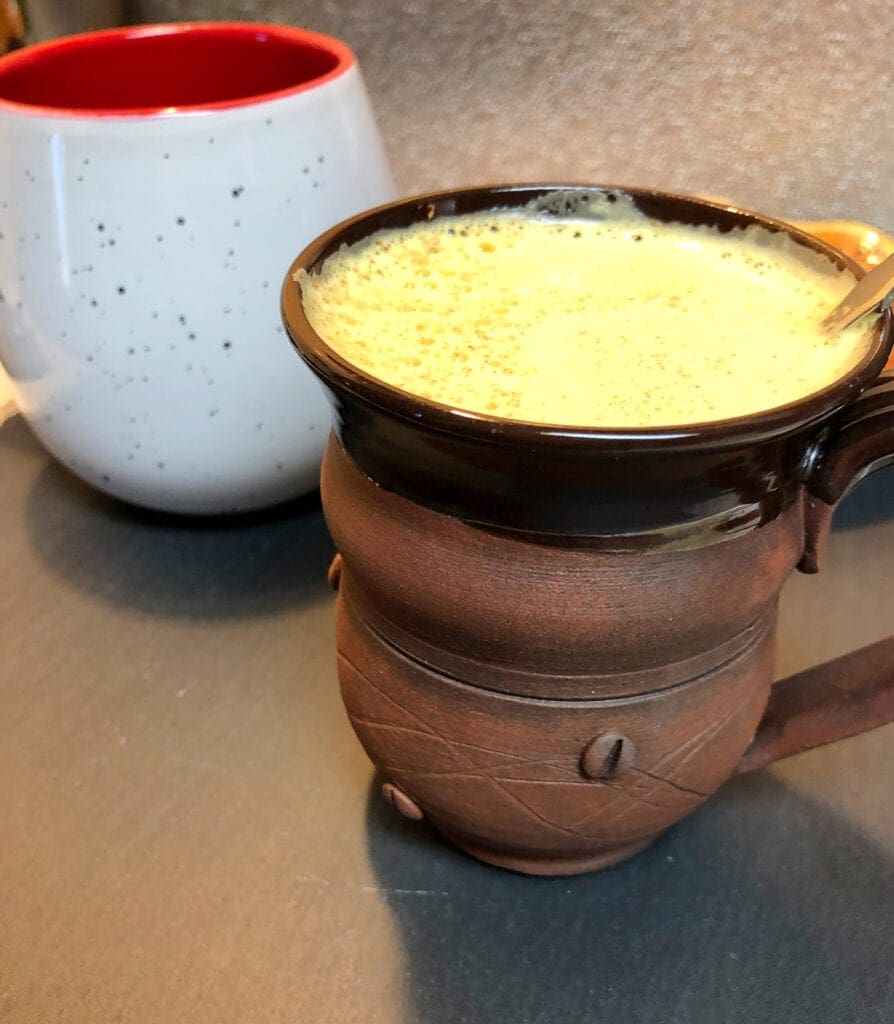 Research is still being conducted but shows promise on relief from Premenstrual Syndrome and Menstrual Cramps. Further, turmeric seems to have natural anti-inflammatory effects. This may help ease joint pain, stiffness, and inflammation.
Turmeric is a relative of Ginger, which is already a well-known natural headache remedy; therefore, turmeric is often recommended as a headache treatment.
Sweetener Options for Turmeric Drink
For me, I love this drink with a sweetener. If you prefer none, that is also an option. (kind of like coffee, some like it black and others do not). We love using local honey from our neighbors. However, there are many other wonderful options for sweetening your drink.
Vanilla Extract
Maple Syrup
Granulated Sugar
Brown Sugar
Honey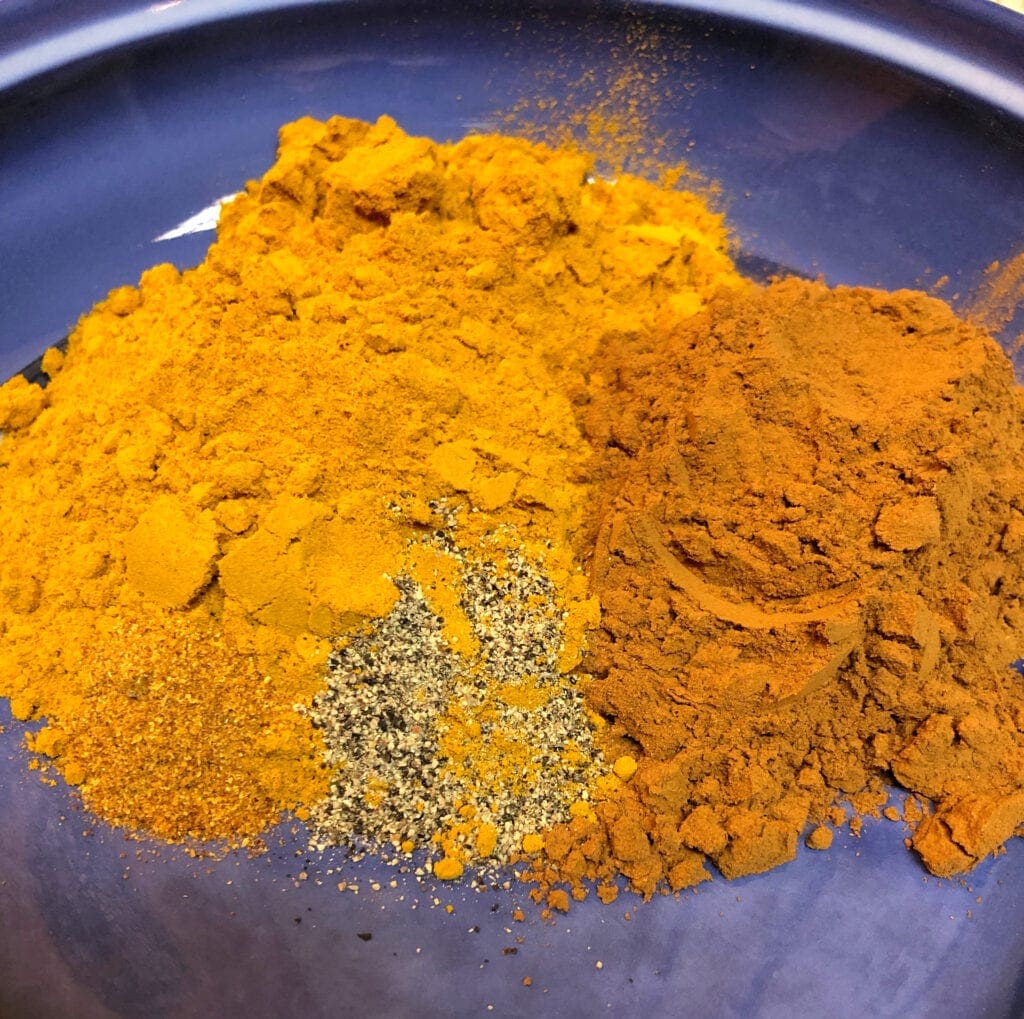 While this recipe has just four ingredients, there are so many other things that can be added to make your drink just the way you like it.
Cayenne Pepper
Any Flavor or Type of Tea Bag
Vanilla Creamer or maybe a pumpkin flavor
Ginger
How to Make Turmeric Golden Milk
There are a few different ways you can make this golden milk. Some recipes will have you use a blender then heat the mixture on the stovetop. This will give you a delicious frothy drink. Alternatively, other recipes will just have you whisk the ingredients while being heated on the stovetop.
However, I like to use the microwave. Just add the milk to your cup, and heat the milk either on the beverage setting or 2 minutes. Remove and add the turmeric powder mixture, stir, and enjoy.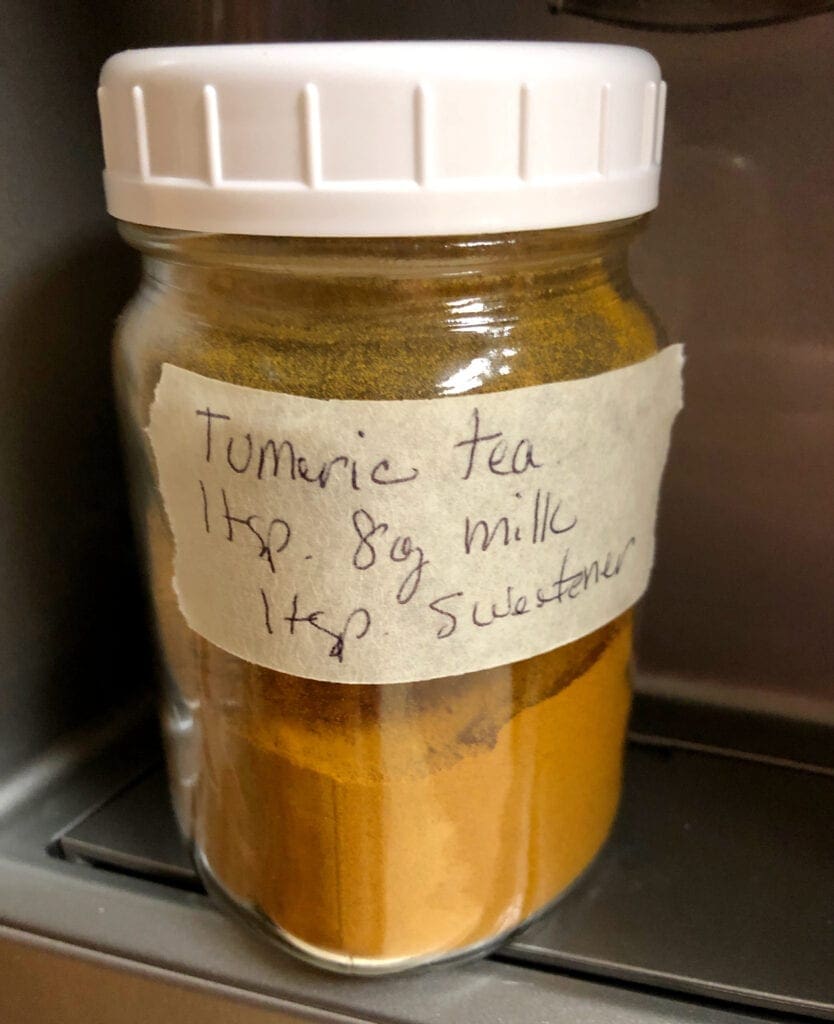 Storing the Turmeric Golden Milk
The milk and mix can be combined and stored in the refrigerator for a few days. This can be enjoyed cold too! However, make sure to give it a stir before pouring the mixture into your glass as the spices will settle to the bottom. I have successfully reheated the drink in the microwave too. Yes, you can use a pan on the stove; I just find the microwave to be less dishes to clean and it seems faster.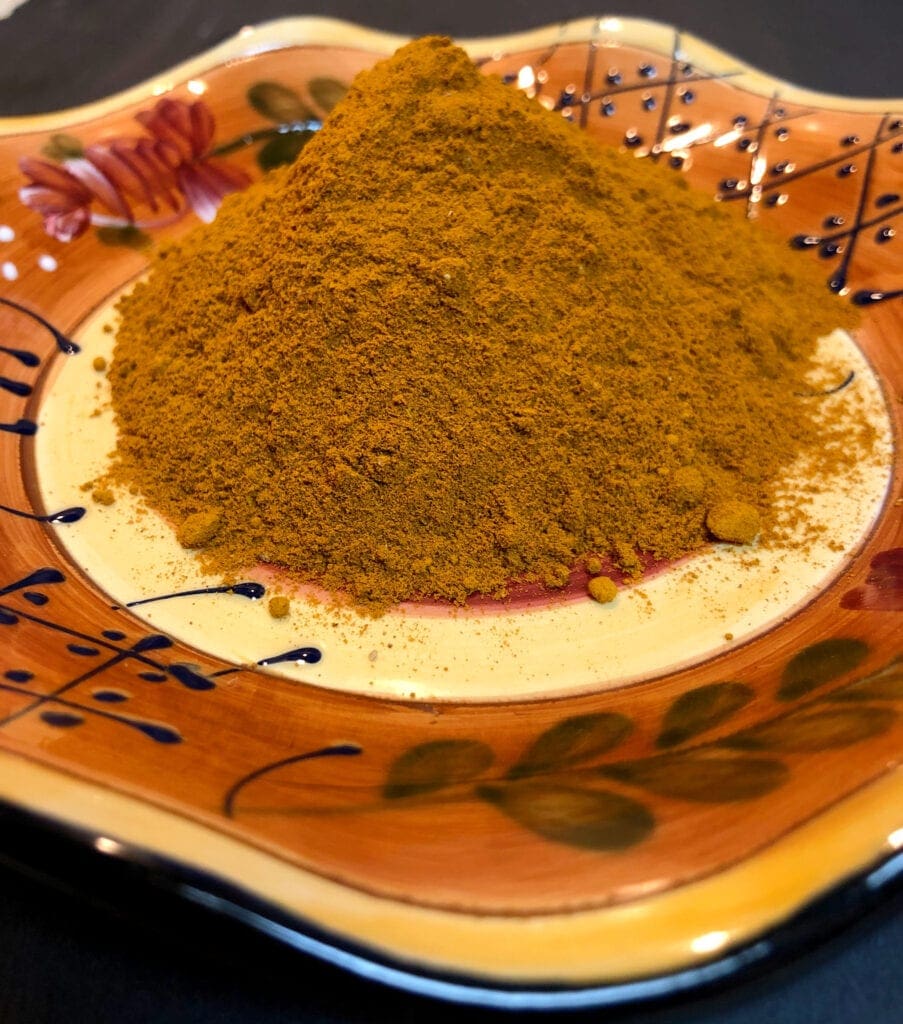 Turmeric Golden Milk Spice Mix
You can make your drink by measuring out the few ingredients each time you make it. Since there are just a few ingredients, that can easily be done. However, if you are like me and have this drink once or twice a week, it is nice just to pull a jar out of the spice mix in the cupboard and add 1 teaspoon of the mix to my warmed milk.
How to Make Turmeric Golden Milk
Learn how to make turmeric golden milk and enjoy the Chai Latte flavor profile. Mix enough of the spices to store and quickly brew up a cup of this delicious and healthy drink in minutes.
Ingredients
8-10

Ounces

Milk

3/4

Teaspoon

Turmeric Powder

1/4

Teaspoon

Cinnamon

Pinch

Black Pepper

1

Teaspoon

Honey

or your preferred sweetener
Instructions
Warm the milk and stir in the ingredients.
Nutrition
Calories:
166
kcal
|
Carbohydrates:
18
g
|
Protein:
7
g
|
Fat:
8
g
|
Saturated Fat:
4
g
|
Cholesterol:
23
mg
|
Sodium:
98
mg
|
Potassium:
337
mg
|
Fiber:
1
g
|
Sugar:
17
g
|
Vitamin A:
367
IU
|
Calcium:
256
mg
|
Iron:
1
mg
Environmental Information
---
Golden Milk Turmeric Spice Mix Recipe
Combine just a few spices to create this delicious turmeric spice mix. Easy and delicious with many health benefits too.
Ingredients
20

Teaspoons

Turmeric Powder

10

Teaspoons

Ground Cinnamon

1/4

Teaspoon

Ground Black Pepper
Instructions
Combine all the spices. Store in a clean air-tight jar for up to one year.

To make the Golden Milk Turmeric Drink, combine 1 teaspoon of the spice mix with 8-10 ounces of warm milk and 1 teaspoon of your desired sweetener.
Nutrition
Calories:
6
kcal
|
Carbohydrates:
1
g
|
Protein:
1
g
|
Fat:
1
g
|
Saturated Fat:
1
g
|
Sodium:
1
mg
|
Potassium:
37
mg
|
Fiber:
1
g
|
Sugar:
1
g
|
Vitamin A:
2
IU
|
Vitamin C:
1
mg
|
Calcium:
9
mg
|
Iron:
1
mg
Environmental Information
If you loved this post, please share. It helps to show me that these types of posts are helpful – thank you!
I hope that you liked this recipe. If you are looking for more ideas on what to make, here are a few other recipes that you may enjoy.