Fall is the season for pumpkins and squash. Adding this to the meal planning for the week brings great fall flavors into the menu. I am always looking for easy ways to get great tasting meals on the table for the family. This simple acorn squash recipe is fresh and quick to make. I love to add brown sugar and butter or maple syrup and butter to the squash.
 *Post contains affiliate links*at no additional cost to you for more information please read the disclaimer on the About Us page.
Save Time and Keep the Flavor
Sometimes, I just don't have time to bake our garden fresh acorn squash in the oven. While, I must say that I love the squash baked in the oven, it does take some time. When I have to get a tasty and healthy meal on the table for the family, I sometimes turn to the microwave. This squash can be cooked in 10-15 minutes. If I cook the squash in the oven, it normally takes 40-50 minutes. I can have this cooking while I make something else. Dinner can be served for the whole family in 30-40 minutes if time-saving tricks like this are used.
Same Cooking Method for All Squash
No matter what squash you have on hand to make. Use the same cooking tips outlined in the recipe. The microwave can be a time saving tool if used properly. I have cooked spaghetti squash, pumpkin, and butternut squash this way. Comes out beautifully each time.
The squash would look beautiful served in this lovely serving dish from the Rachael Ray serving dishes.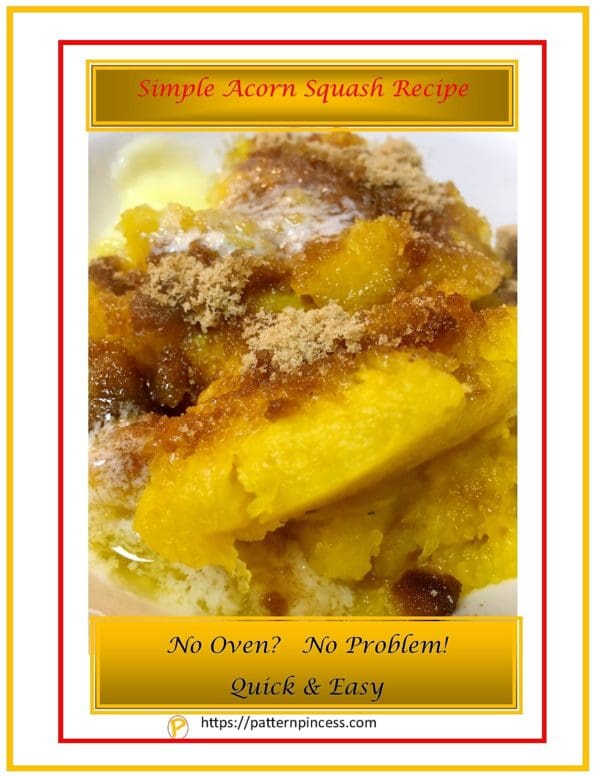 | | |
| --- | --- |
| | |
I like to wash the outside of the squash and dry with a towel. Then poke the squash about 2 inches apart with a pairing knife.

Place on a microwave safe plate and place in the microwave. Cook for 5 minutes on high. Turn the squash, cook for another 5 minutes. Turn the squash one more time and cook another 3-5 minutes.

Test to see if the squash is done by gently pushing on the squash. It should give and feel soft to the touch.

Remove and let sit a few minutes so you can touch the squash. Cut in half, dig out the seeds. Dig out the squash and serve with your favorite topping.