If you are looking for a simple cute and quick crochet washcloth pattern, this one is for you. This can be made in under an hour. The texture has an open and interlace feel to it. This would be a great first crochet project for a beginner.
*Post contains affiliate links* for more information please read the disclaimer on the About Us page.
There is a video tutorial near the bottom of this post.
I am so excited to share my new washcloth pattern with you all. It is so easy and works up so fast that I just know you will fall in love with this washcloth as much as I have. There is just the right amount of texture and drape to the washcloth.
This easy crochet washcloth works up very quickly. Achieve four different looks with a slight pattern variation.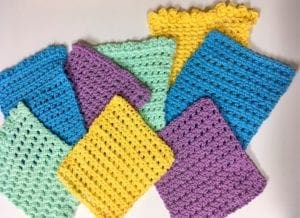 Cotton Yarn
I had purchased a number of skeins of cotton yarn in a variety of colors a few months ago and added them to my yarn stash. It was finally time to get moving and use the yarn. As long as I don't let my stash get too big, my husband has nothing to complain about.
Cotton yarn is so absorbent and gets softer with each washing.
Size:
6 inches wide X 6 ½ inches long
You can vary the size by using a different thickness to your cotton yarn or a smaller or larger crochet hook.
If you plan on changing the width, increase or decrease by an even number.
Supplies:
1 skein of 100% cotton yarn (I made 3 washcloths out of one skein) Here is a link to Peaches & Cream Cotton yarn
Size H 5.0 mm Crochet Hook
Tapestry Needle to weave in the ends
Abbreviations
CH = Chain
DC = Double Crochet
HDC = Half Double Crochet
SC = Single Crochet
SK = Skip
SL ST = Slip Stitch
SP = Space
ST = Stitch
TR = Treble Crochet
Directions: Simple Cute and Quick Crochet Washcloth Pattern
Chain 26 stitches
Row 1: SC in the second CH from the hook, [CH 1, SK next ST, SC in next SP] continue between [ ] ending with a SC in the last ST.
Row 2: CH 2, HDC in the first SK ST from the previous row [CH 1, SK next ST, HDC in next SP] ending with a HDC in the last ST.
Rows 3-21: Repeat rows 1 and 2.
If you are not adding any border, fasten off  leaving about a 10 inch tail and weave in the ends. Cut off excess yarn.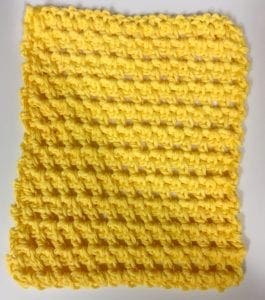 Optional borders
As you can see from the photos, some of the washcloths have no border, some have a ruffle on one edge or both edges, and one has a single crochet all the way around. Here are the directions to the borders.
Single Crochet Border:
Work around the border of the cloth evenly in single crochet.  Make sure that you do 3 SC in each corner of the border.  When you have completed one round, join to first SC with a slip stitch.  Fasten off and weave in the ends.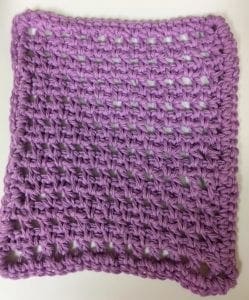 Ruffle:
CH 1, [SC in first CH 1 SP. CH 2. In the same SP, TR and DC]. In each CH 1 SP repeat between the [ ] ending with a SC in the last ST. When you have completed fasten off and weave in the ends.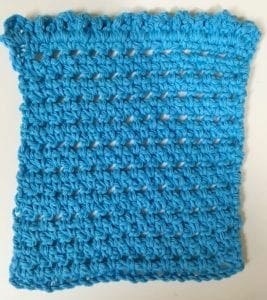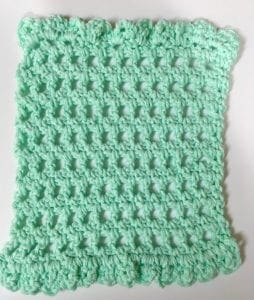 This is just such a fun stitch pattern. It might look complicated, but it really takes very little effort. This is a great way to use up scrap yarn from other projects. Just think of the gifts you can whip out quickly. Pair this with the Simple Soap Holder Crochet Pattern and you have a wonderful set.
Video tutorial to help you see the pattern being made
Simple Cute and Quick Crochet Washcloth Pattern
Watch this video
on YouTube
.
Subscribe to the channel
I hope that you have enjoyed this crochet pattern.
[DISPLAY_ULTIMATE_PLUS]
If you loved this post, please share on your fave social media links at the bottom. It helps to show me that these types of posts are helpful – thank you!
Here are a few other crochet patterns you might be interested in.