This simple soap holder crochet pattern is designed for a full-size bar of soap; however, smaller pieces of soap can be added to the soap holder as well. Great under-an-hour crochet project. The open weave of the stitch combination give this soap holder a beautiful texture.
*Post contains affiliate links* for more information please read the disclaimer on the About Us page.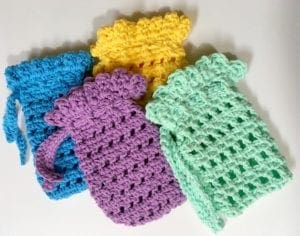 There is a video tutorial showing how to work this pattern near the bottom of this post.
Soap Saver
You can use this as a soap saver by placing your small pieces of soap inside instead of throwing them away like I normally do. While you can save money by using all the scraps of soap, this Simple Soap Holder is large enough to hold a whole standard size bar of soap. When you are finished cleaning, simply hang it up to dry. This eliminates leaving the soap in a wet dish – no more soggy soap!
Gift Idea
This would also be a lovely handmade gift to pair with the Simple Cute and Quick Crochet Washcloth Pattern and a fancy bar of soap. What a nice pampering gift. Place in a gift bag or tie a ribbon around the set for a nice gift presentation. Make a set for yourself, teachers, neighbors, babysitters, pet sitters, bus drivers, friends, family, and co-workers. I think that anyone would love to receive a beautiful homemade gift such as this.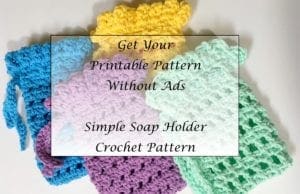 Basics of Simple Soap Holder Crochet Pattern
This crochet pattern works up quickly. I was able to make one in under an hour. The pattern is crochet like a washcloth and folded. The sides are sewn together with the cotton yarn and a yarn needle. Crochet a tie and thread it through the holes to complete the pattern.
Alternating pattern
If you would like to make the crochet washcloth narrower or wider, increase or decrease by 2 stitches. If you would like to make it longer or shorter, just adjust the rows. Note: I started and ended with the SC row of stitches and you may want to do the same.
Directions: Simple Soap Holder Crochet Pattern
Size:
Approximately 7 inches wide X 6 ½ inches long
Materials:
1 skein of 100% cotton yarn (I made 3 washcloths out of one skein) Here is a link to Peaches & Cream Cotton yarn
Size H 5.0 mm Crochet Hook
Tapestry Needle to weave in the ends
Abbreviations:
CH = Chain
DC = Double Crochet
HDC = Half Double Crochet
SC = Single Crochet
SL ST = Slip Stitch
SP = Space
ST = Stitch
TR – Treble Crochet
Directions
CH 30
Row 1: SC in the second CH from the hook, [CH 1, SK next ST, SC in next SP] continue between [ ] ending with a SC in the last ST.
Row 2: CH 2, HDC in the first SK ST from the previous row [CH 1, SK next ST, HDC in next SP] ending with a HDC in the last ST.
Rows 3-17: Repeat rows 1 and 2.
Row 18: SC, Then in the first CH 1 SP, SC, CH 2, TR, DC. *In the next CH 1 SP, SC, CH 2, TR, DC* Repeat between the * to the end. SC in the last ST.
Don't cut off the yarn yet. Make sure that you have enough yarn to go around the side and bottom of the Simple Soap Holder and about 10 inches to weave in at the end. Once you have that, go ahead and cut the yarn. Go ahead and join now.
Joining:
Fold lengthwise (right sides together if you plan on turning the bag inside out when done. If not, set the wrong sides together) sew the side and bottom by just weaving the yarn back and forth through the loops on the end of the crochet stitches. Using the yarn needle, weave in the yarn tail. Cut off any excess yarn. If you plan on turning the bag inside out like I did, now is the time to do that before you add the tie.
Tie:
CH 60 and SL ST into each CH. This helps give the tie a bit more of a finished look. Before you weave in the yarn ends, use that to help pull the tie through the holes created by the HDC and the SC. Once done, weave in the ends and cut off the excess yarn.
Weave the tie through the top holes created by the HDC and SC.
Simple Soap Holder Crochet Pattern Video Tutorial
To help you see the pattern being made.
Simple Soap Holder Crochet Pattern
Watch this video
on YouTube
.
Subscribe to the channel
I hope that you have enjoyed this simple soap holder crochet pattern.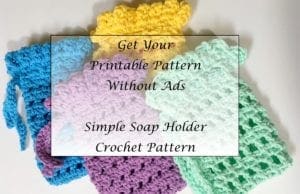 If you loved this post, please share on your fave social media links at the bottom. It helps to show me that these types of posts are helpful – thank you!
Here are a few other crochet patterns you might be interested in.