Baked potatoes in the oven turn out just perfect each time I make them. A perfect baked potato has crispy skin and fluffy insides. My method for how to bake a potato works every time.
*Post contains affiliate links* for more information please read the disclaimer on the About Us page.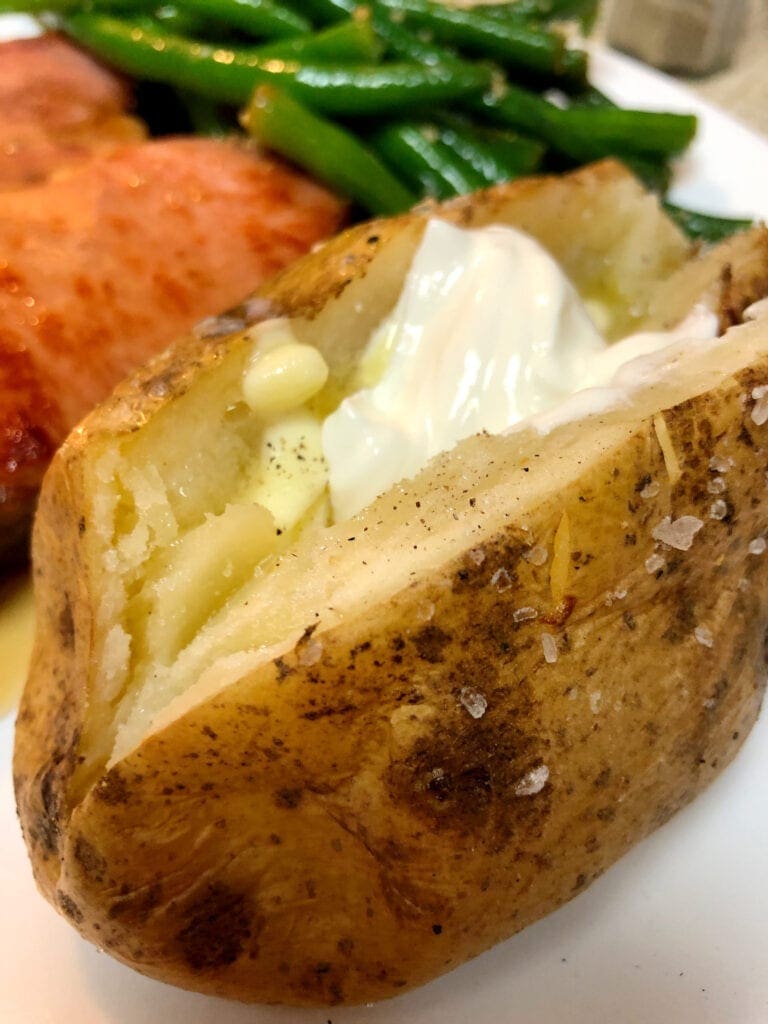 How Can You Tell When A Baked Potato Is Fully Cooked?
Let me tell you, a perfect baked potato is hard to beat. The outside golden and crisp; that is coated coarse sea salt. (because you will be eating the skin of course). When you pierce the crisp skin and your fork gives way to a soft, fluffy interior, you know that the potato is fully baked.
Top the potato with butter, sour cream, salt, and pepper and it is just the most delectable side dish around. So easy and delicious. .
Make the Perfect Baked Potatoes Every Time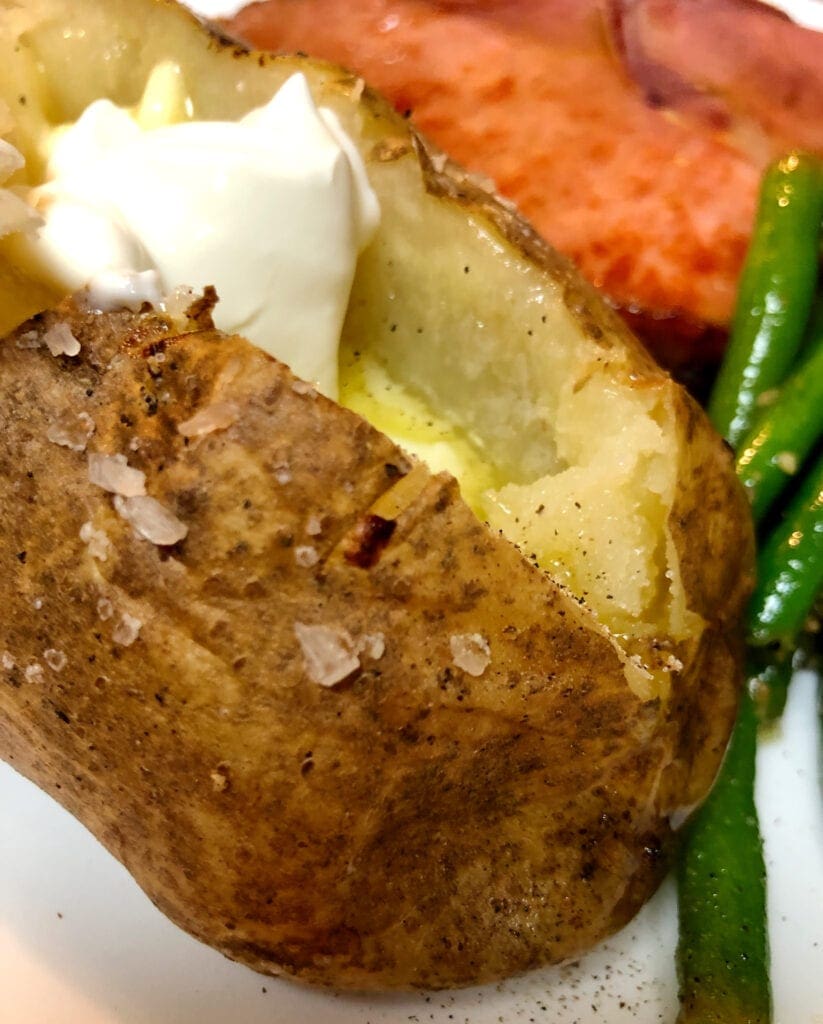 Type of Potato for Baking in the Oven
Use the right type of potato.
I use russet potatoes for baking. They are a potato with a high-starch content and work very well for the dry heat of the oven.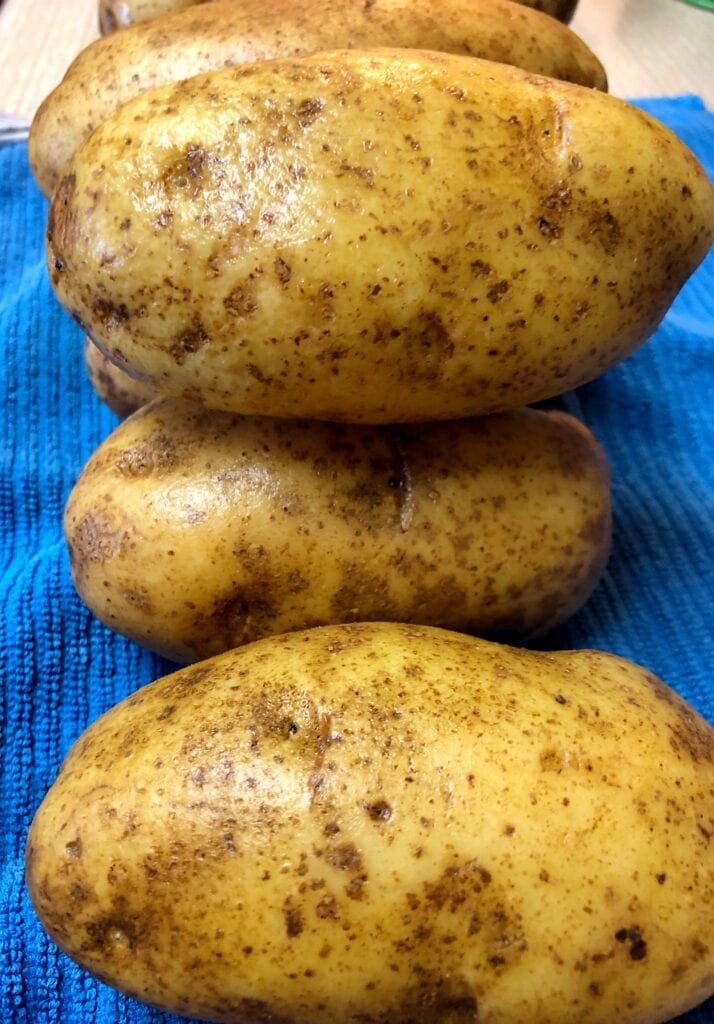 Along with the potato, this recipe calls for olive oil and salt. Very simple ingredients for delicious and perfect results every time.
While the oven preheats, prep the potatoes. Scrub the potatoes well and pat them dry with a kitchen towel. Then, poke the potatoes with a pairing knife all over the potato. This creates a way for the steam to vent out of the potato.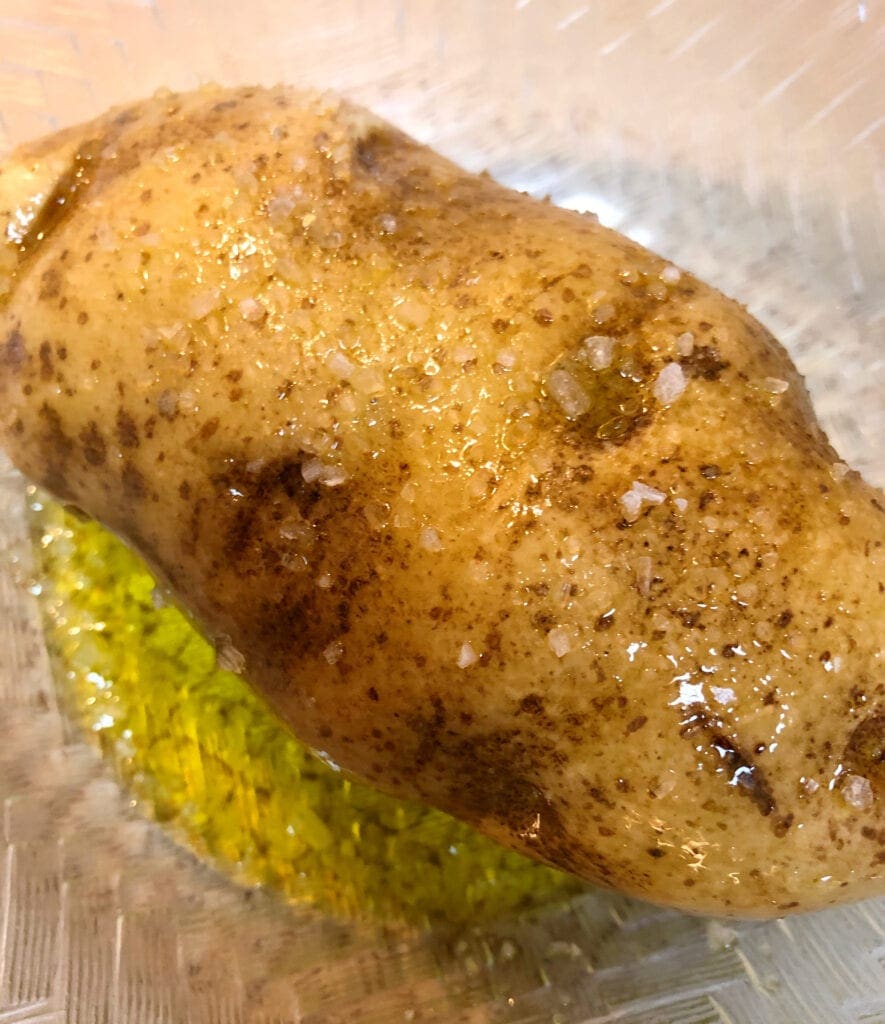 Season the Potato Skins
Next, it is time to season the potato skins. Whenever I bake potatoes, we always end up eating the crispy skin too. Therefore, it is an important step to season the skin. I like to coat each potato in olive oil. However, it can be messy; therefore, I place the potato in a bowl before drizzling olive oil over the potato. The bowl catches the excess and I can roll the potato in the excess oil.
Add coarse sea salt to one side of the potato. Place that side down on a baking tray that is lined with either parchment paper or tin foil. (much less mess to clean up)
Idea to Try: I have heard that putting bacon drippings over the potato skins and then baking is delicious too. Since I have not tried this yet, I am not able to tell you if it is good or not. But, wanted to pass this idea along just in case you have a bacon lover in your family.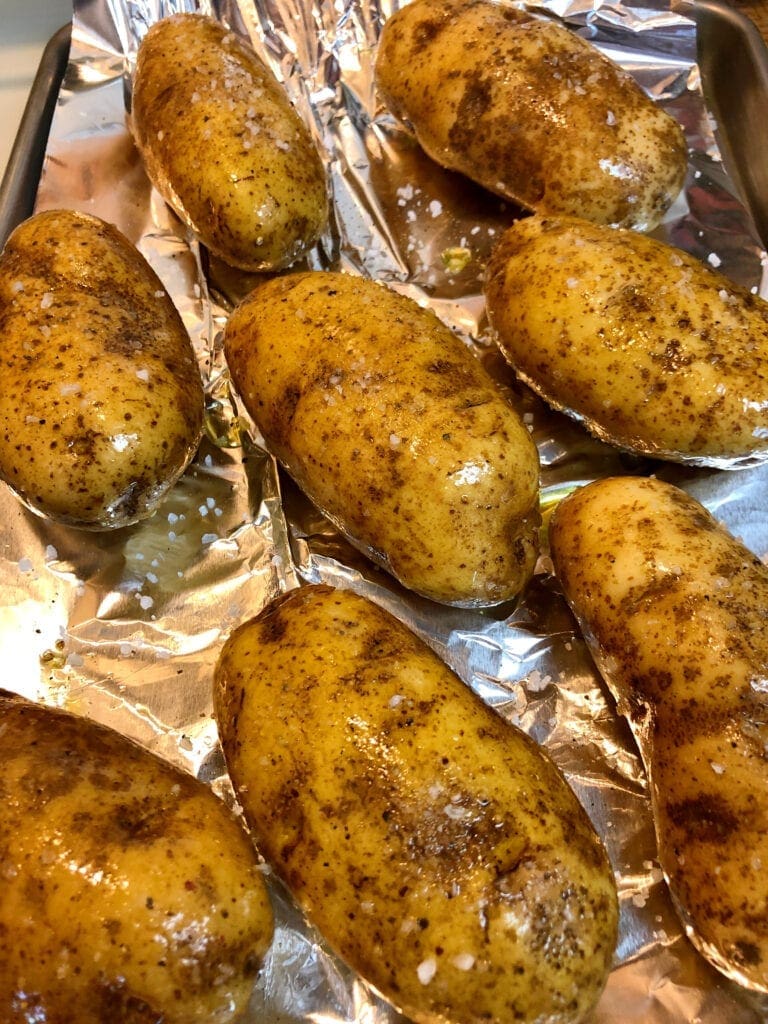 Potatoes Can Be a Hearty Side Dish or Main Dish
Serve them as a hearty side dish, or load them up and call them dinner. Add broccoli, cheese, diced ham, bacon, onions, and melty cheese sauce for an all-in-one-meal. So delicious and easy too.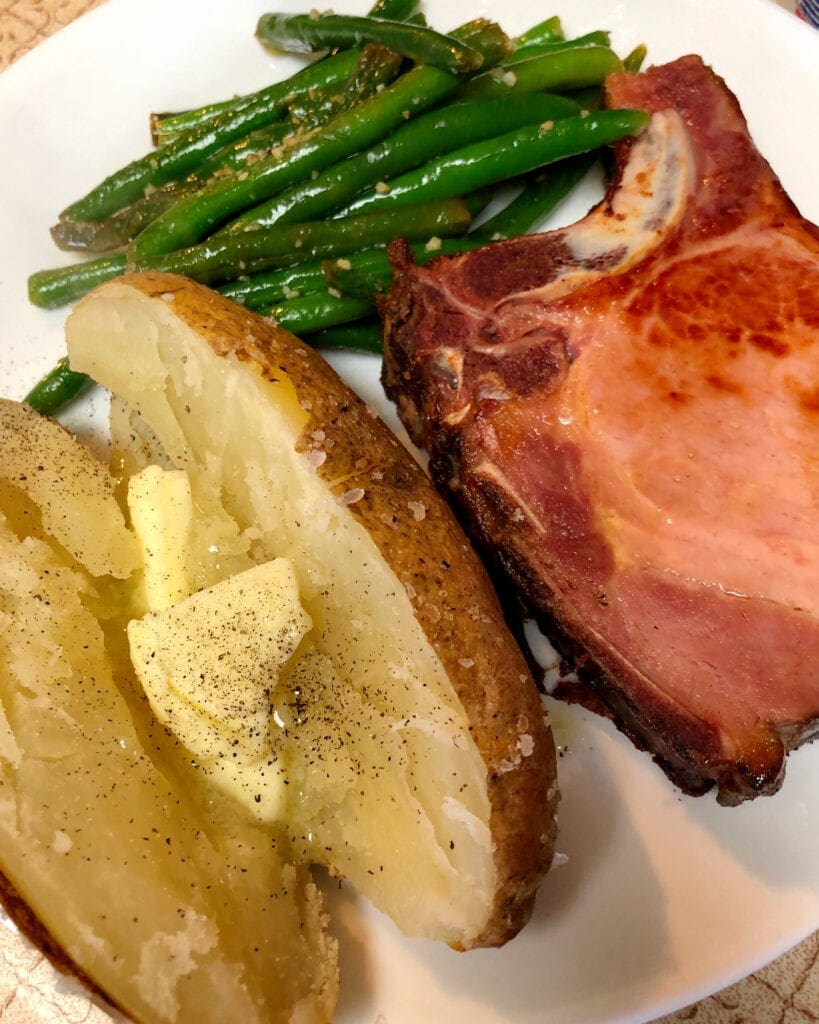 Bake for 60 minutes or more, until the skins are crisp and the center is soft when you poke a knit into the center.
Potato size will make a difference in baking times. Today, I used about an 8 ounce potato. and I had to bake them for 80 minutes. Oven temperature was 400 degrees Fahrenheit.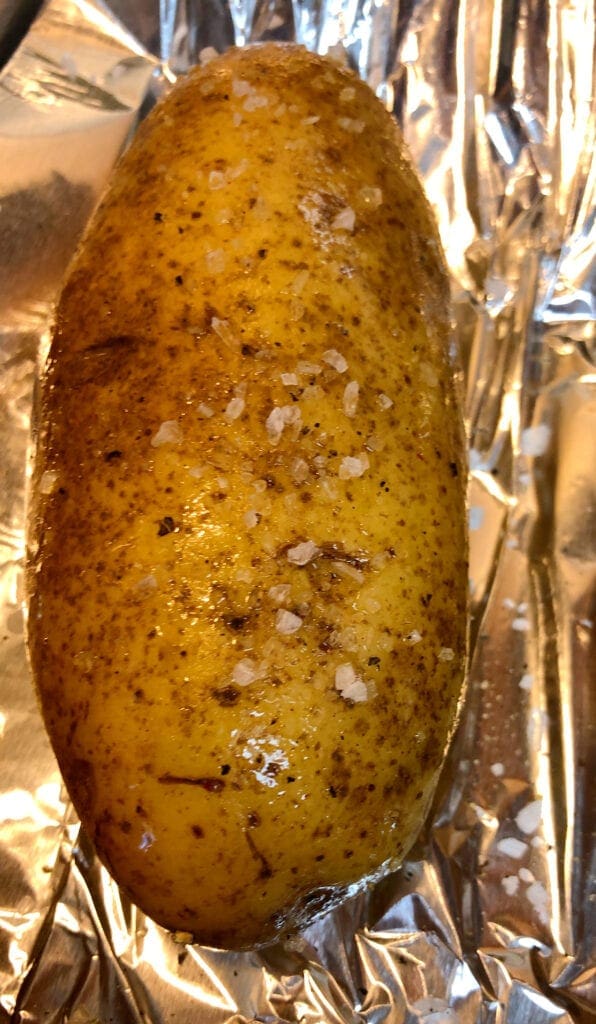 To Wrap in Foil or Not?
If you are camping or cooking on a grill, it is perfectly fine to wrap the potatoes in foil. If I do cook them this way, I will add onions to the foil packet before sealing. Often the potatoes crisp on the bottom because of the high heat. Oh so good.
However, for baking the potatoes in the oven, I prefer not to wrap them in foil. Wrapping the potato in foil before baking will trap the steam inside. The skin will be soft and just not as good for eating as a crispy potato skin.
Baking Potatoes in the Oven: Signs the Potatoes are Done
If you are new to baking a potato, determining if the potato is done can be a bit tricky. You should rely on the look and feel more than the amount of time you have been baking the potato. Remember, the size of the potato makes a difference in the cooking time too. Here is how the fully baked potato should look and feel:
Skin should be slightly wrinkled
When lightly squeezed, the potato should yield to the pressure of your fingers and might even crack open a bit.
A fork or knife should be able to slide into the potato without resistance
If you would like to use a thermometer, it should read approximately 208 degrees Fahrenheit.
If all of these elements are present, you can be assured that it is time to enjoy eating your perfectly baked potato.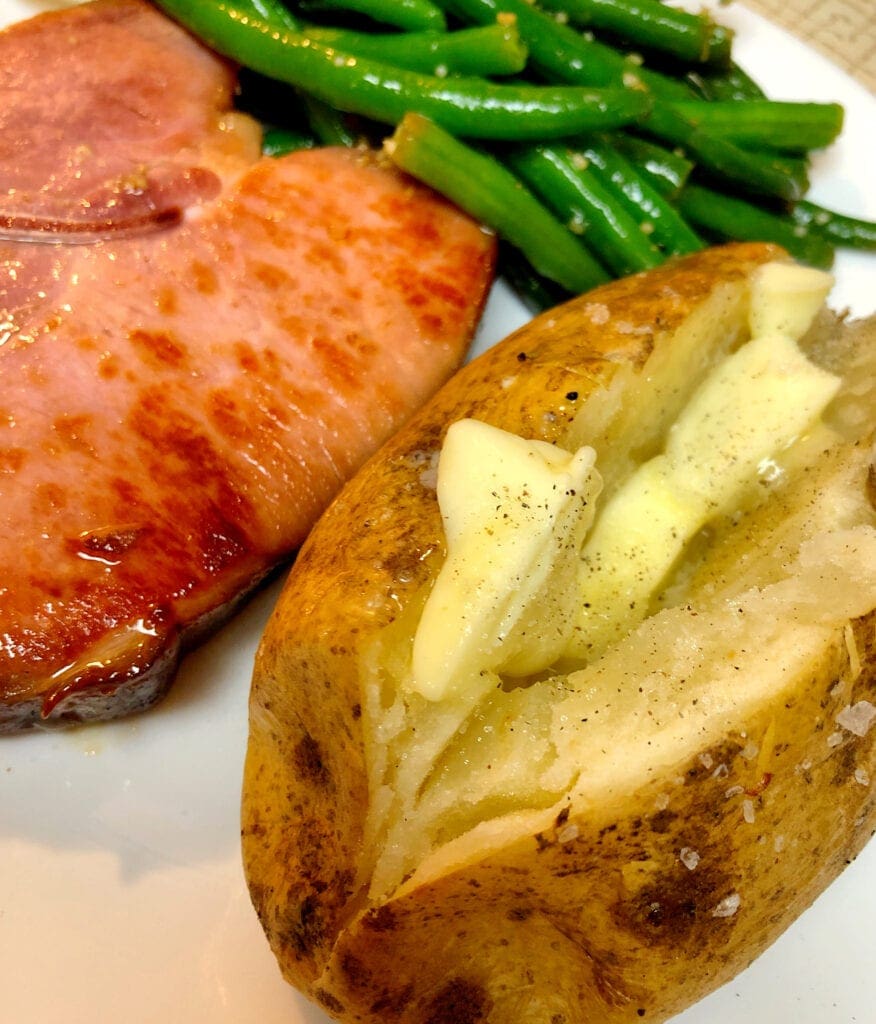 Bake Potatoes in Advance
I cooked in a steakhouse for five years when I was younger. Oven Baked Potatoes were on the menu. We started baking them one hour before the guests would arrive and serve them throughout the evening. If you want great baked potatoes, don't make them more than an hour in advance. Therefore, we would use two ovens. One for baking and the other for keeping them warm at 200 degrees. That way, we had fresh baked potatoes throughout the evening.
At home, since you do not have an extra oven to keep them warm, you can use a slow cooker or roaster on a low setting to keep them warm. If you are not baking anything else, go ahead and set them on the warm setting for up to an hour.
LEFTOVER POTATOES
Let leftover potatoes cool, then put them in an air tight container. They will keep in the refrigerator for up to 4 days.
Speed Up the Baking Time!
Clean the potatoes and pierce with a knife for venting the steam. Place the potatoes in a potato bag or a microwave-safe container and microwave on high for about 7 minutes. They should give just a bit when the potatoes are squeezed. Then follow the recipe below; reducing the baking time to 20-30 minutes.
Baked Potatoes in the Oven
Baked potatoes in the oven turn out just perfect each time I make them. A perfect baked potato has crispy skin and fluffy insides. My method for how to bake a potato works every time.
Ingredients
1

6-8 Oz.

Or More Russet Potato

Vegetable Oil, Olive Oil, or Bacon Grease

Salt
Instructions
Preheat the oven to 400°F. Determine how many potatoes you will bake today. Prepare your baking sheet with Tin Foil or Parchment Paper for easy clean up. Or, if you have a baking rack that fits into your baking pan, that is nice to use as it lets the air circulate around the potato for even cooking.

Wash and dry the potatoes.

Dry the potatoes with a Kitchen Towel.

Poke each potato all over 10-12 times with a pairing knife – about an inch into the potato. This creates those steam holes.

Rub the potatoes with the oil or bacon grease. You can eyeball this amount, but 1/2 teaspoon per potato should do it. Add salt to the outside of the skin after oiling. I like to add coarse sea salt to one side. Place that side down on the foil and salt the top side.

Bake 1 hour or until skin feels crisp but flesh beneath feels soft.  If you're cooking more than 4 potatoes, you'll need to extend the cooking time by up to 15 minutes. Also, if your potatoes are large, they may require more baking time.

Cut a hole down the center, this will expose the soft flesh. Add your toppings of choice and enjoy.
Notes
Toppings for Potatoes: Sour Cream, Butter, Salt, Pepper, Cheese, Bacon, Ham, Paprika, Parmesan, Salsa, or French Onion Dip. At our house, anything goes. Once the potatoes are baked, everyone has their favorite way of eating their own. 
Nutrition
Calories:
1
kcal
|
Carbohydrates:
1
g
|
Protein:
1
g
|
Sodium:
1
mg
|
Sugar:
1
g
Environmental Information
A few of my favorite things
The Power of Positivity
PATTERN PRINCESS SHOP
If you loved this post, please share. It helps to show me that these types of posts are helpful – thank you!
I hope that you liked this recipe. If you are looking for more ideas on what to make, here are a few other recipes that you may enjoy.