Learn how to Make Homestyle Potato Salad. At our house, this means comfort food. Whenever I need to bring a dish to pass, people have no problem requesting this dish.
*Post contains affiliate links* for more information please read the disclaimer on the About Us page.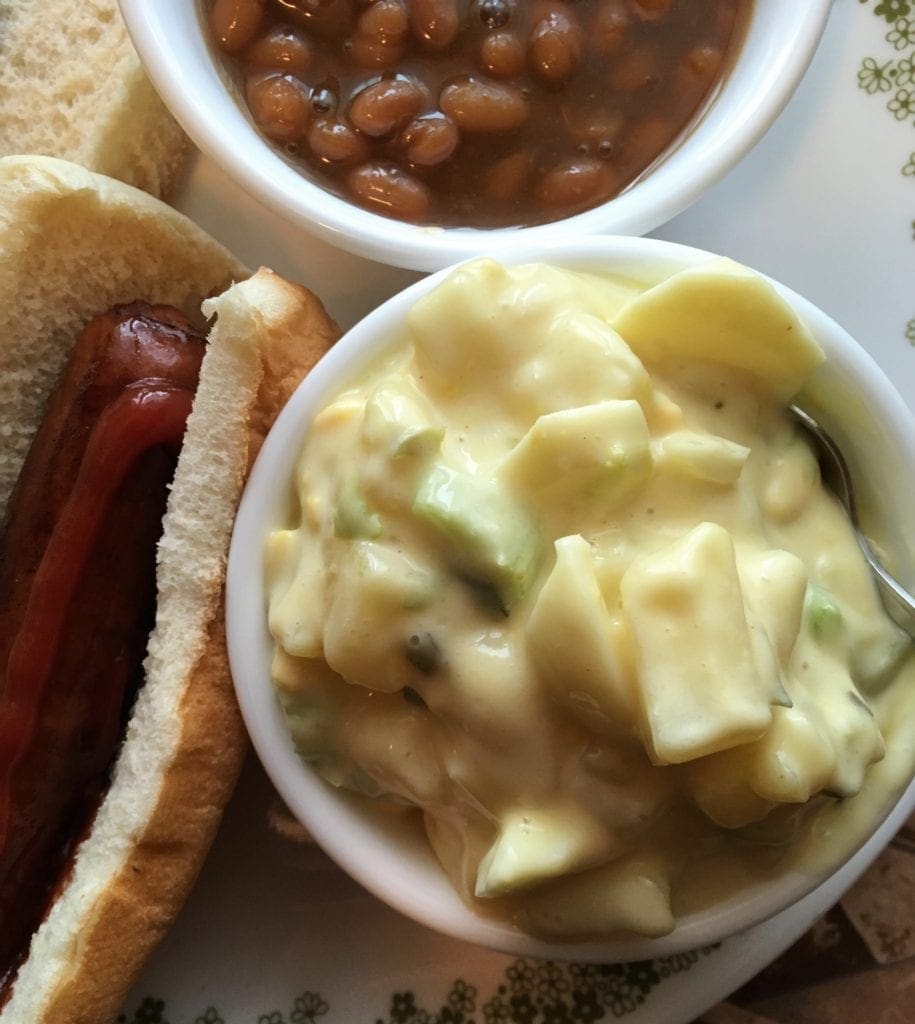 I keep telling people that I do know how to make other food and it is pretty good too. They don't seem to care. That is okay with my family. When I make some to take, I always make enough for at home too.
In fact, I can't imagine a summertime gathering without this delicious side dish. This is our favorite potato salad hands down. I have never had any other potato salad like this. We do purchase the potato salad from the deli counter occasionally, but it is just not the same.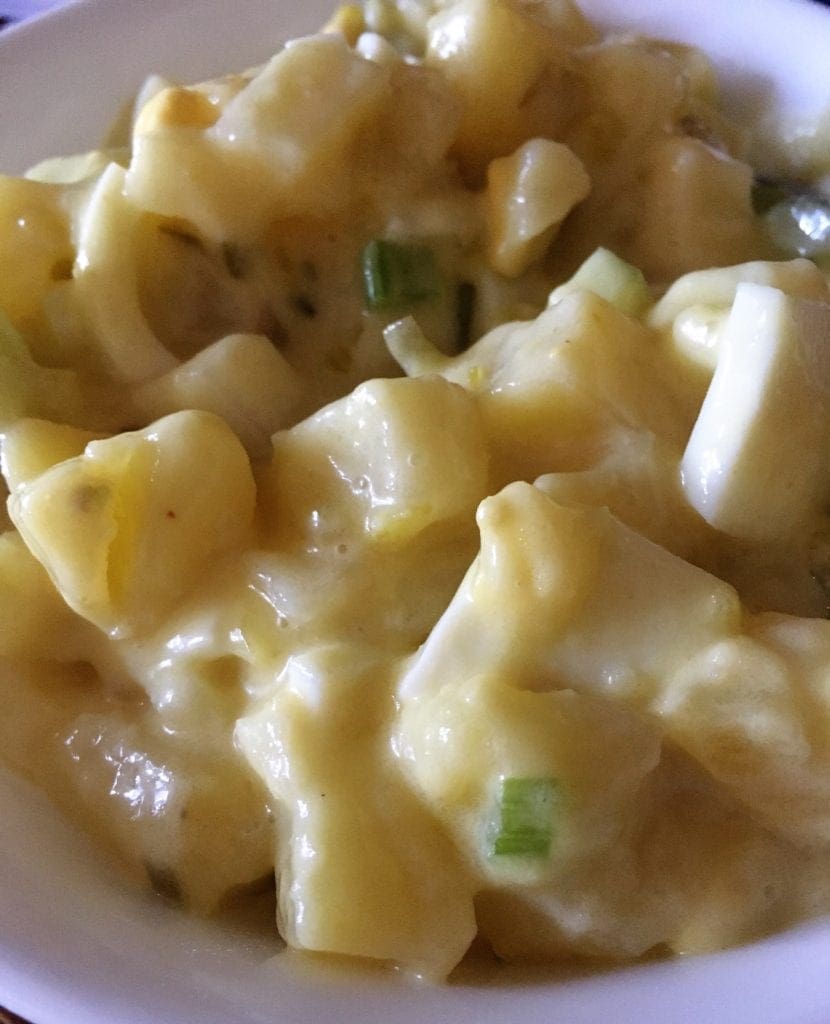 Dressing
I think that there are a few things that make this potato salad unique. Often, potato salad recipes call for vinegar-this recipe does not use i. However, it does have sweet pickle relish in the recipe. Additionally, I use Miracle Whip Salad Dressing. It seems these key ingredients help give this salad a unique taste.
How to Keep the Potatoes Cubed When Mixing the Salad
When cooking the potatoes, I struggled for years to get nice looking cubed potatoes. I used to always quarter the potatoes before boiling them. As it helps them cook faster. However, when I would try and cut the potatoes, I would often end up with smushed potatoes. They were cooled but not cold when I would cut them.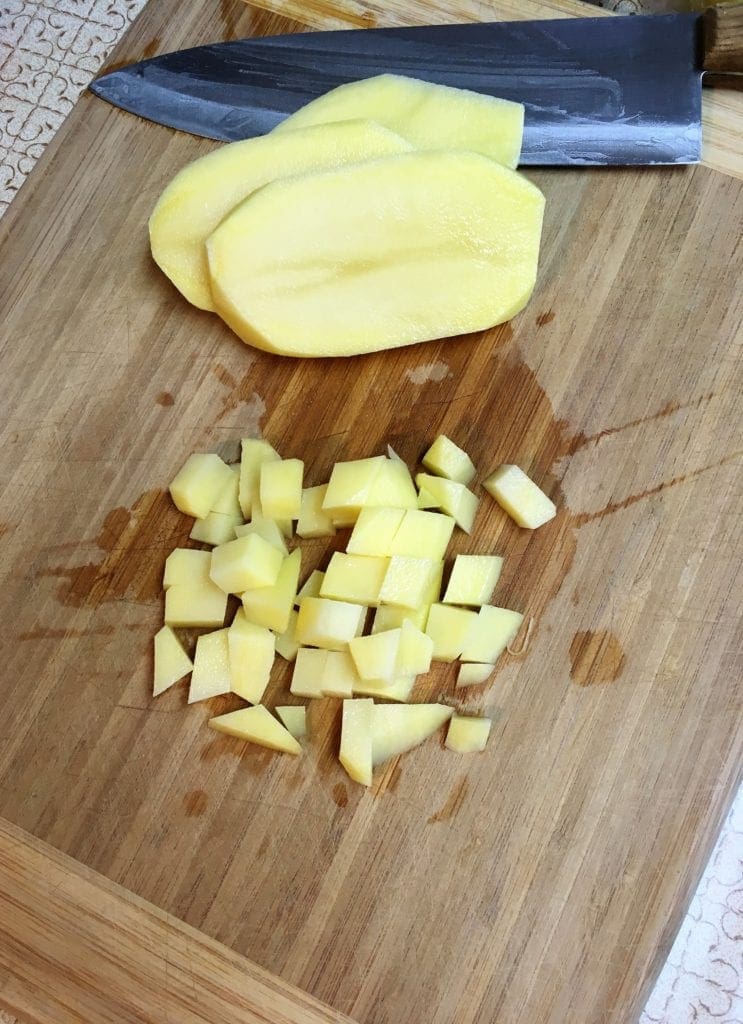 Then, one time, I cubed the potatoes before cooking. I have never gone back. The potatoes cooked very fast. All I had to do is drain the potatoes in the colander and let sit to cool. They look great in the potato salad. No more mushy mess.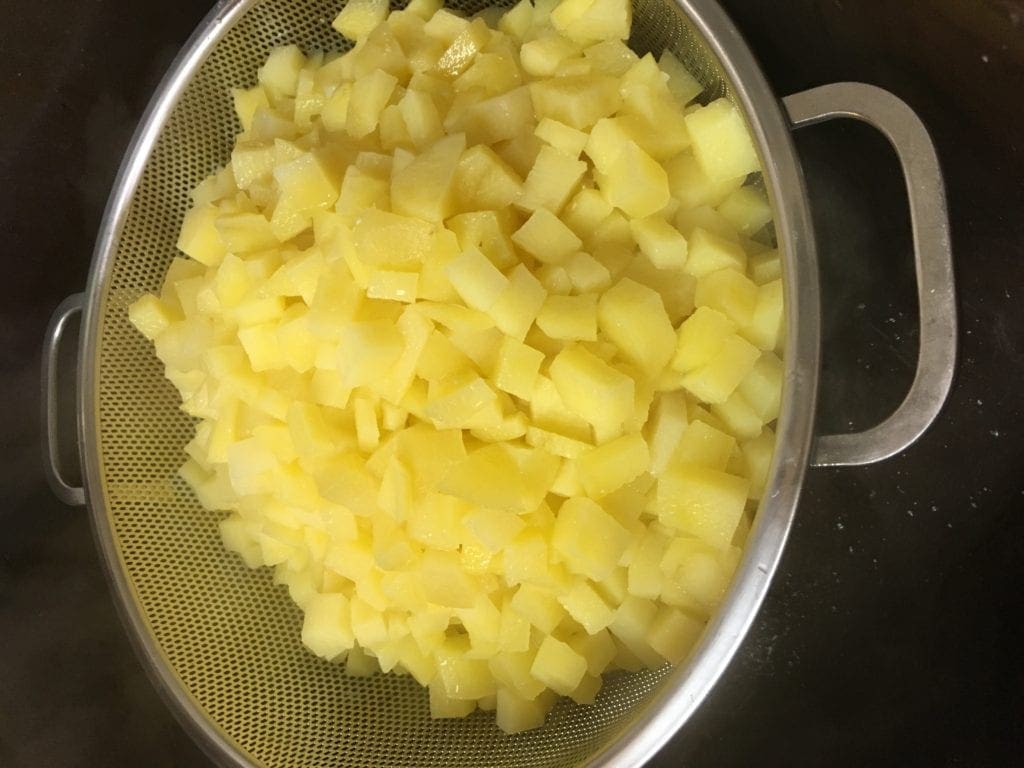 How Many Eggs?
Why am I talking eggs? Well, my daughter loves lots and lots of eggs in the potato salad. So, that is why you might notice the recipe lists 5-10 large eggs. Most people would be fine with 5 eggs.
Not my daughter. I think if she had her way, she would have me use a whole dozen.
Knowing how people like your cooking makes you want to specialize your recipes just for them. Therefore, I use 10 eggs.
For years, I struggled with peeling hard-boiled eggs. So much that I rarely wanted to make them. Until one day,..
I was in a hurry and I cooled them quickly with cool water peeling them when they were just cool enough for me to handle. The shells almost fall off!
I accidentally found a new trick.
Then a few years later, I decided to cook the eggs in a covered kettle versus a small pot that barely held the eggs.
I covered the kettle and only used about an inch of water. The result was perfectly cooked hard-boiled eggs that peel easy. I am sure that there is a scientific reason for why this works, but I don't have a clue why this works.
All I know is, this is how I make my hard-boiled eggs and it works every time. I no longer dread making hard-boiled eggs and peeling them.
Kitchen Essentials
When draining the potatoes, I love to drain them using this colander. Many years ago, I had a few different colanders and they did not drain well. I was continually tipping the container from side-to-side trying to get the liquid to drain out.
That is no longer the case. Since I got this colander, I no longer have any issues. I just love this colander.
This potato salad pairs well with hamburgers, brats, and hot dogs.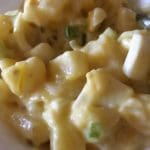 Print Recipe
How to Make Homestyle Potato Salad
Simply amazing potato salad. This homestyle potato recipe is requested at every potluck it seems we attend. Folks just love the taste of this potato salad.
Ingredients
5

Lbs.

Potatoes

Cooked and Cubed

5-10

Large

eggs

Cooked and Cubed

3

Stalks

celery

Diced

1

Small

onion

Diced
Dressing
3

Cups

Miracle Whip dressing

2

Cups

sugar

1

Cup

milk

1

Cup

Sweet Pickle Relish

2

TBL.

Yellow Mustard

1

TBL.

Lemon Juice

salt

to taste

pepper

to taste
Instructions
Potatoes: Peel and dice potatoes. Dice size should be the size you would like to eat, approximately ¼ " to ½ " dice. Since you will be just cooling and mixing after you cook the potatoes. This also helps the potatoes cook quickly and uniformly.

Bring to a boil and continue cooking for approximately 10 minutes. Just until fork tender. Don't overcook or they will be mushy. Drain in colander until cool.

Eggs: Make the hard-boiled eggs. Place in covered kettle with 1 inch of water. Bring to a boil and continue boiling for 5 minutes. Turn off heat and let sit covered 10 minutes. Then cool slowly with cool running water. As soon as the eggs can be handled, begin peeling the eggs. Make sure to rinse off each one to remove any leftover shell. Dice eggs and egg and add to the bowl. Add to the diced potatoes. Sometimes if I am trying to be fancy, I set aside 1 or 2 hard-boiled eggs. They can be sliced and put atop the potato salad. Then I will sprinkle a bit of paprika on top.

Celery and Onion Dice the celery and onion and add to the diced potatoes and eggs.
Dressing
Use a bowl large enough to mix ingredients for the dressing. Add the Miracle Whip, sugar, milk, sweet pickle relish, yellow mustard, lemon juice, salt, and pepper. Use a wire whisk to mix ingredients until well incorporated and creamy. Sometimes, I find that I need to add a bit more milk to get it to a creamier mixture. Don't worry if you make it too creamy. You can always add a bit more Miracle Whip or just let the potatoes soak up the dressing overnight before you serve it.

Pour the dressing over the potatoes, eggs, onion, and celery. Gently mix to coat. Refrigerate. Can be eaten right away or later.
Notes
If you loved this post, share on your fave social media links at the bottom. It helps to show me that these types of posts are helpful – thank you!
 *Post contains affiliate links* for more information please read the disclaimer on the About Us page.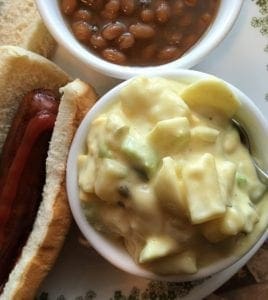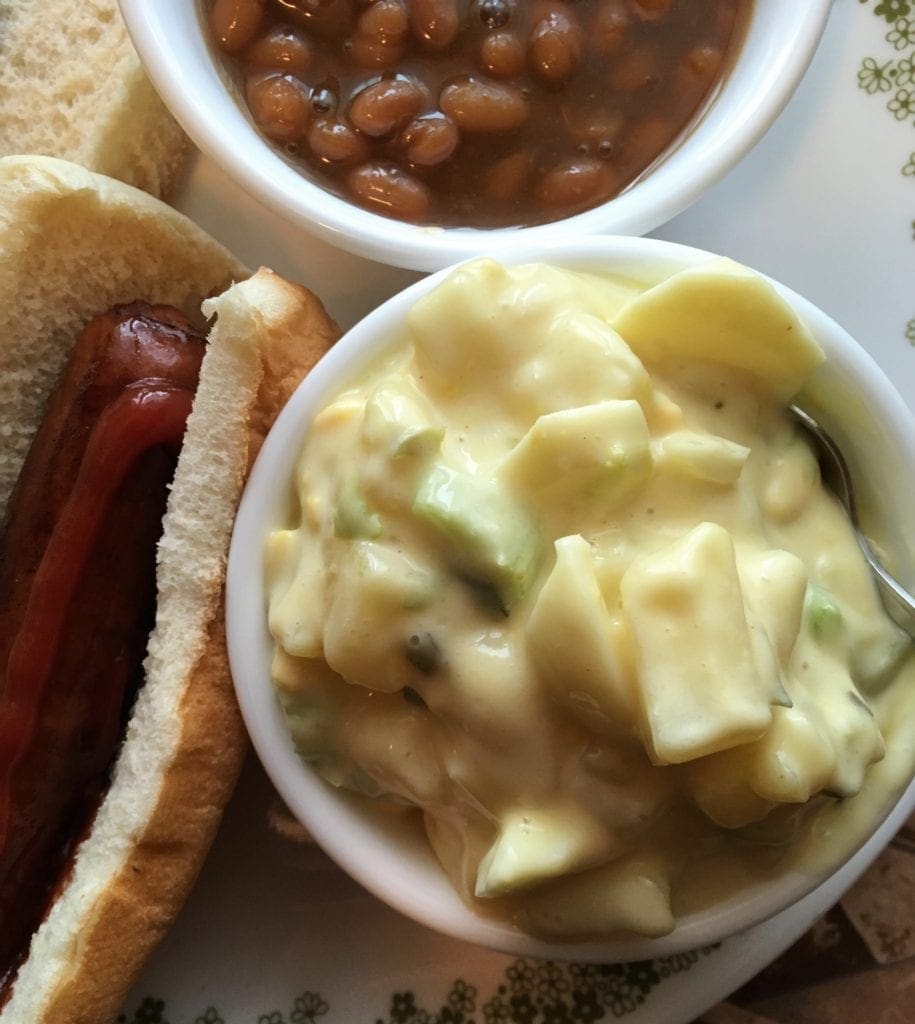 Nutrition
Calories:
322
kcal
|
Carbohydrates:
68
g
|
Protein:
6
g
|
Fat:
4
g
|
Saturated Fat:
1
g
|
Cholesterol:
68
mg
|
Sodium:
603
mg
|
Potassium:
740
mg
|
Fiber:
5
g
|
Sugar:
39
g
|
Vitamin A:
386
IU
|
Vitamin C:
31
mg
|
Calcium:
54
mg
|
Iron:
2
mg
If you loved this post, please share. It helps to show me that these types of posts are helpful – thank you!
I hope that you liked this recipe. If you are looking for more ideas on what to make, here are a few other recipes that you may enjoy.