Simple recipes like this four ingredient baked BBQ chicken are just perfect for a relaxing weeknight meal for the whole family. Sweet, sticky, tender, and a little bit of heat is just the perfect combination to get everyone to the table.
Post contains affiliate links and we earn commissions if you shop through the links on this page. For more information please read the disclaimer on the About Us page.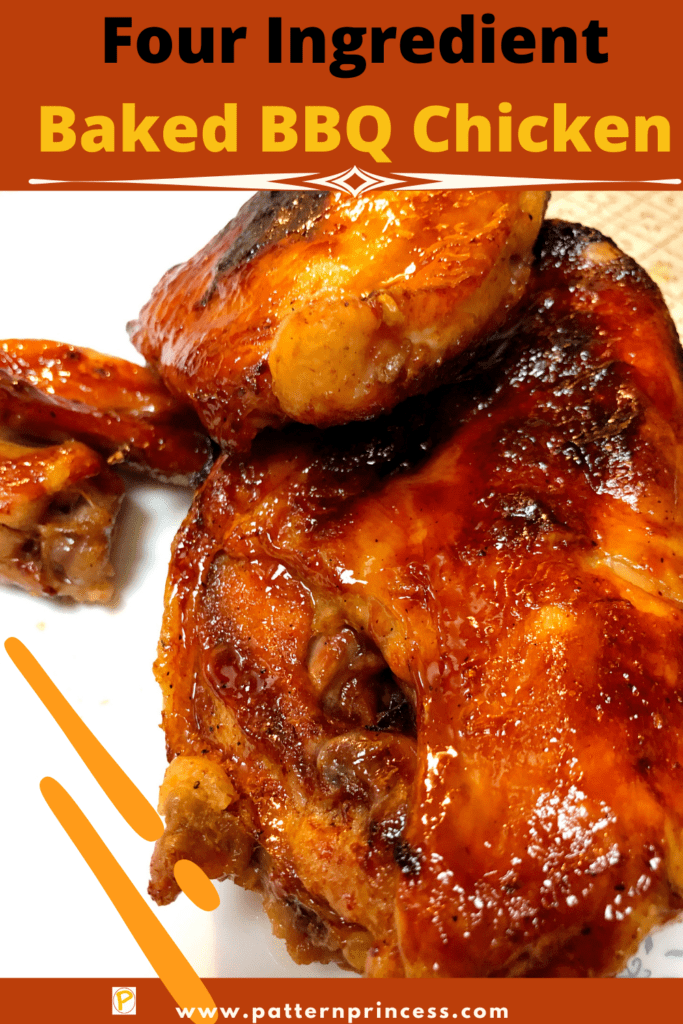 Easy Chicken Recipe
A great chicken recipe that does not require any marinating. If you are like me, after a long day at work, while driving home, your mind begins to think about what you will make for dinner for the family. While it is so much better to plan ahead, sometimes, I am exhausted and that is the furthest thing from my mind.
Therefore, this chicken recipe that does not require any prep work is simply perfect for a delicious and easy meal for my family. It is one of those dinners nobody at the table ever complains about. They always come back for seconds.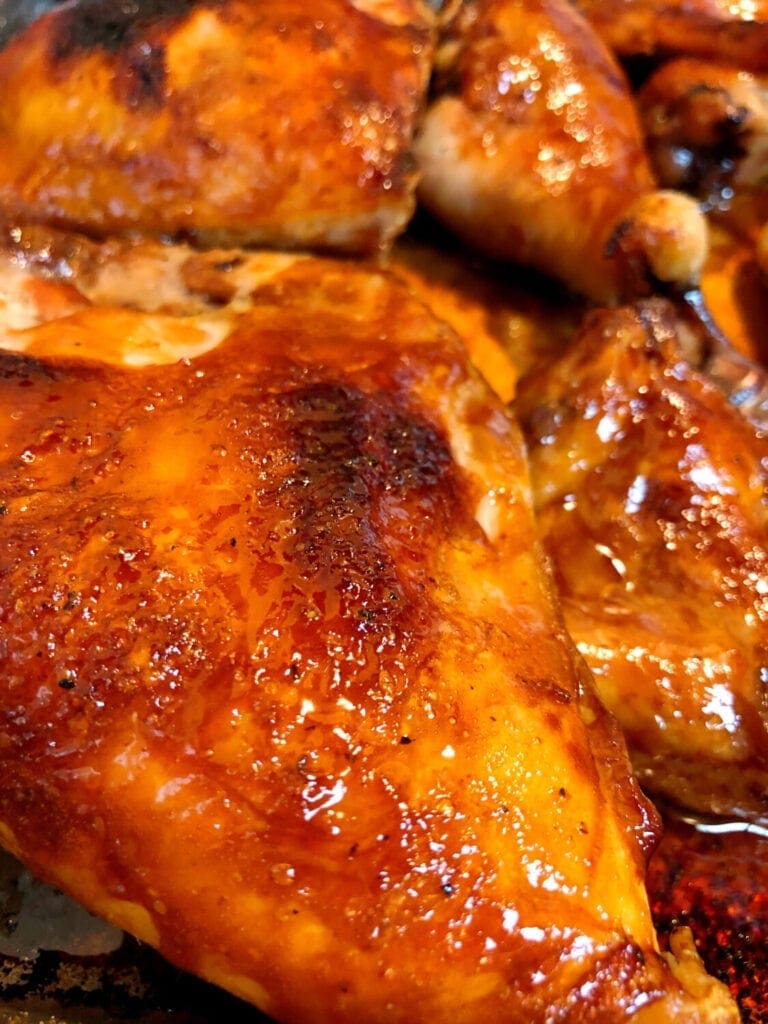 Classic Chicken Recipe
This chicken recipe is a classic, but a simple way to dress up chicken and make it something new.
It seems that the best BBQ chicken recipe does not call for complicated marinades or rubs. Keep it easy and make your chicken on the grill. However, you can just as easily make your chicken in the oven.
It is Winter in Wisconsin and I prefer not to stand outside in sub-zero weather making dinner. So, the oven method works perfect for me. Find out how.
Chicken for this BBQ Recipe
Either use a pack with pre-cut pieces from the supermarket, or you can butcher an entire chicken yourself.
Today, I doubled the recipe and made two whole chickens cut up. That way, there are leftovers for the family to heat up while I am at work the next day.
If you prefer, you can just as easily use chicken breasts, thighs, or any piece of chicken really.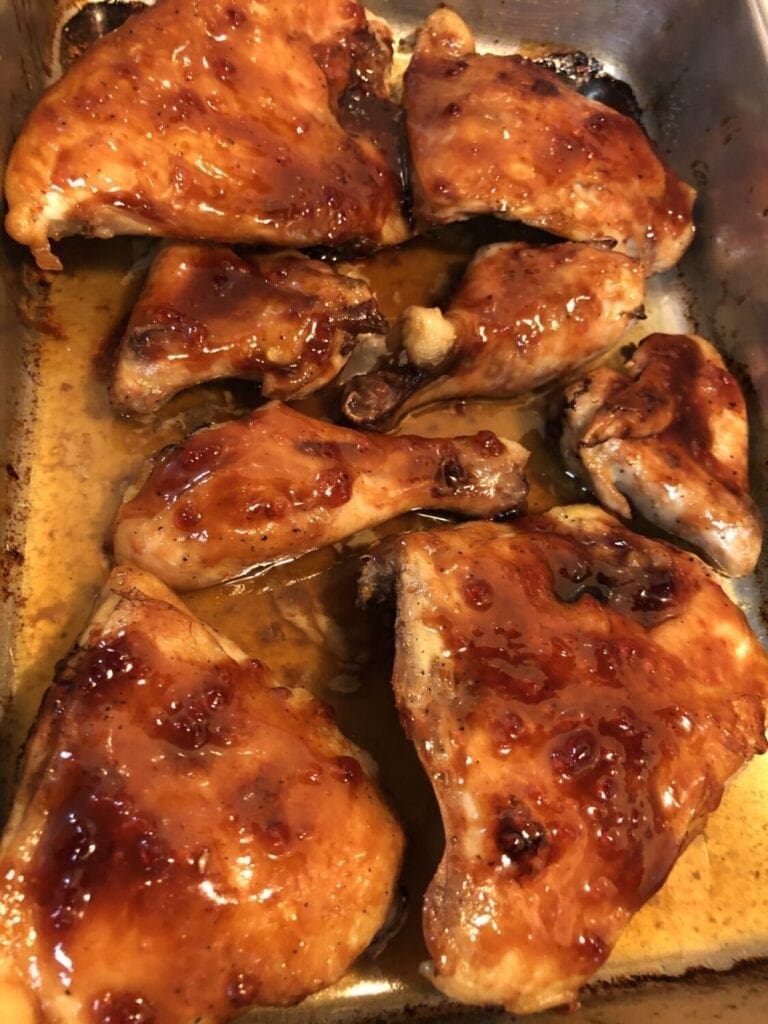 Four Ingredient Oven Baked BBQ Chicken Recipe Success
Cook the chicken nearly all the way through before adding the BBQ sauce near the end. Since sauces like this contain sugar, which causes it to easily burn.
Bone-in, skin-on chicken pieces are the best for juicy chicken every time.
If you use chicken breasts that are skinless and boneless, bake them for 10-15 minutes initially. Then flip them and start to baste with the BBQ sauce every 5 minutes, about 3-4 times. Check the temperature after 40 minutes. If the thermometer inserted into the thickest part of the breast reads 165 degrees F, remove the chicken as it is done. Note, if you make just the chicken wings, use this same cooking method.
To get super crispy skin, pat the chicken dry before cooking. Place on a rack that has been placed in a sheet pan. This will allow the heat to go around the entire chicken.
I prefer my chicken a bit moister and stickier. Therefore, I start this chicken out skin side down in a 9 X 13 pan that has a half cup of water added to the bottom. After baking 30 minutes. I turn and start to base with the BBQ Sauce.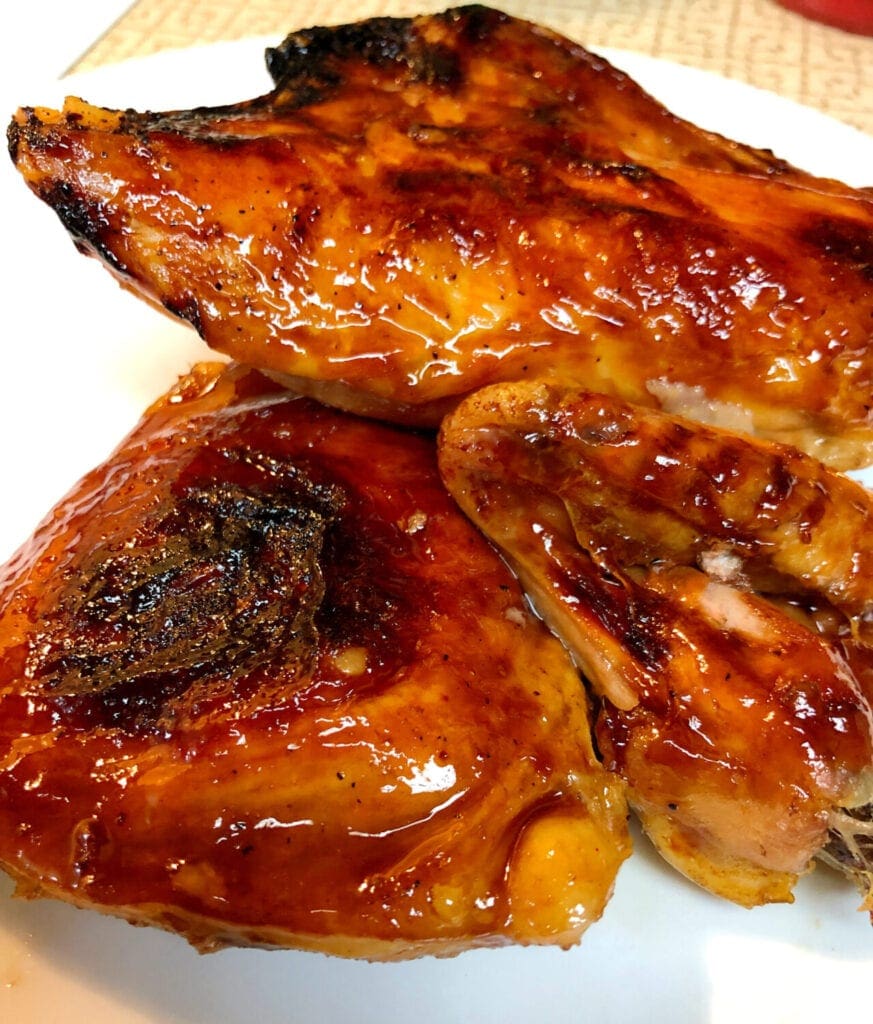 The Barbeque Sauce
This sauce was made from not having all of the ingredients I needed for dinner one evening. Since we live in the country and the closest store was a half hour away, it was necessary to improvise.
Years ago, one evening I started to make BBQ chicken only to realize that there was only a little sauce in the bottle and no extra in the pantry. Therefore, I did some thinking and mixing. The results were scrumptious.
Today, this is still one of our favorite BBQ sauce mixtures!
Bottled BBQ Sauce. I use the Sweet Baby Rays Honey BBQ
Open Pit BBQ Sauce. The original flavor
Grape Jelly. Any brand is simply fine
Just three ingredients are just delicious together. Mix the sauce together and baste the chicken. However, I do save some out for everyone to use as extra dipping sauce.
Temperature of Fully Cooked Chicken
Cook the chicken until the internal temperature is 165°F and juices run clear. Remove from the heat and rest. The temperature will continue to rise.
Allow the meat to sit 5 minutes before cutting. This helps the juices stay in the meat rather than running out when cut.
Super Thick Barbeque Glaze
Baste the chicken three times or more. If it is fully cooked in the oven, then just place under the broiler each time and let the broiler quickly do the thickening work for you. Easy time the sauce is added, it will thicken and caramelize.
Using the broiler for the last time you add the sauce will also get some crispy chicken skin that has those dark, charred parts. Some people like those bits the best.
When using the broiler, keep close watch as it only takes a few minutes to char and thicken the sauce.
Side Dishes that are Good with BBQ Chicken
While we could really just eat this chicken all by itself, a few side dishes really help stretch those dollars and let's face it; a well-rounded meal is better for our health.
Here are a few ideas of some recipes that will compliment this chicken recipe.
Slow Cooker BBQ Beans. This is an easy recipe. Just get the ingredients into the slow cooker and enjoy a few hours later.
Broccoli Cheddar Pasta Salad. This is an easy pasta salad that you normally find at the deli. It is kind of expensive when you purchase this at the deli counter. However, it is so scrumptious. Make a big batch of this at home and save money too. A perfect chicken side dish.
Oven Baked Potatoes. Since the oven is on, this is a perfect time to make some oven baked potatoes with crispy and salty outside skin.
Southern Potato Salad. Just the right amount of creaminess and tang. Perfect for picnics too.
Four Ingredient Oven Baked BBQ Chicken
Simple recipes like this four ingredient baked BBQ chicken are just perfect for a relaxing weeknight meal for the whole family. Sweet, sticky, tender, and a little bit of heat is just the perfect combination to get everyone to the table.
Ingredients
2

Whole

Chickens

Cut up

2

Cups

BBQ Sauce

See the recipe card below for my BBQ Sauce I used today.

1

teaspoon

Lawry's Seasoned Salt

1

teaspoon

pepper

1

Cup

Water
Instructions
Preheat oven to 400 degrees Fahrenheit. Place the chicken skin side down in a 9 X 13 baking pan. Since we are making two chickens today, this will require two pans. Season with half of the seasoned salt and pepper. Add half cup of water to each pan. Bake for 25 minutes.

Save 1/2 cup of the BBQ Sauce for dipping in a separate container.

Remove chicken from oven and turn each piece. Season this side with the rest of the seasoned salt and pepper. Coat the top of the chicken with barbecue sauce using a basting brush. Turn the temperature of the oven up to 425 degrees Fahrenheit. Return the chicken to the oven and bake 7 minutes.

Remove the chicken from the oven again and baste. Place the chicken back in the oven. Do this for a total of three times.

Check the internal temperature of the chicken. If it has reached 160-165 degrees. Remove the chicken and let rest before cutting or serving.

If the chicken is not crisp or browned enough, move the pan to the top rack in the oven and place under the broiler 3-5 minutes until it is crispy and browned.
Nutrition
Calories:
100
kcal
|
Carbohydrates:
20
g
|
Protein:
3
g
|
Fat:
1
g
|
Saturated Fat:
1
g
|
Cholesterol:
1
mg
|
Sodium:
1410
mg
|
Potassium:
33
mg
|
Fiber:
1
g
|
Sugar:
16
g
|
Iron:
1
mg
Grape Jelly BBQ Sauce
This BBQ Sauce is made from just three ingredients. It has just the right amount of sweet and heat to add that perfect glaze.
Instructions
Combine the ingredients in a mixing bowl. Mix with a whisk a few minutes. Use to glaze your favorite meat or use as a BBQ dipping sauce.
Nutrition
Calories:
198
kcal
|
Carbohydrates:
46
g
|
Protein:
2
g
|
Fat:
1
g
|
Saturated Fat:
1
g
|
Sodium:
756
mg
|
Potassium:
91
mg
|
Fiber:
1
g
|
Sugar:
35
g
|
Vitamin A:
40
IU
|
Vitamin C:
4
mg
|
Calcium:
14
mg
|
Iron:
1
mg
If you loved this post, please share. It helps to show me that these types of posts are helpful – thank you!
I hope that you liked this recipe. If you are looking for more ideas on what to make, here are a few other recipes that you may enjoy.