Our family LOVES these creamy cucumbers. Yes, you read that right. Extremely simple recipe! Only three ingredients. Simple cucumber recipe.
*Post contains affiliate links* for more information please read the disclaimer on the About Us page.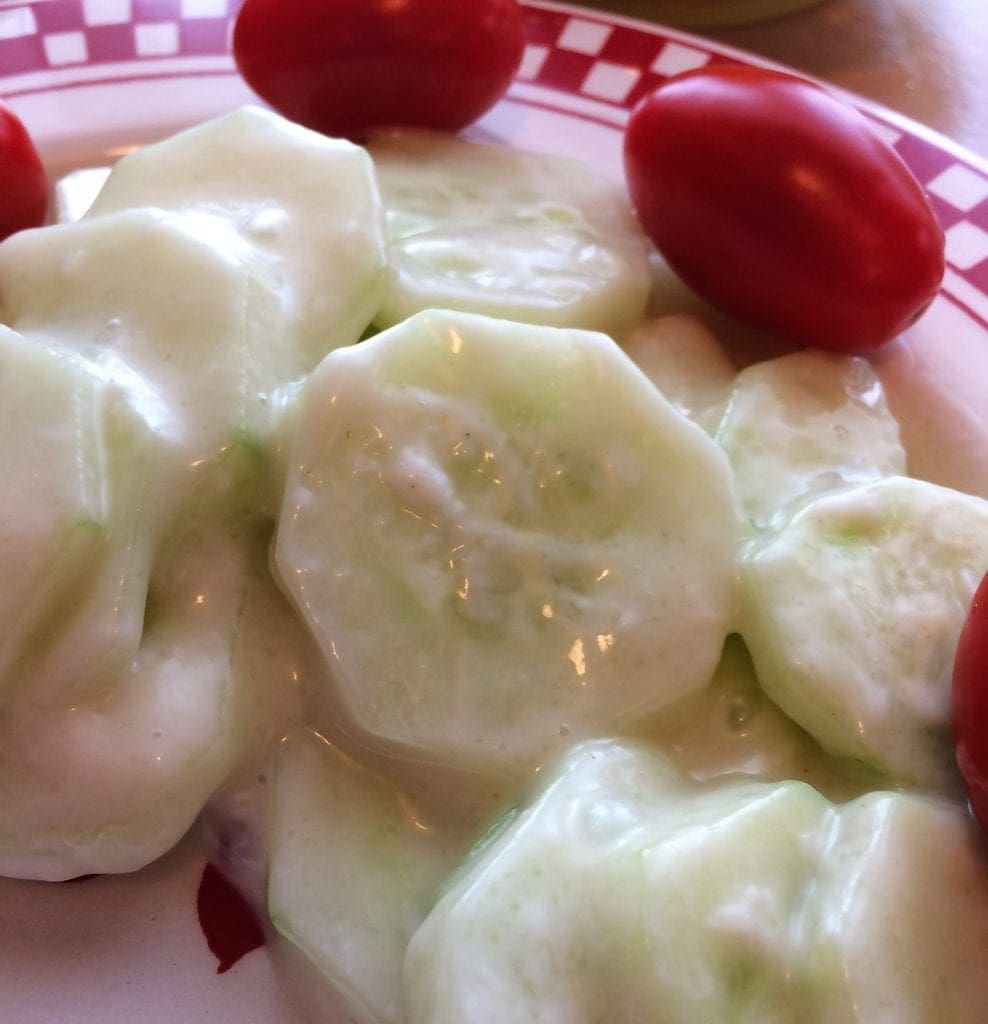 Cucumbers can be a Delicious Salad, Side Dish, or Snack
Tonight, I came home from work late and I stopped at the store before coming home. It is spring here and that means it is time for summer type food. I saw the English cucumbers and just had to get some. My daughter chose cucumbers over pizza tonight…we haven't had these for a few months now. What a treat.
Cucumbers are high in water and low in calories, fat, cholesterol, and sodium.
Pole Cucumbers versus English Cucumbers
Common Cucumber Readily Available
Pole Cucumbers are often found year-round in our local grocery stores. While I have used these in many recipes and salads, they are not my first choice. Why? Because these are waxy, thick-skinned, extra watery, and a little bitter. I find that if I don't remove the outer skin, their bitterness can take over a recipe. However, when the skin is removed, then they are a bit bland. Therefore, they are not my first choice. I will get them if there is nothing else or they are the freshest cucumber in the store. Often those cucumbers I will peel, cut in half, and cut out the seeds as I think the seeds are too big for my preference. On the other hand, if there are fresh English cucumbers near by, I grab those instead.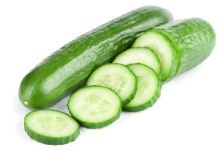 Why Do I Like English Cucumbers?
English Cucumbers; I just happen to like them better because they have a thinner skin, smaller seeds, and are a bit crunchier than the Pole Cucumber. There is also like the uniformity of the cucumber. The English cucumber has a thin layer of plastic to protect it. I believe that is to protect it a bit more because the skin is a bit thin. Sometimes I peel them and other times, I do not peel the cukes. This cucumber is less bitter; therefore, they are perfect for salads or this delicious recipe.
Why Miracle Whip?
Well, I must admit, I do not like creamed cucumbers with dill, or vinegar, or cream, or milk. I am sorry if I have offended someone. It is just my taste buds talking. So, I made this recipe many years ago and it has become a family favorite.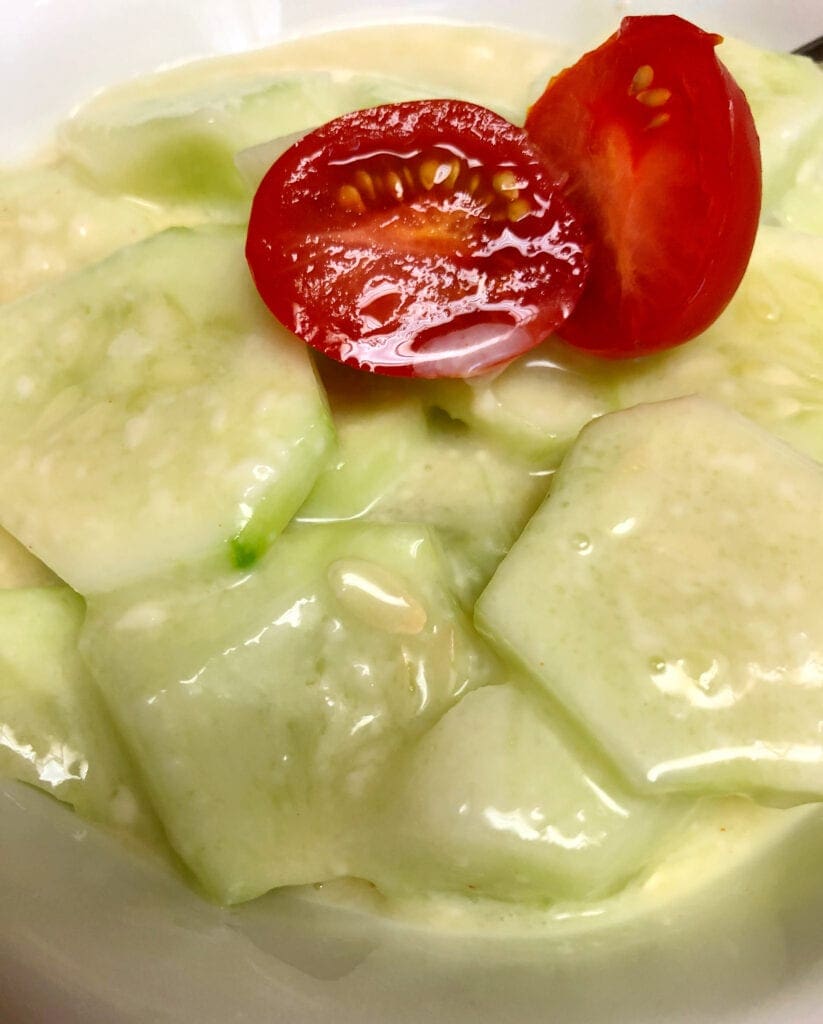 Quick and Delicious Salad Family Recipe
These creamy cucumbers with Miracle Whip can be done in a snap and are great for an appetizer, side dish, salad, potluck. They do last about 1 day in the refrigerator. I am not sure beyond that as they just do not last in my house that long. My personal preference is to have cherry tomatoes with my creamy cucumbers. The rest of the family does not, but I do. So, I show in the picture how I eat mine with the cherry tomatoes on the side.
If you enjoy this simple recipe, then give this delicious homemade creamy salad dressing that my grandmother made for us as children.
Just Yummy!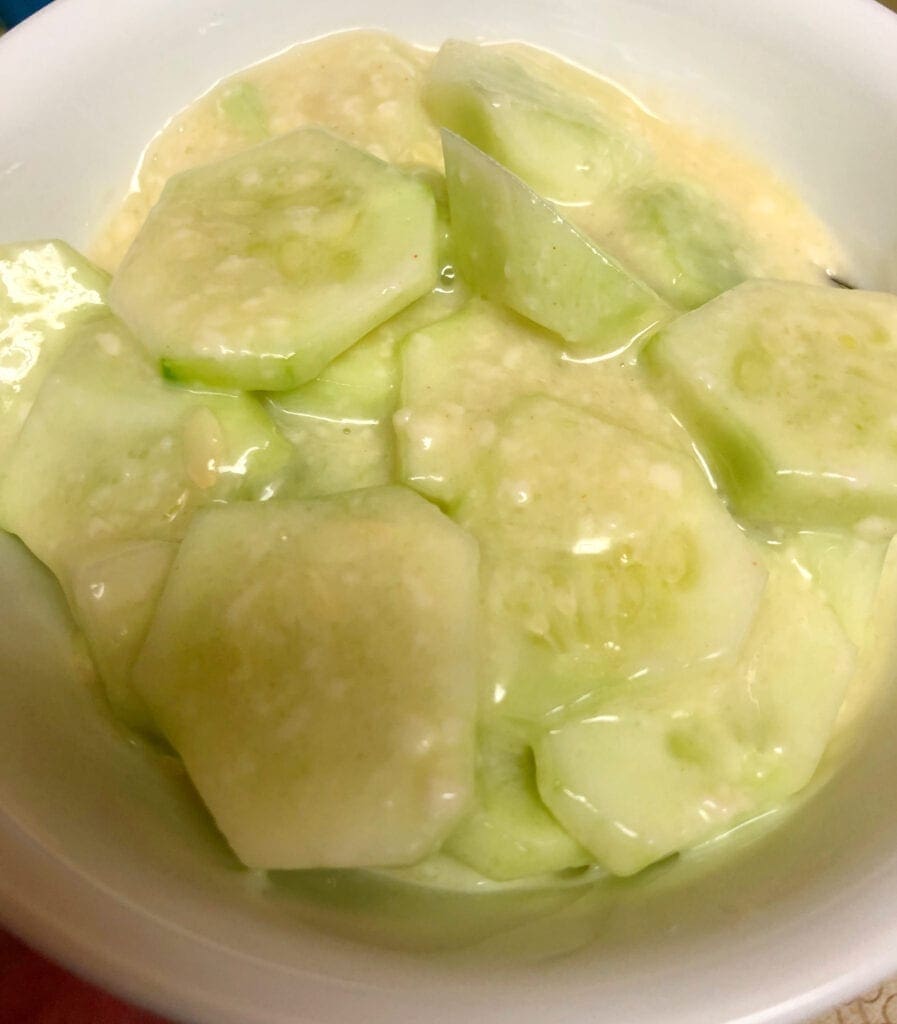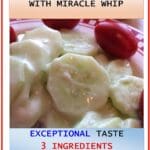 Print Recipe
Creamy Cucumbers with Miracle Whip
Creamy cucumbers that are extremely easy to make. They taste so good, we eat them by the bowl full. So delicious and addicting. Fresh cucumber recipe.
Ingredients
1

Cucumber

English cucumber

peeled and sliced thinly

2

Tablespoons

Miracle Whip

Make the tablespoons heaping

2

Tablespoons

granulated sugar

Make the tablespoons heaping
Instructions
The English cucumbers come in the shrink wrap plastic. Remove the plastic and peel the green skin. I think if you don't remove the skin, it gives the cucumbers a little bit of a bitter taste. You could certainly leave the skins on, then I would wash and dry off the cucumbers before slicing.

Slice the cucumbers thinly. If some of the slices seem kind of big, you can cut them in half as well to make it easier to eat.

Add the Miracle Whip and Sugar. Stir.

Let sit about 3 minutes for the sugar to dissolve. Enjoy!
Notes
Variation: I think you could actually add onions, green peppers, or another type of vegetable that you like.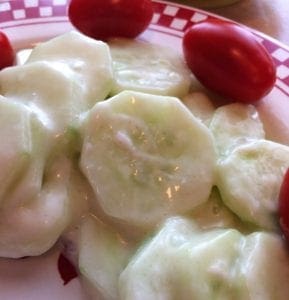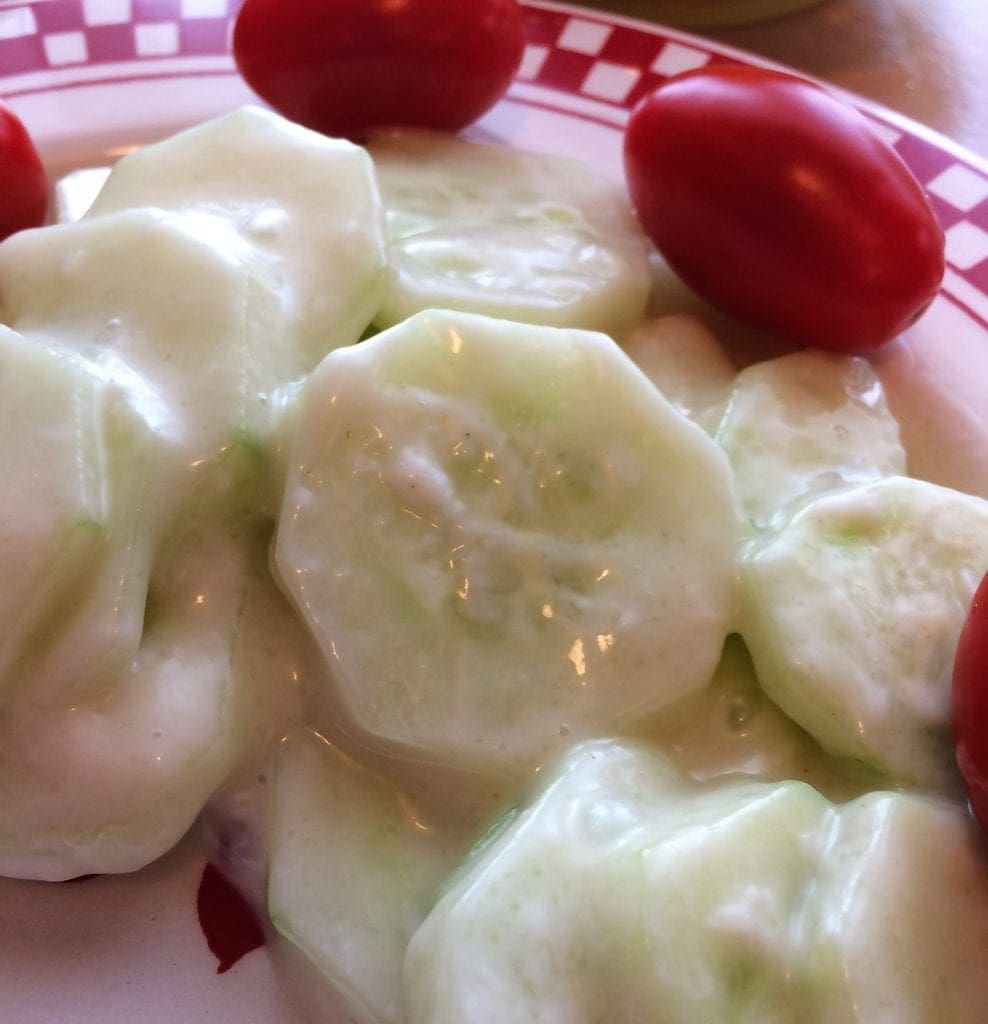 Nutrition
Calories:
93
kcal
|
Carbohydrates:
23
g
|
Protein:
1
g
|
Fat:
1
g
|
Saturated Fat:
1
g
|
Cholesterol:
1
mg
|
Sodium:
129
mg
|
Potassium:
221
mg
|
Fiber:
1
g
|
Sugar:
19
g
|
Vitamin A:
158
IU
|
Vitamin C:
4
mg
|
Calcium:
24
mg
|
Iron:
1
mg
If you loved this post, please share. It helps to show me that these types of posts are helpful – thank you!
I hope that you liked this recipe. If you are looking for more ideas on what to make, here are a few other recipes that you may enjoy.