This is a simple recipe for dill pickles. We finally found the recipe! Our family loves eating cucumbers like this. Enjoy them right away as refrigerator pickles or can them. No matter which way you prefer, this dill pickle is a crowd pleaser recipe.
*Post contains affiliate links* for more information please read the disclaimer on the About Us page.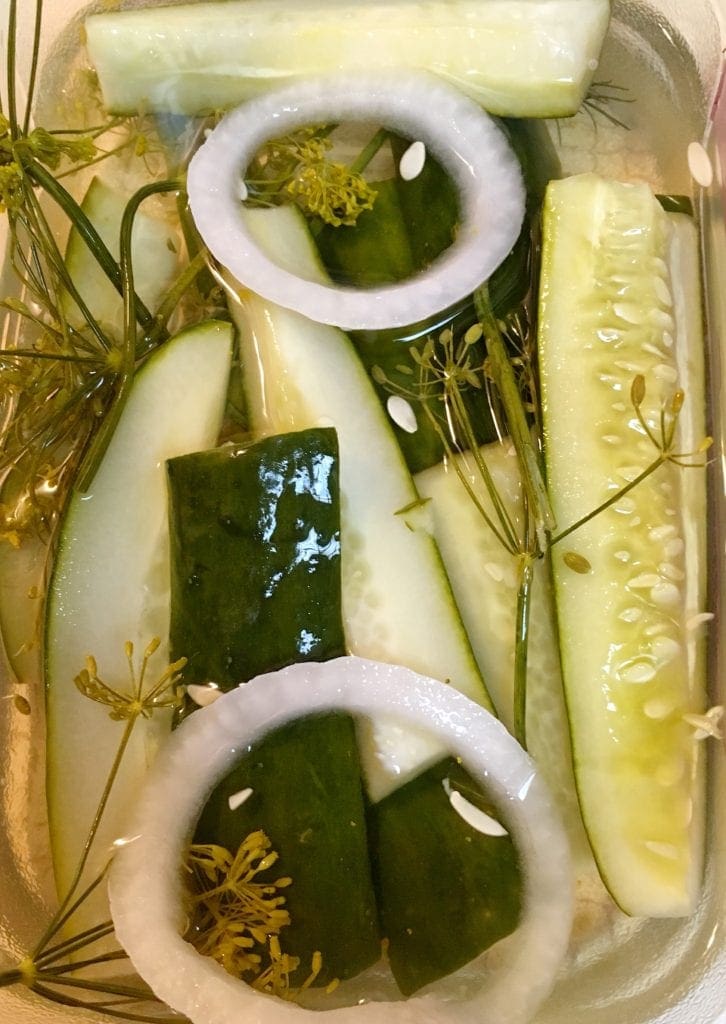 Simple and Tasty Recipe
These incredibly simple pickles have just the right amount of onion, dill and vinegar taste. They are crunchy and refreshing right out of the refrigerator. This recipe can be used for canning or forget the canning and store in the refrigerator. At our house, they get eaten right away anyway.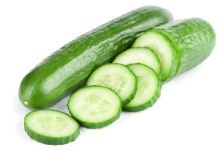 Cucumbers
This recipe is best if you get the garden cucumbers, Kirby cucumbers. The small ones that are bumpy. Sometimes, they might be called a dill cucumber. You could use the long English cucumbers that are available in the grocery store if needed.
Finding the Recipe for the Dills
For years, my mom would get buy dill pickles from some lady that we never had the pleasure of meeting. Every Holiday meal included 2-3 quarts of these dill pickles. We all ate them like they were going out of style.
In an effort to make these dill pickles for our family, I tried many recipes. However, they have not lived up to the recipe. Finally, my daughter and I tasted a pickle that was the dill pickle recipe that we have been searching for! Yay! We even obtained the recipe. There was excitement for the whole family with this news. The search was over.
Sharing Our Pickle Recipe With You
Because we tried so many recipes for years, we don't' want you to have to go through the same search as us. Here is the recipe for the dill pickle. Our friend JoAnn called it a Russian Dill Pickle; however, when I look at all of those recipes, they all have a lot more spices in their recipe. We like the simple taste of this recipe. Hope you and your family does too. Notice that there is onion, dill and cucumbers. The rest is just the ingredients in the brine. My husband likes to use the brine for mushrooms too.
Give it a try, I am guessing you will like this delicious and crunchy goodness too.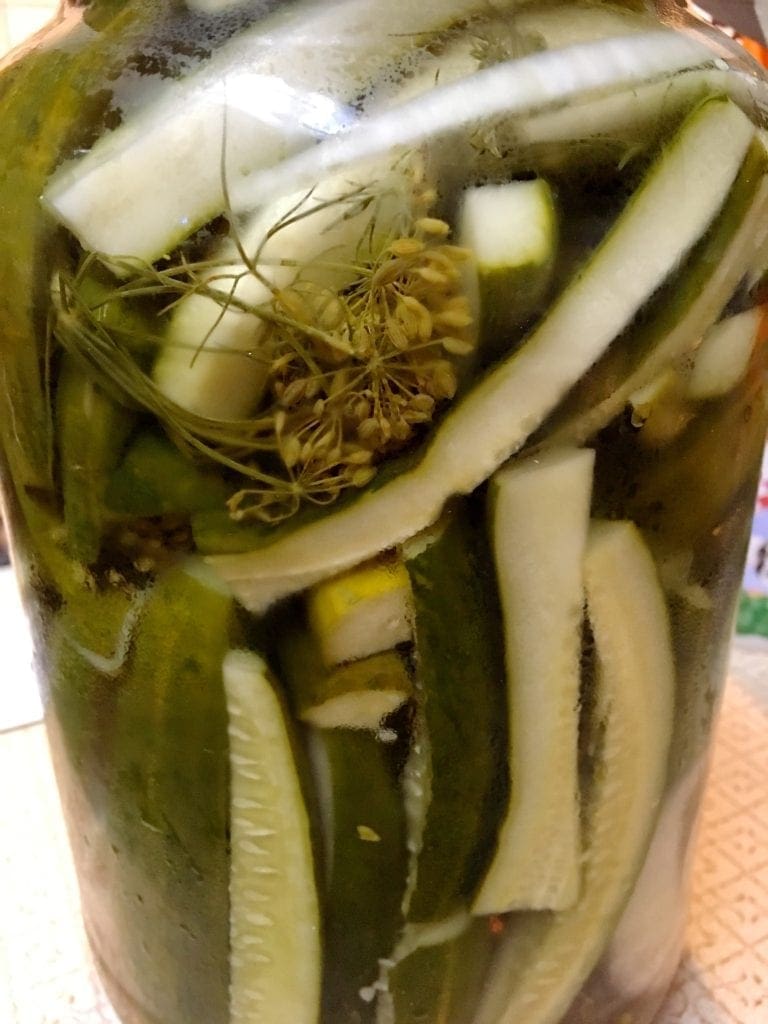 Using a Gallon Glass Jar for the Brine
Where to find gallon glass jars safe for making refrigerator pickles? Here is a wonderful option for you. the glass can be used over and over. Since this recipe is kept in the refrigerator, the cover can also be used again and again.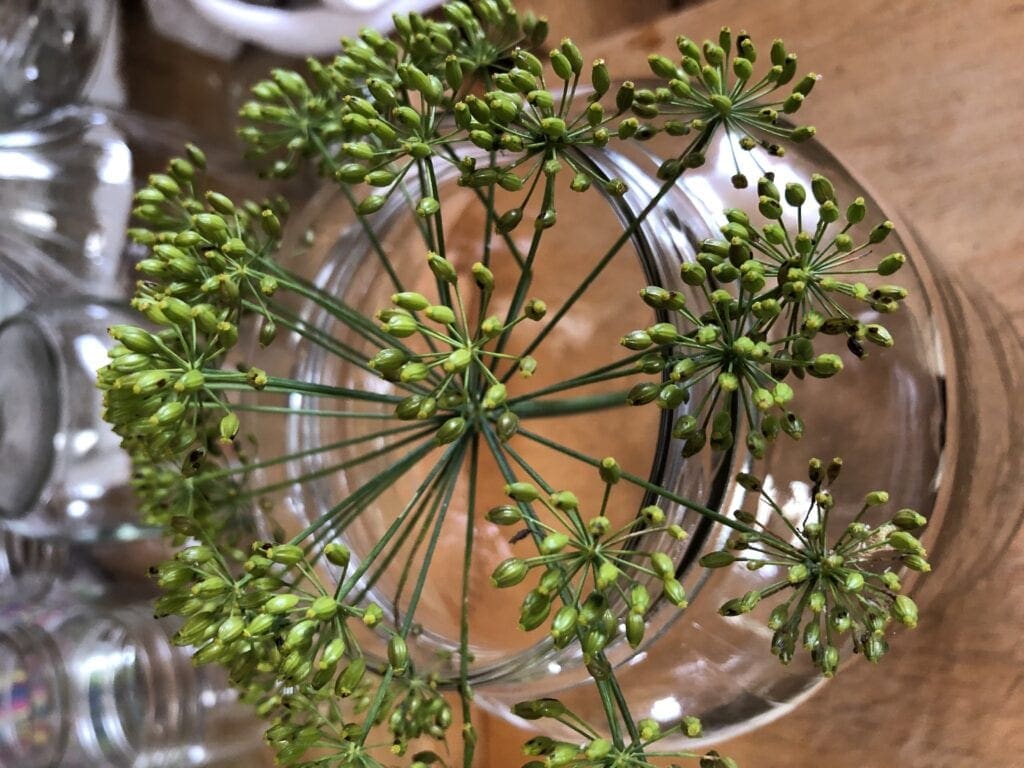 What is a Head of Dill?
A head of dill is the whole umbrella of dill shown in the photo above. If you are using just a spring of dill, it is just one of the smaller heads that are part of the whole head.
Can you Substitute Dried Dill for Fresh Dill?
The answer is yes, you can. For a 3-5″ (8 to 12 cm ) sprig of fresh dill, you can substitute 1/4 teaspoon of dried dill weed.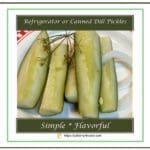 Print Recipe
Refrigerator or Canned Dill Pickles
Make this refrigerator dill pickles anytime of the year. Better with garden fresh cucumbers, but still delicious with a cucumber from the local grocery store.
Ingredients
10

Lbs.

Cucumbers

Washed

16

Cups

water

3

Cups

White Vinegar

3

Cups

granulated sugar

1/2

Cup

Canning Salt

Coarse Salt

32

Springs

Dill

3-4 springs per jar

1

Large

White Onion

Sliced
Instructions
Dill Pickles
Sterilize jars and lids by immersing in boiling water for at least 10 minutes. Wash the cucumbers. Slice pickles ½ inch thick lengthwise. Pack in jars with several white onion slices and 2 heads of dill. Note, I made two gallon jars of pickles.

In a large saucepan, combine the water, sugar, vinegar, and salt. Bring to a boil and stir until the sugar is dissolved.

Pour the hot brine over the cucumbers in the jars and seal the lids.

***If you prefer to make refrigerator pickles – no need to seal the lids. At this point, place in the refrigerator and let the brine do its work for at least 24 hours. Enjoy!
Sealing the Lids
Place a rack in the bottom of a large stockpot and fill halfway with hot water. Bring to a simmer, then carefully lower the jars into the pot using a holder or at least a hot pad. Leave a 2-inch space between the jars. Pour in more boiling water if necessary until the water level is at least 1 inch above the tops of the jars. Bring the water to a full boil, cover the pot, and process for 10 minutes.

Carefully remove jars from stockpot and lace on a counter that has a towel laid out. Let sit to cool. While the jars cool, they will begin to make a popping sound as the lids begin to seal. When cool, push the center of each lid to make sure that it is sealed. If the lid makes a clicking noise or has any give at all, it is not sealed. The jars that did not seal should be refrigerated and eaten within 3-4 months.
Notes
The nutritional values for this recipe are for a quart of pickles. Therefore, divide the portion of what you eat based on a quart of pickles. 
Nutrition
Calories:
438
kcal
|
Carbohydrates:
103
g
|
Protein:
4
g
|
Fat:
1
g
|
Saturated Fat:
1
g
|
Sodium:
7114
mg
|
Potassium:
828
mg
|
Fiber:
4
g
|
Sugar:
97
g
|
Vitamin A:
717
IU
|
Vitamin C:
23
mg
|
Calcium:
116
mg
|
Iron:
2
mg
If you loved this post, please share. It helps to show me that these types of posts are helpful – thank you!
I hope that you liked this recipe. If you are looking for more ideas on what to make, here are a few other recipes that you may enjoy.