Show off your Pride with this American Pride Granny Square Blanket. You might be surprised to find out that I just learned how to make a granny square within the last six months-I find granny square blankets so easy to crochet. Once you get the hang of it, the possibilities are endless.
*Post contains affiliate links* for more information please read the disclaimer on the About Us page.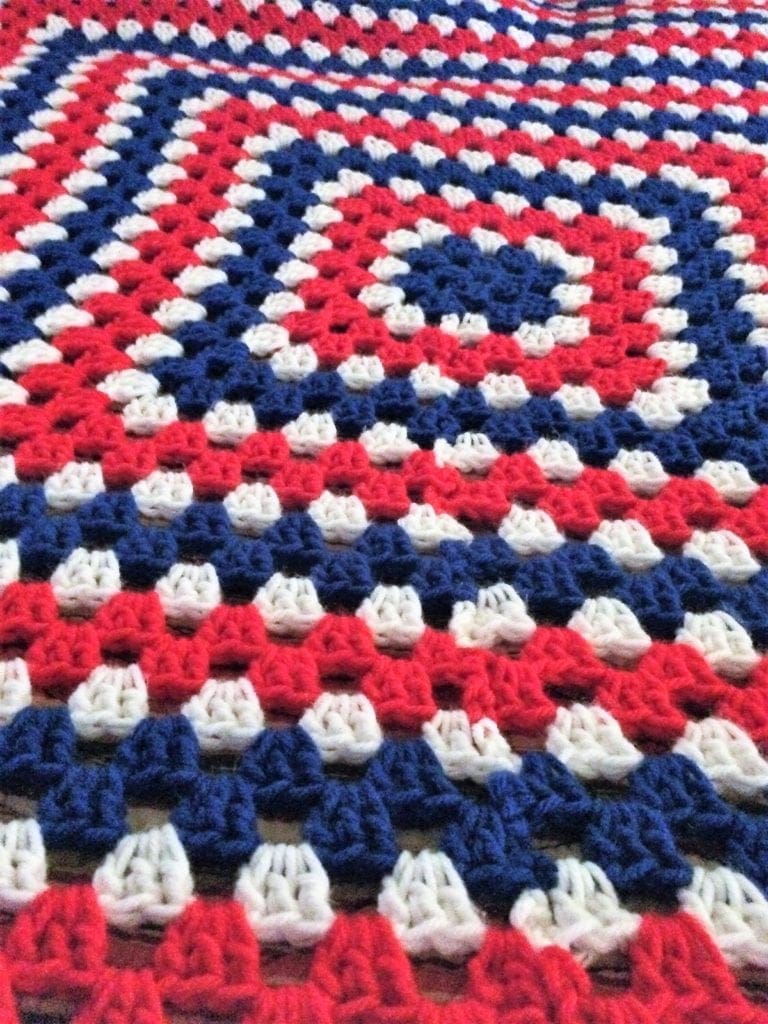 Crocheting Granny Squares
I am officially "hooked" on the granny square stitch. Take a look at some of the great examples I have already done and I am just starting out…I have provided links at the bottom of this post. Each project has complete instructions. Also, if you do a search on Pinterest there are many beautiful examples to get your ideas flowing.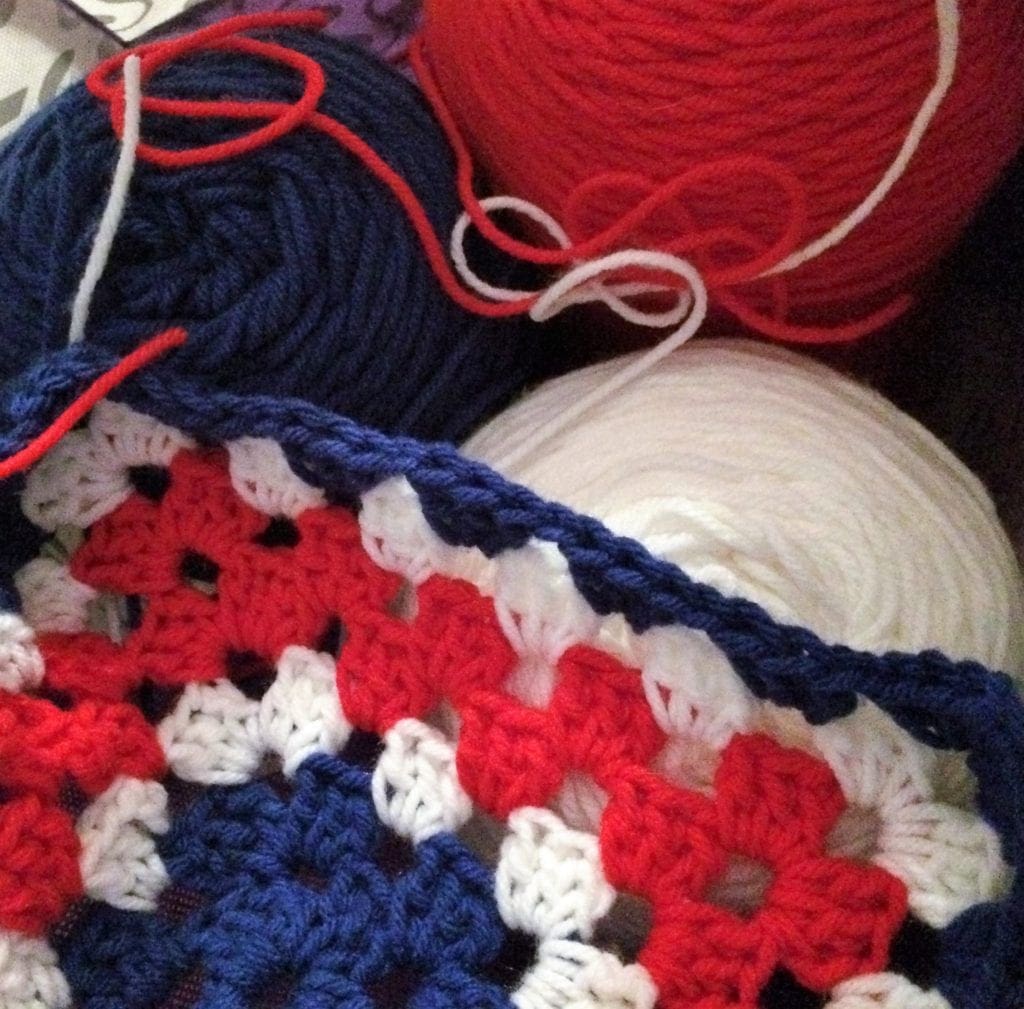 Easy, Beginner Pattern
This granny square blanket works up very quickly.
This one was made in just over a week of watching television. You're probably thinking-how much television do you watch? Well, I have a family, full-time job that is well over a 40-hour week gig, so you know that the time I have available to watch television must be limited. However, crochet is one of those things that I do to help me forget the stress of the day so I can go right to sleep when my head hits that pillow. I love these crochet patterns that are almost mindless to do once you figure out the pattern.
Display and Use Ideas
This blanket is a wonderful way to show your American Pride. Display and use this blanket for Memorial Day, July fourth, Flag Day, or Veterans Day. You could make this and give it as a gift to a veteran. I know I will be making more. This could be smaller too. Just stop on the round that is a good size for you. More of a lap afghan. The beauty of this pattern, is that you can make it as big or small as you would like to.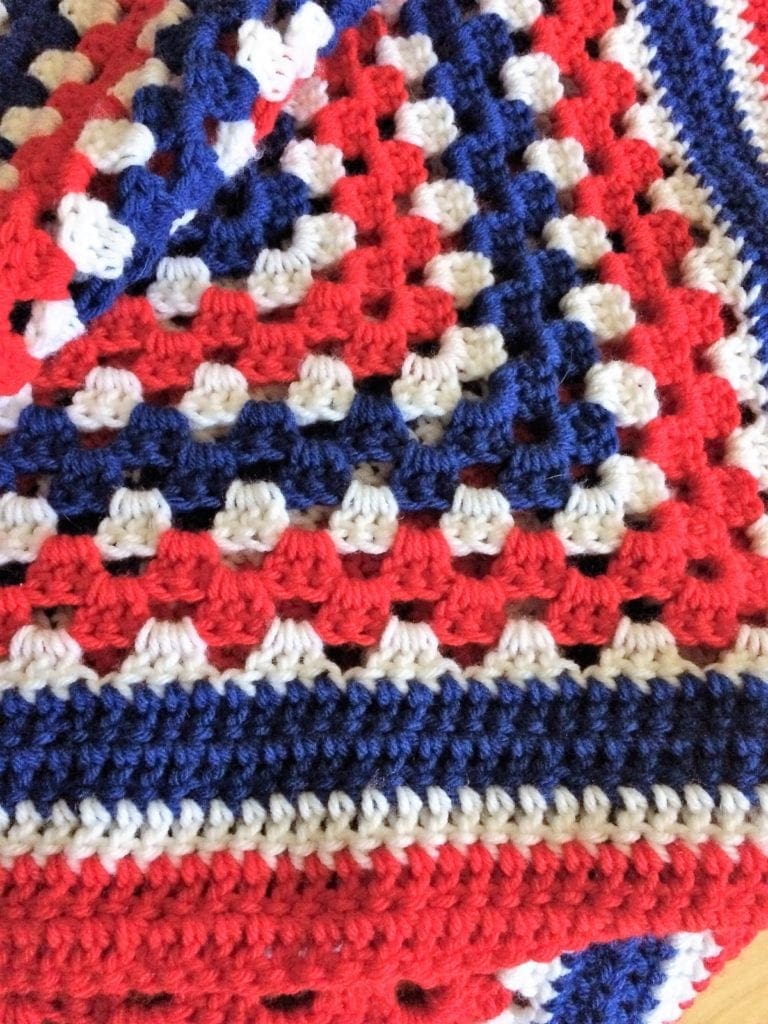 Adding a Crochet Border
No matter how big you choose to make it, I find that I really like having a border stitch on this. It just gives it a completed look and amps up the look of the work from beginner to novice. At least in looks, in my opinion.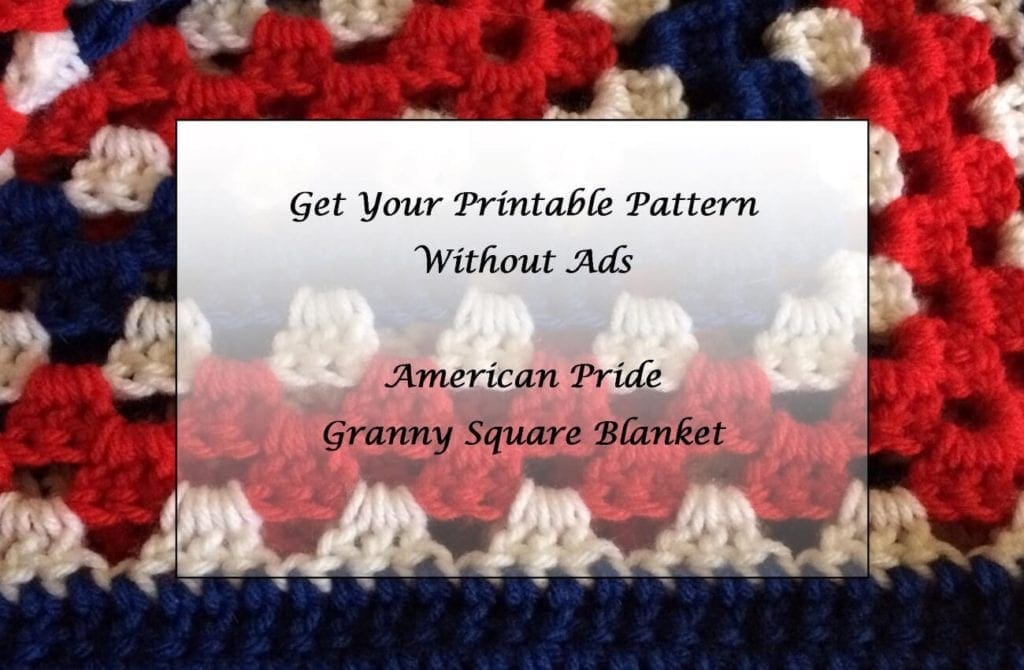 Clusters
The granny square consists of clusters of double crochet stitches. While many people have designed variations to the granny square pattern, the classic granny square is crochet in clusters of three that is separated by either a chain 1 or chain 3. This pattern is worked in the rounds rather than rows.
Materials:
Red Heart Yarn Red, White, Blue I purchased two large skeins of each and ended up using just over a skein of Red and Blue, but only one skein of White.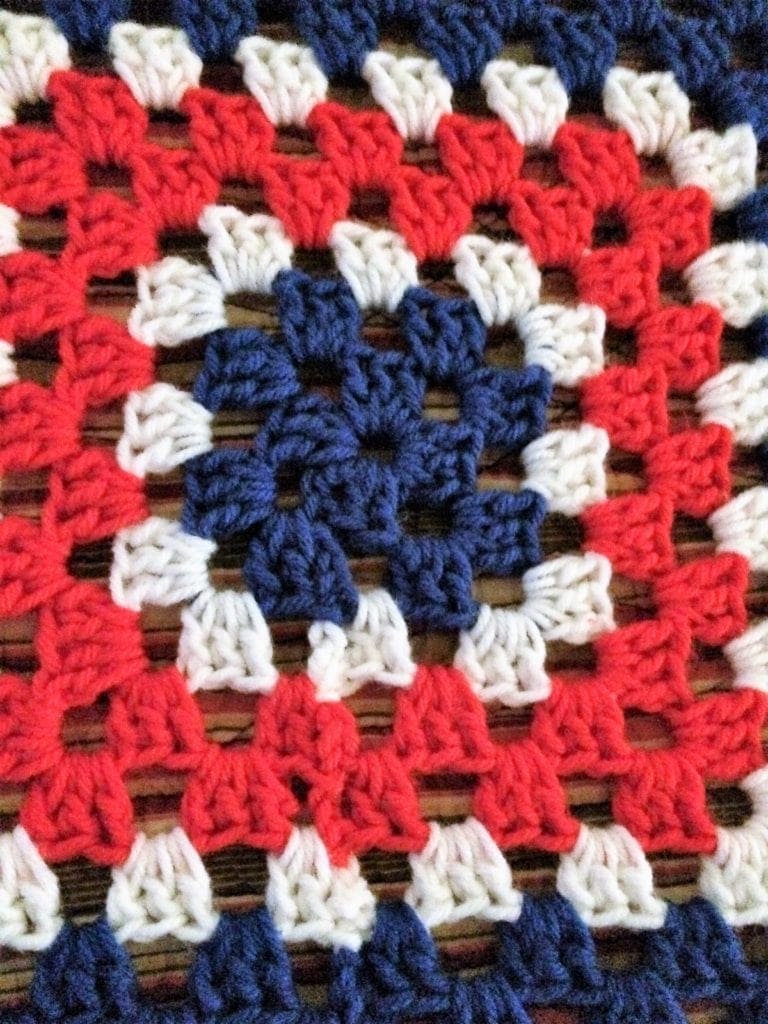 This picture shows the very beginning of the Granny Square Afghan pattern start. Create the circle and start working the granny square stitches. The picture below shows two rows of blue, one row of white, two of red, etc. I thought the close-up would help you in understanding the directions that follow.
Directions: Granny Square Blanket
Abbreviations:
CH = Chain
DC = Double Crochet
SL ST = Slip Stitch
Directions:
Blue yarn:
Begin by making 5 CH, join with a SL ST to the 5th chain from hook to form a ring.
Round 1:
Blue yarn: for this round, you will be working inside the ring that. CH 3 and count this CH 3 as your first DC of this round and throughout the entire pattern. Continuing working in the ring, work 2 DC. Then chain 3. 3 DC, CH 3, 3DC, CH3, 3DC, CH3 and join into the top of the beginning chain. This join completes the first shell of the first round. (Note, you should have 4 clusters of 3 DC with 4 areas of CH 3 between)
Round 2:
Blue yarn: CH 4, this will count as your first DC plus a CH 1 of this round. Then in the next CH 3 space, work 3 DC, CH3 , 3 DC. CH 1. In the next CH 3 space work 3 DC, CH3 , 3 DC. CH 1. In the next CH 3 space work 3 DC, CH3 , 3 DC. CH 1. In the last CH 3 space where you did the initial CH 4. 3DC, CH 3, 2 DC and join with a SL ST into the 3rd chain of the beginning CH. This join will complete the last shell of the round. You should have 8 shells and 8 chain 3 spaces.
Round 3:
White yarn: CH 3, then into same space, work 2 DC, CH 1, and you have made the first shell of this round. Then in the CH 1 space, work 3 DC, CH 1. In the corner space, work *3 DC, 3 CH, 3 DC. and 1 CH. In the next CH 1 space work 3 DC and 1 CH. Repeat from * until all 4 sides are complete. You should have 12 shells and 12 spaces after the completion of this round.
Round 4 and 5:
Red yarn: Continue working rounds 2 and 3.
Remainder of Blanket
Continue making two rounds of blue, one of white, two of red, one of white using Rounds 2 and 3 until you have reached the desired size.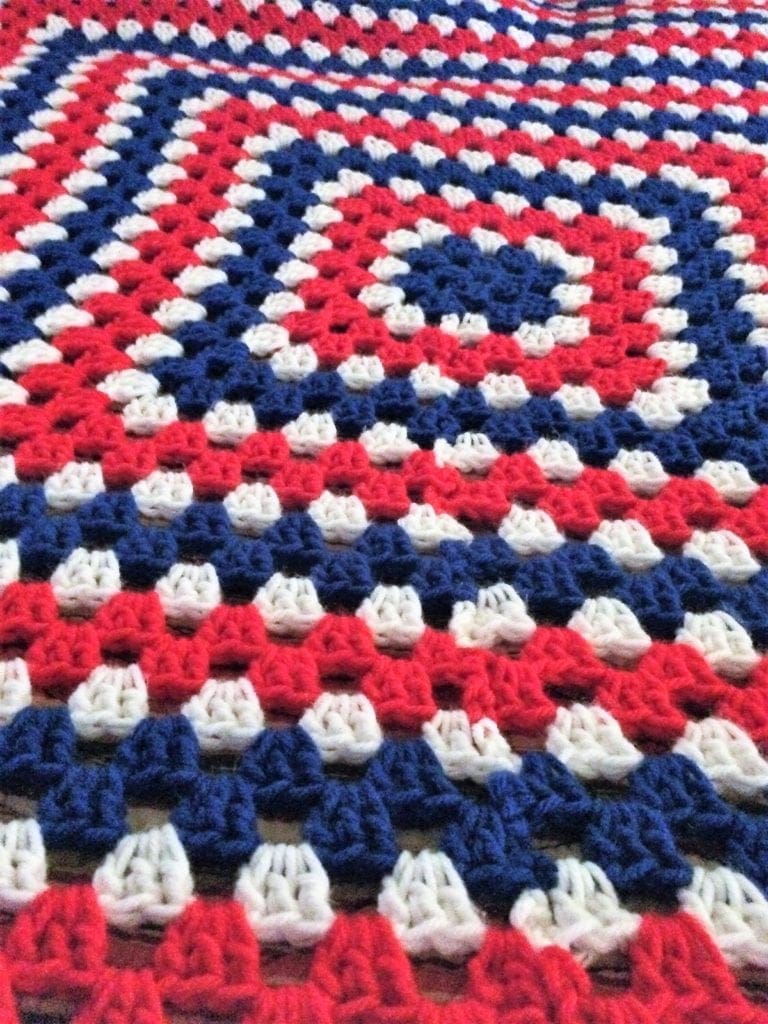 Finishing
When you have your afghan the size you would like, finish off with two rows of DC in blue, one in white, two in red.
Show off your work
Take pride in your own efforts as you display your very own Granny Square Blanket.
More Granny Square Patterns
Once you get the hang of making a granny square blanket, you might be interested in giving these other patterns that I have personally made a try. I hope you enjoy it as much as I do.
Two Videos on Granny Square Basics
Here is a video tutorial on making a granny square.
Here is video tutorial on changing colors when making a granny square

If you loved this post, share on your fave social media links. It helps to show me that these types of posts are helpful – thank you!
I hope that you liked this pattern. If you are looking for more ideas for crocheted projects, here are a few others you may enjoy.