This beautiful black and white granny square afghan was made for my daughter. I made her a baby afghan many years ago. This will be the second afghan that I made for her. She liked the black and white granny squares that I was making. So, I decided to have her help me lay it out. We had fun doing that. I posted about how to make this afghan previously and those directions are available either using the link here or I have also reposted them below. Granny Squares Pattern
 *Post contains affiliate links*at no additional cost to you for more information please read the disclaimer on the About Us page.
This black and white granny square afghan is finally done.
Remember this picture from a previous post?
I had all the squares stacked up and kept procrastinating, which is not like me. Finally, weeks later, I made the push to get started in not only weaving in the yarn ends, but to join the squares.

Joining the squares
I chose to use a yarn needle and weave the yarn through both yarn loops. Here is a close-up photo showing how I joined the squares.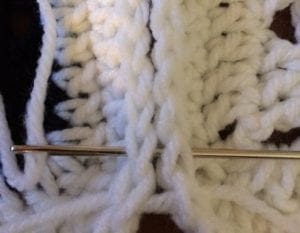 Caution: be careful to align the squares evenly, otherwise, you will have to do what I had to do on one and start all over. However, it is easy to remove the yarn. It is not like having to remove stitches from sewing a garment.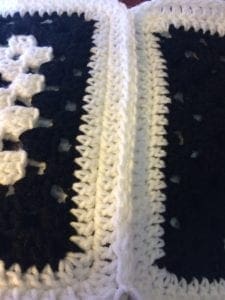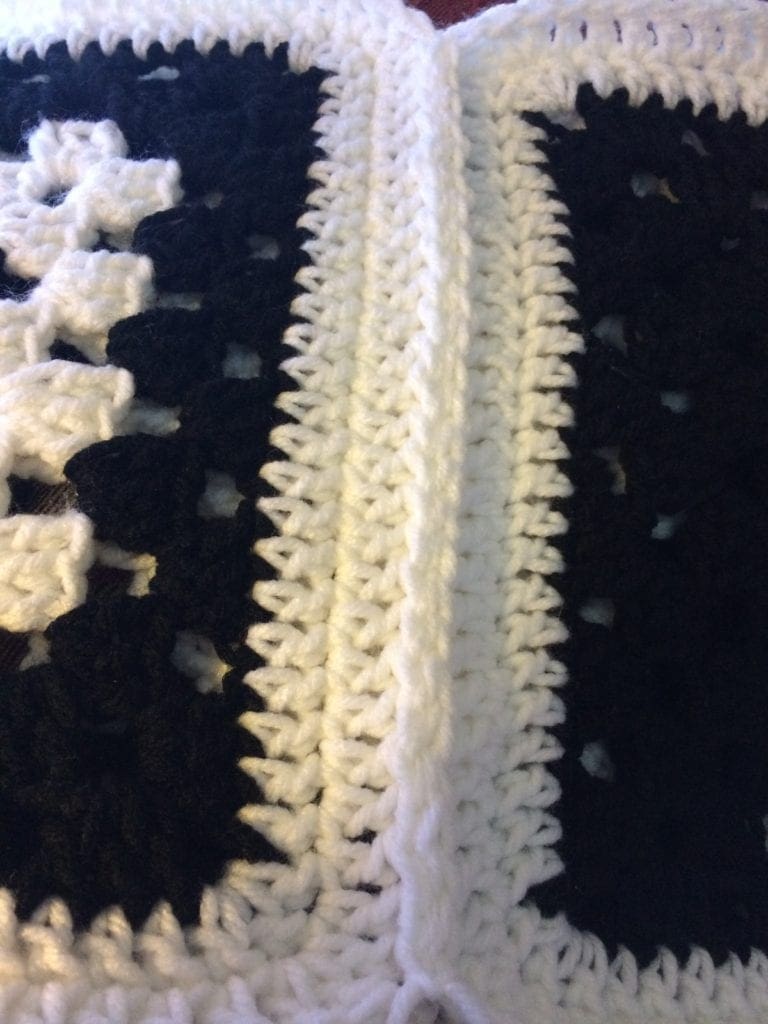 Here are two squares joined together. Note: I am nervous that one yarn running through the join would not be enough for the wear and tear that this will get. I went from one edge to the other and back again with the same yarn. Then I tied it off and weaved in the strands. It just feels more secure to me.
After joining one end of each square together, I had six rows of squares, which I laid next to each other to join the rows.
Once all the squares were joined together. I did two rows of double crochet around the whole thing in the white yarn.
Here is a few pictures of the finished product.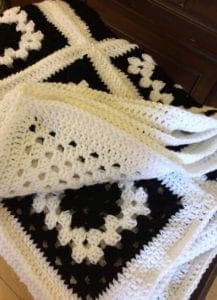 I thought it turned out pretty good.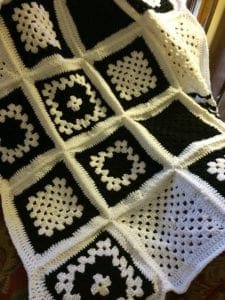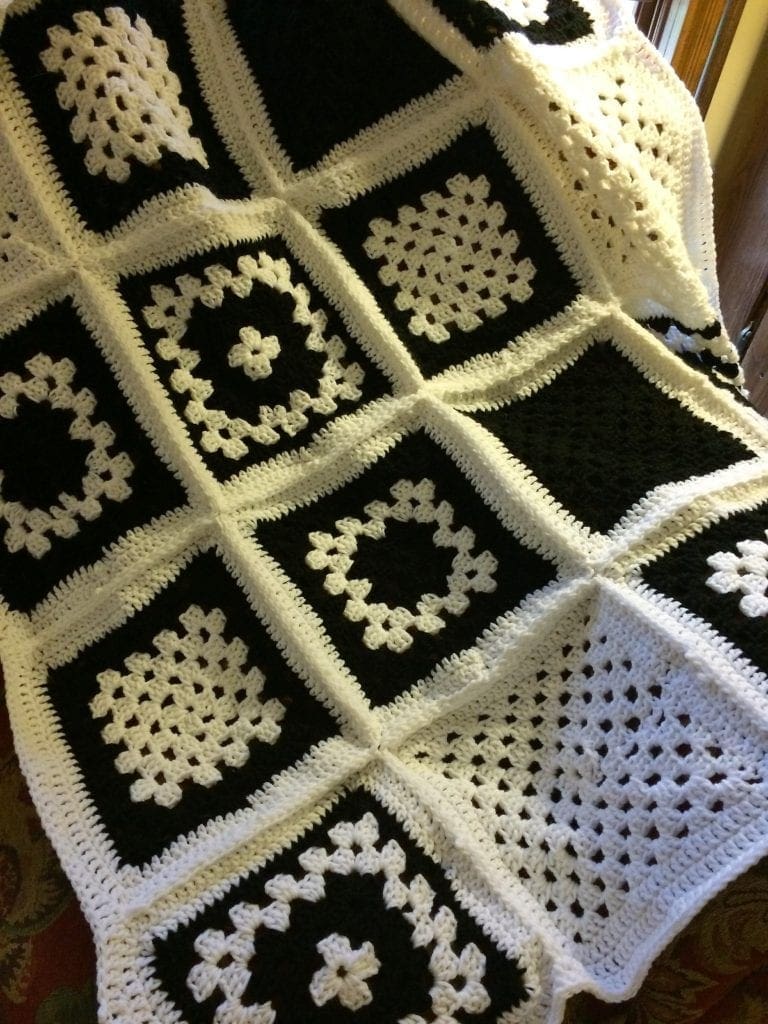 Directions for this granny square afghan:
Supplies:
Abbreviations:
CH = chain
DC = double crochet
SL = slip stitch
SP = space
YO = yarn over
Directions:
Begin by making 5 chains (ch), join with a slip stitch to the 5th chain from hook to form a ring.
Round 1:
For this round, you will be working inside the ring. chain 3 and count this chain 3 as your first DC of this round and throughout the entire pattern. Continuing working in the ring, work 2 DC. Then chain 3. 3 DC, CH 3. 3DC, CH3. 3DC, CH3. Join into the top of the beginning CH 3. This join completes the first shell of the first round. (note, you should have 4 clusters of 3 DC with 4 areas of CH 3 between)
Round 2:
Make 4 CH, this will count as your first DC plus a 1 CH. Then in the first CH 3 space, work *3 DC, 3 CH, 3 DC and CH 1*.  Continue the stitch pattern between the * until the last 3-ch space. In the last CH 3 SP, work the 3 DC, 3 CH, then work only 2 DC and join with a SL into the 3rd chain of the beginning CH. This join will complete the last shell of the round. You should have 8 shells and 8 chain 3 spaces.
Round 3:
Make 3 CH, then Insert the hook into the SC from the previous row, (should be right where the previous row ended). YO and work a DC, Insert hook again, YO and DC. (This completes your first 3 DC in the round). CH 1. In the corner CH 3 SP work *3 DC, 3 CH, 3 DC. and 1 CH. In the next 1-CH space work 3 DC and 1 CH. Repeat from * until all 4 sides are complete. After the last DC in the CH 3 space CH 1 and SL ST into the top ST of the first DC of this round. You should have 12 shells and 12 spaces after the completion of this round.
Continue Rounds 2 and 3 until the granny square is the size you wish. I made mine 6 rounds and finished it off with 2 rows of DC.
Two Videos on Granny Square Basics
Here is a video tutorial on making a granny square.
How to Crochet a Granny Square
Watch this video
on YouTube
.
Subscribe to the channel
Here is video tutorial on changing colors when making a granny square
How to Change Color on a Granny Square
Watch this video
on YouTube
.
Subscribe to the channel
If you loved this post, please share on your fave social media links at the bottom. It helps to show me that these types of posts are helpful – thank you!
[DISPLAY_ULTIMATE_PLUS]
Here are other crochet projects you might be interested in