This chunky neck warmer is a quick crochet pattern that uses the double crochet stitch alternating between the back and front loops. This creates beautiful texture. Read on for three different looks created by various colors and button combinations.
*Post contains affiliate links* for more information please read the disclaimer on the About Us page.
Digging into My Yarn Stash – Yikes!
If you are a yarn crafter like me, you probably have a yarn stash somewhere. I've seen plenty of others yarn stashes on social media. Well, I was doing very good in keeping it relatively under control until the last few months. There were so many sales! Needless to say, my daughter even commented…"Mom, you have quite a lot of yarn all over the place in my old bedroom." Hum, I think it is time to use what I have and restrain myself from buying more for a while anyway.
Raid your Yarn Stash
This Chunky Neck Warmer was crocheted in three different colors. Each neck warmer is made from 2 skeins of chunky yarn. In keeping with the theme of using what I have, these were the only colors that I had two skeins of the color. I still think they turned out beautiful.
The buttons were also raided from my button jars. My daughter and I had all of the buttons from 3 quart jars out on the table. This helped us sift through them and find matching buttons that would work. I think that the buttons we chose paired beautifully with the yarn for a very stylish look.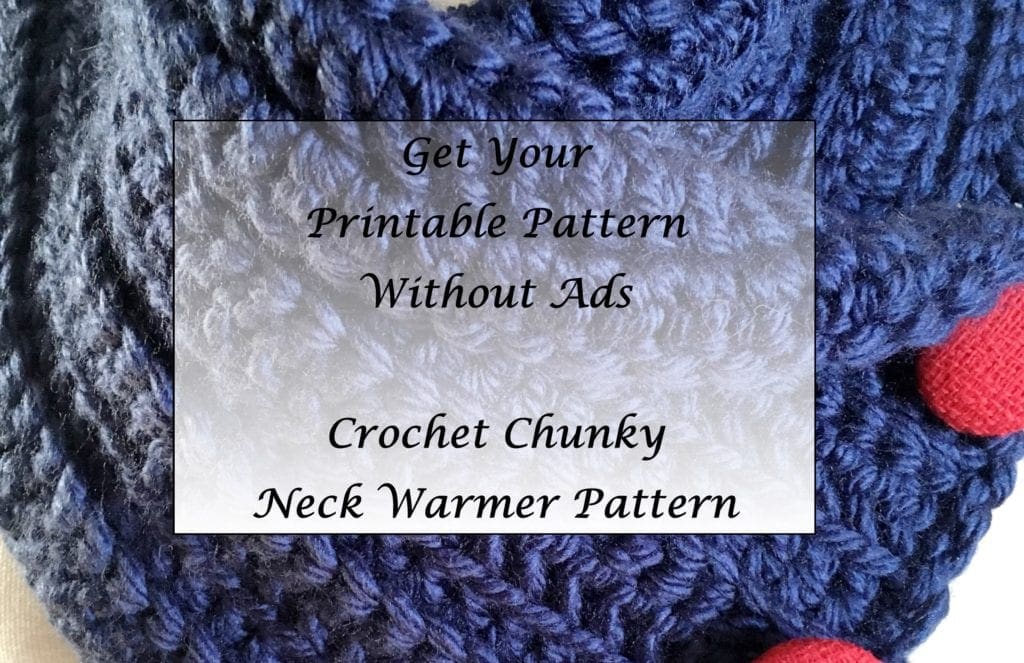 Quick Crochet Pattern
This crochet pattern works up very quickly. It is -25 degrees Fahrenheit here. Yup, negative 25…very dangerously cold. There are many businesses and schools closed. So, I am home and love the chance to stay warm and crochet. I made all three neck warmers in two days.
First Crochet Neck Warmer
This one was made from two skeins of Lion Brand Hometown USA Super Bulky yarn in San Diego Navy. You can get the yarn here if you can't find it locally. The three buttons are 1 inch cloth covered buttons.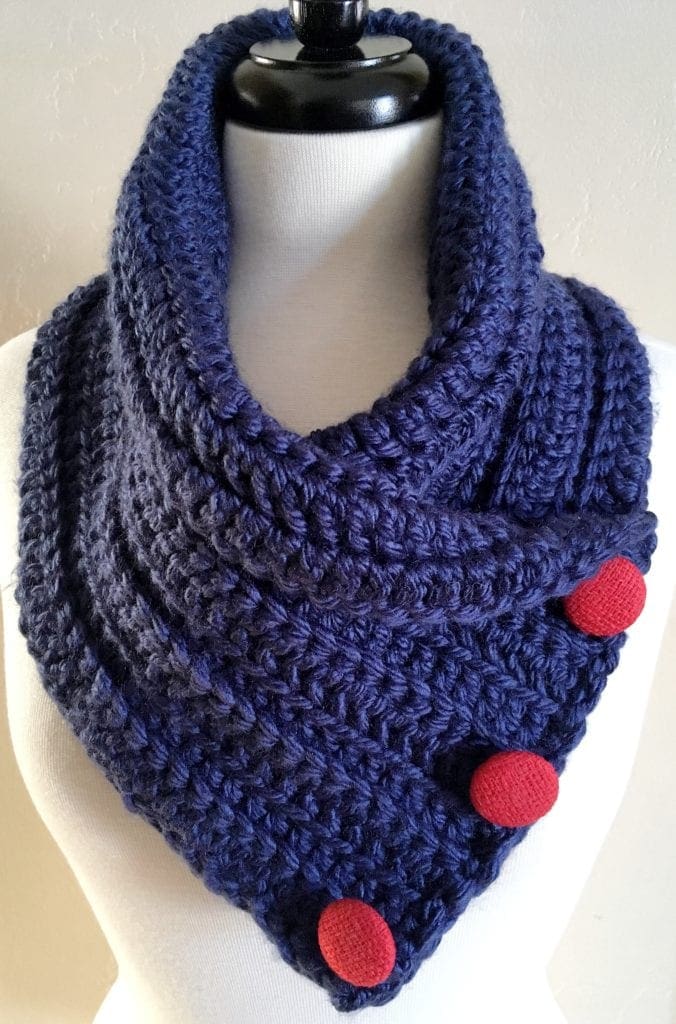 Second Crochet Chunky Neck Warmer
We had to dig through a number of plastic totes to find a few more colors that have two skeins. This next neck warmer was made from two skeins of Lion Brand Wool-Ease Thick & Quick River Run yarn. If you can get the yarn here if can't find it locally. The buttons are from the button jar. There are 4 buttons about 3/4 inch in diameter.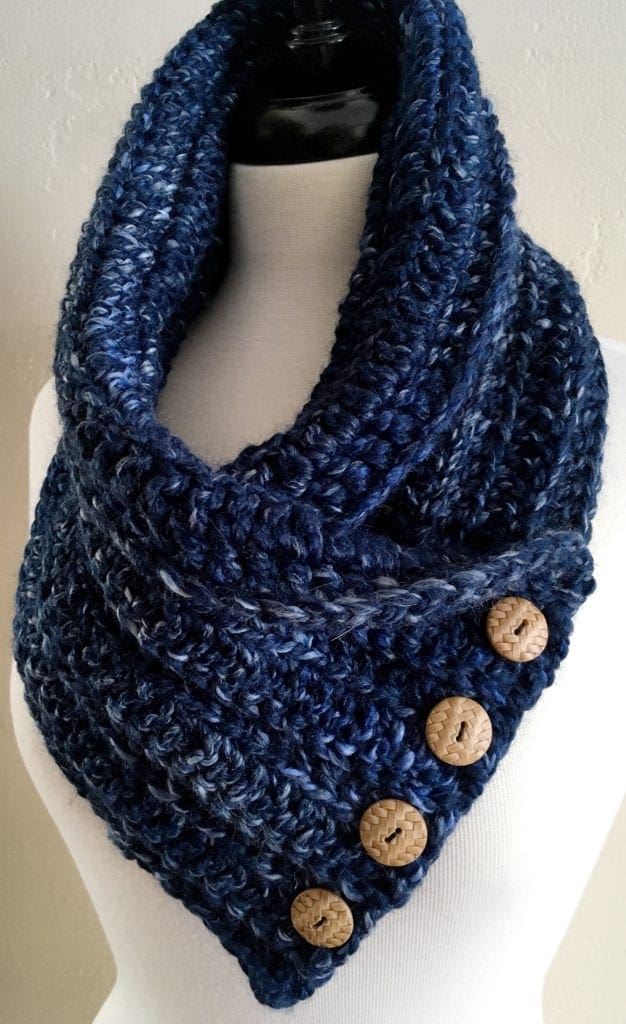 Third Crochet Chunky Neck Warmer
Working this pattern in the Los Angeles Tan really helps show off the texture of this beautiful crochet pattern. It was the last two skeins we had of the chunky yarn too, but it turned out very nice. This cowl is finished off with three large buttons that are approximately 1 1/2 inches in diameter – again from my button jar. If you would like to make this pattern in the Los Angeles Tan yarn; it is available here.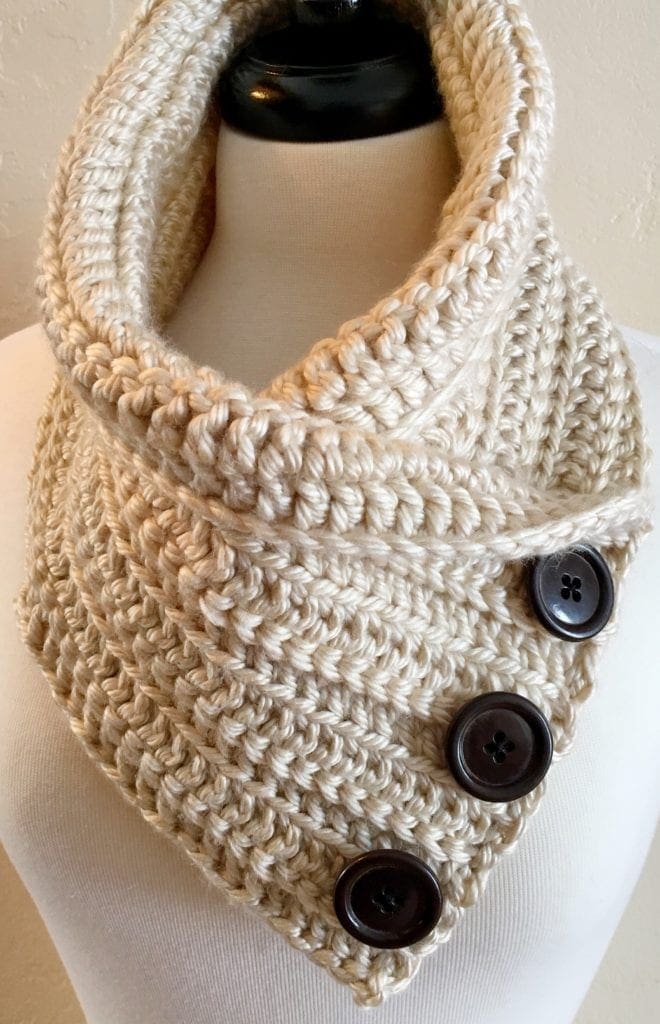 If you are new to crochet, you may find these tutorials on how to crochet the double crochet and chain stitch helpful.
Directions: Chunky Neck Warmer
Finished Size:
35 inches long X 7.5 inches wide
Materials:
2 Skeins of Super Bulky (6) yarn. I listed the colors above the photos of each one above. Approximately 140 yards.
Crochet Hook Size I
Scissors
Yarn Needle
Buttons
Thread
Sewing Needle
Abbreviations:
CH = Chain
DC = Double Crochet
BLDC = Back Loop Double Crochet
FLDC = Front Loop Double Crochet
ST = Stitch
Directions:
Begin by Chaining 90
Row 1: in the fourth CH from the hook, DC and in each ST across.
Row 2: CH 3, BLDC in the first ST from the hook and in each ST across.
Row 3: CH 3, FLDC in the first ST from the hook and in each ST across.
Rows 4-10: Repeat rows 2 and 3.
Finishing Hints: After the last stitch, leave a long yarn tail; approximately 15-20 inches. This will give you enough yarn to sew the ends together to form the neck warmer. However, before the neck warmer is sewn together, sew the buttons on and sew the other yarn ends in and cut off the excess yarn.
Here are photos of the assembly
In this photo, I was aligning the buttons and sewing them on. (prior to joining the edges of the neck warmer).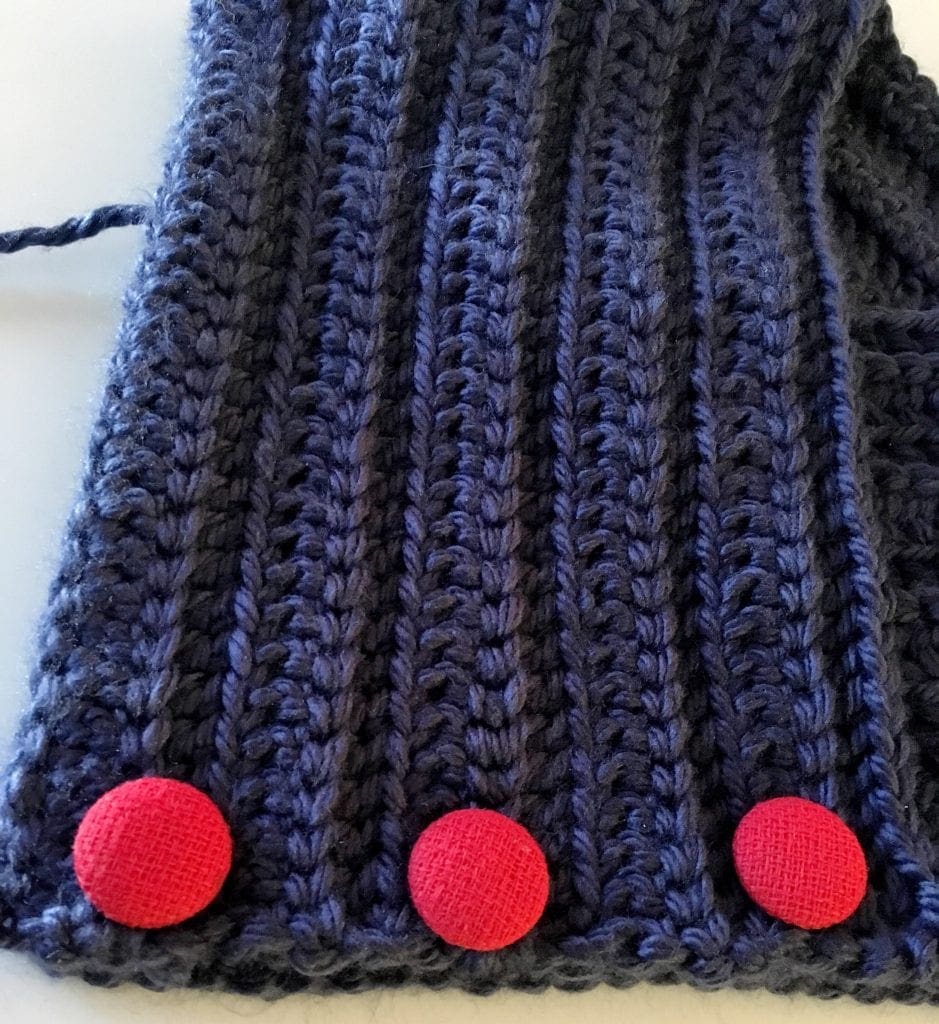 Sewing the ends together. Note, you could put the buttons on the opposite ends from what I chose and they would end up on the right side. I chose to put mine on the right side, and I placed the right side over the left side. The key is to make sure that the ends come to a point. Once you have the ends positioned where you like, sew through both layers with the long tail of yarn. Weave in the ends and cut off the excess.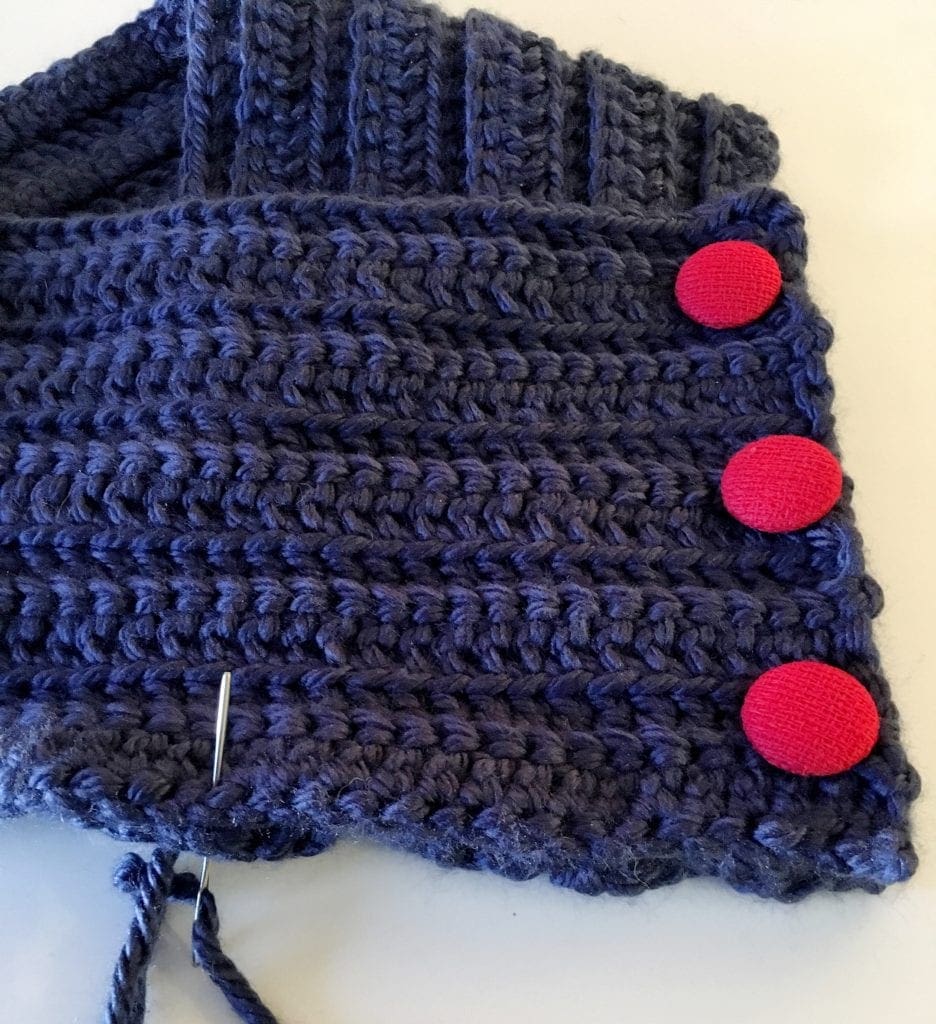 View of the Neck Warmer Without the Top Edge Turned Down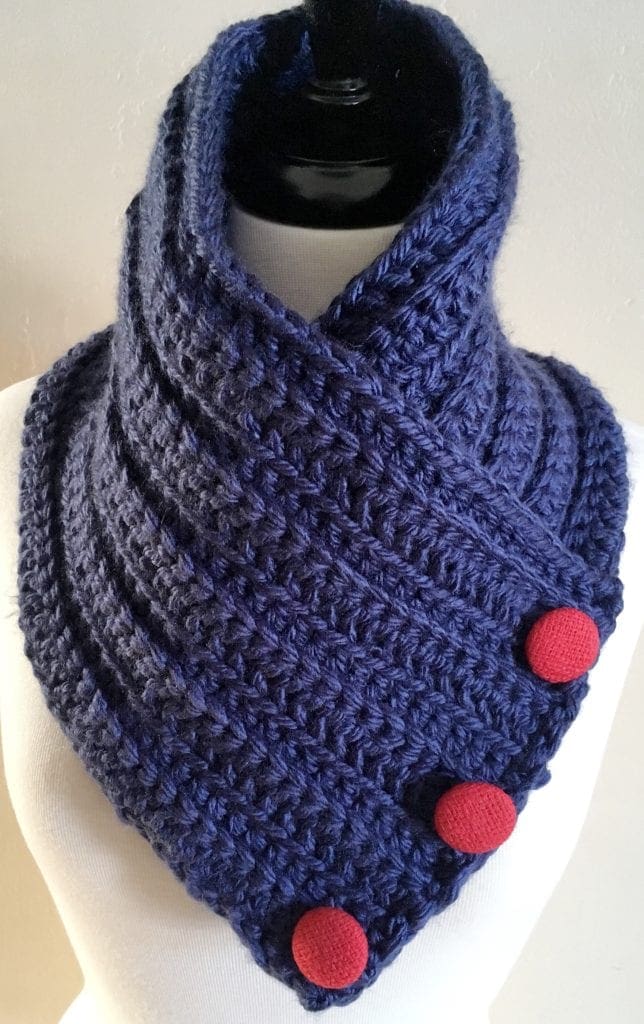 If you loved this post, please share. It helps to show me that these types of posts are helpful – thank you!
I hope that you liked this pattern. If you are looking for more ideas for crocheted projects, here are a few others you may enjoy.