This zucchini bake is almost like a pizza bake. The spices give it that Italian flavor; however, the vegetable taste comes through along with the hint of bacon. It is just a delicious way to use zucchini in a meal that your family will enjoy.
*Post contains affiliate links* for more information please read the disclaimer on the About Us page.
Scrumptious way to use larger, overgrown zucchini from the garden.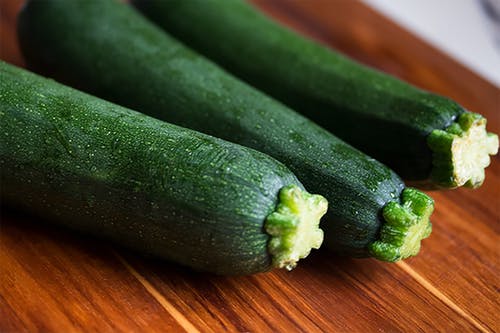 Forgiving Recipe
This zucchini recipe is very forgiving. While the recipe calls for 4 cups, if I cut up a whole zucchini and ended up with 6 cups, that is what I would use in this recipe.
This zucchini casserole is perfect for that garden fresh zucchini. Even the overgrown stuff that grew too fast. Just remove the seeds and take off the tough skin. dice and mix with Cheese, Onions, Bacon, Tomatoes, and seasonings. Simple Ingredients – Big Taste It doesn't matter if the cheese covers everything. When the zucchini is served, it all gets mixed together for delicious flavors.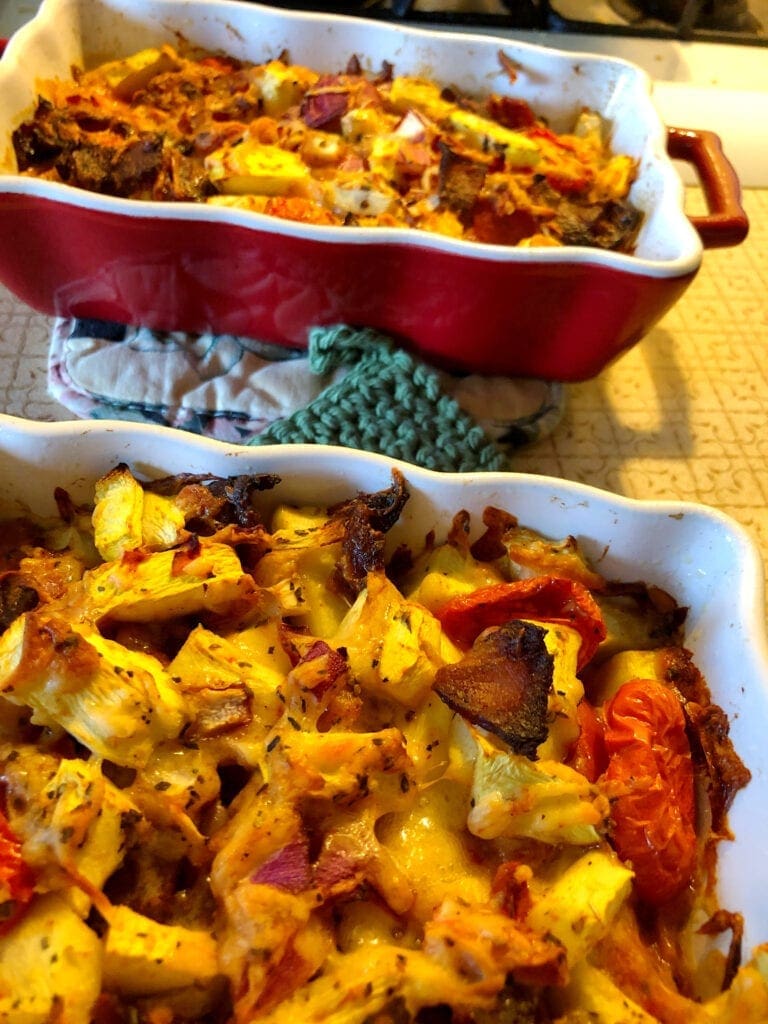 Developing the Zucchini Recipe
Years ago, when I cooked in a restaurant, I brought in some zucchini that a neighbor has generously given me. Between my co-worker and myself, we talked about what might taste good with the overgrown zucchini.
We had our tried and true recipes for deep fried chicken, broasted potatoes, and coleslaw; however, as cooks in a restaurant, we wanted to change up what we were eating.
Recipe Creation
This zucchini fresh from the garden was just perfect that day. I still remember us making up the recipe and testing it. That was over 30 years ago and I still have this once or twice a year. Still delicious. We included fresh ingredients of the zucchini, tomatoes, onions, and cheese. Of course, when we added bacon to this recipe, the recipe was complete.
It is hard to show a photo of how delicious this really is. Here are a few to try and convince you 🙂
The photo below shows the zucchini casserole ready to go into the oven. As you can see, I had plenty of this; I doubled the recipe. I only had about two servings to put away. This dish is delicious the next day too. Just rewarm and enjoy.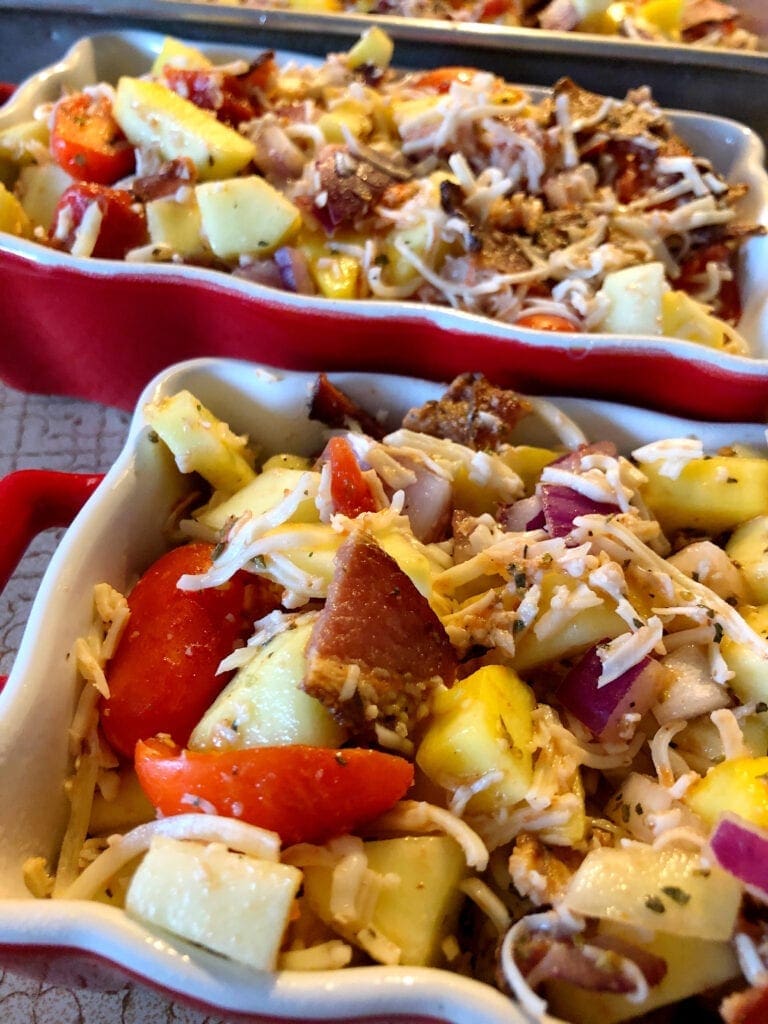 Simple Ingredients – Big Taste
It doesn't matter if the cheese covers everything. When the zucchini is served, it all gets mixed together for delicious flavors.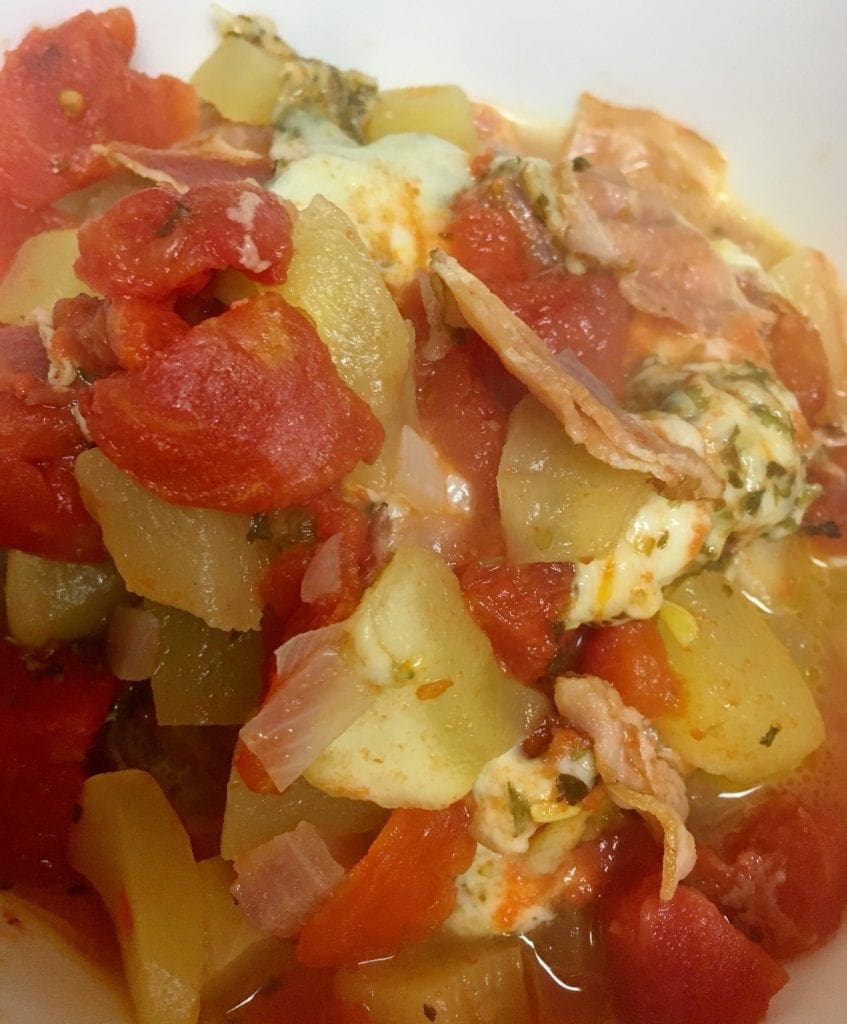 Delicious Zucchini Bake Served
Today, rather than layering the casserole, I decided to mix in a large bowl first. Then transfer everything to the baking pans. I actually think it looks a bit prettier. However, the taste is the same. Yummy!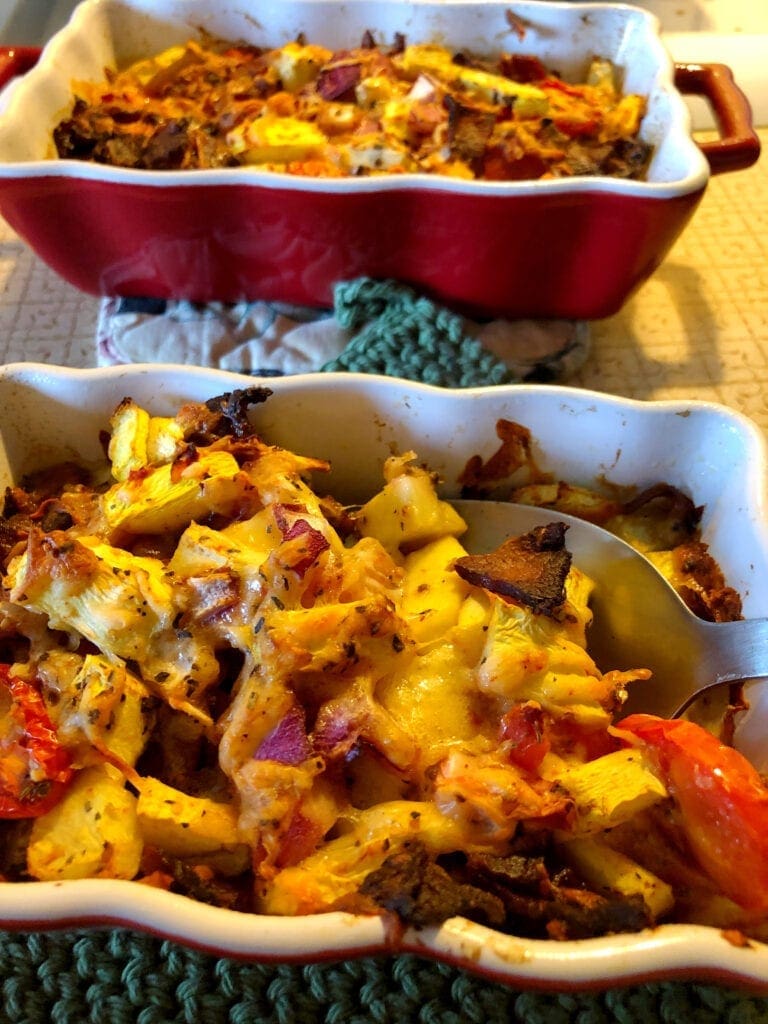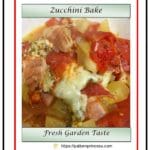 Print Recipe
Zucchini Bake
Fresh zucchini bake has cheese, bacon, and tomatoes. Tastes like pizza in a casserole.
Ingredients
4

Cups

Zucchini

Peeled and diced

1

Small

onion

Diced

12

Slices

bacon

Partially cooked and cut-up into small pieces

14.5

Oz.

diced tomatoes

I used a can of diced tomatoes. You can dice fresh tomatoes and put that in as well

1

Tsp.

Dried Basil

1

Tsp.

Dried Oregano

1

Tsp.

dried parsley

1/2

Tsp.

salt

or to taste

1/2

Tsp.

pepper

or to taste

2-3

Cups

Mozzerella Cheese

or some other cheese that melts well that you enjoy
Instructions
Spray a 9 X 13 baking pan with cooking oil. Add the zucchini, and add the rest of the ingredients spread around over the top of the zucchini-onion, bacon, tomatoes, basil, oregano, parsley, salt, pepper, and finally the cheese. Bake in a pre-heated oven to 360 degrees F. for 60 minutes
Nutrition
Calories:
252
kcal
|
Carbohydrates:
13
g
|
Protein:
16
g
|
Fat:
16
g
|
Saturated Fat:
9
g
|
Cholesterol:
47
mg
|
Sodium:
622
mg
|
Potassium:
666
mg
|
Fiber:
4
g
|
Sugar:
7
g
|
Vitamin A:
792
IU
|
Vitamin C:
35
mg
|
Calcium:
403
mg
|
Iron:
4
mg
If you loved this post, please share. It helps to show me that these types of posts are helpful – thank you!
I hope that you liked this recipe. If you are looking for more ideas on what to make, here are a few other recipes that you may enjoy.