These Crab Rangoon Egg Rolls are just like the restaurant food you would enjoy when eating out with your family and friends. Simple ingredients and a few minutes in the fryer is all it takes to make these delicious goodies.
Post contains affiliate links and we earn commissions if you shop through the links on this page. For more information please read the disclaimer on the About Us page.
Crab Rangoon Ready for Dipping and Eating!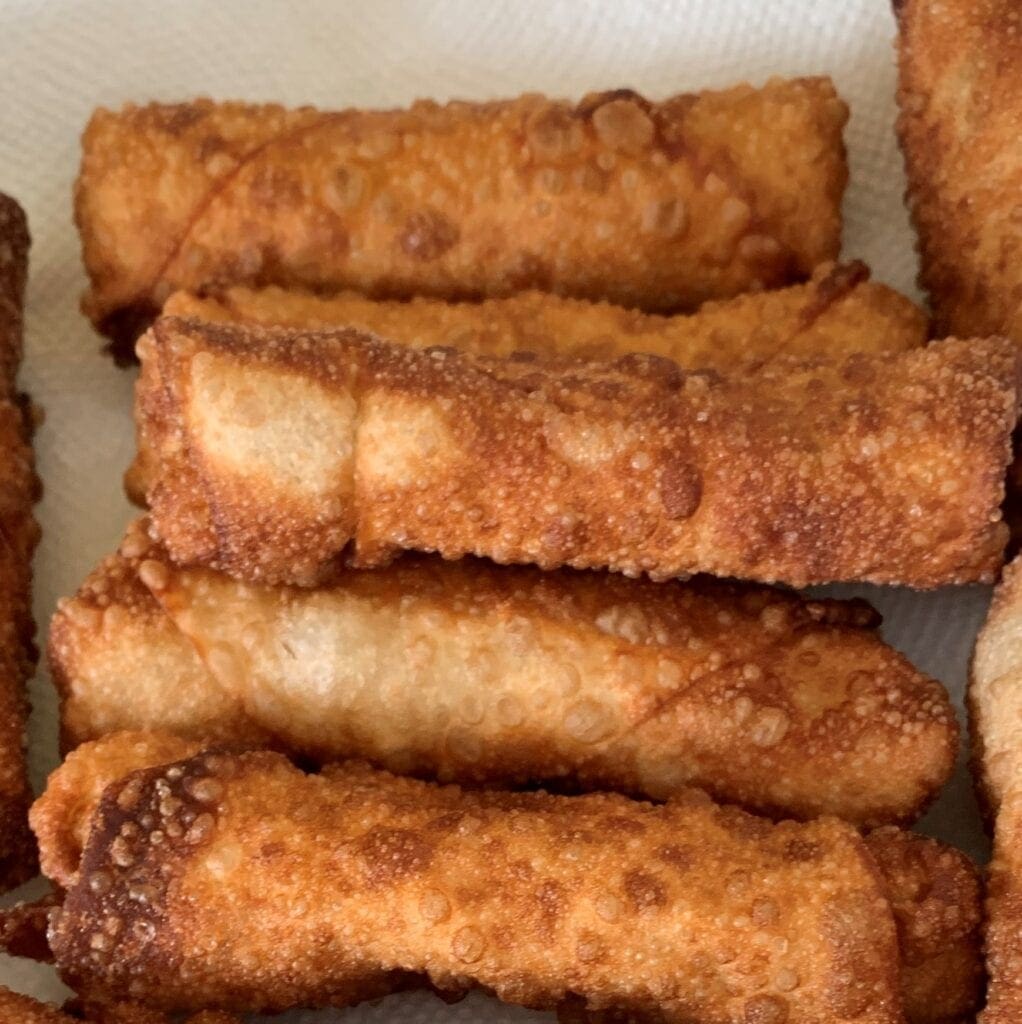 Crunchy and Creamy
Just like the restaurant version, these egg rolls are crunchy on the outside and creamy on the inside. The cream cheese, crab, and hint of green onions give this a fresh taste. Simple ingredients make this easy.
An easy and delectable appetizer recipe. Enjoy this any time of the day as a snack.
Rolling up Egg Rolls
The hardest part is rolling them up. If you have not tried to roll an egg roll before, I urge you to give it a try. Put the scrumptious ingredients on one corner of the egg roll wrapper, pull up the corner over the filling. Give it a slight roll up and fold over the sides. Continue rolling up and just before rolling all the way, brush the edges of the wrapper with the egg wash.
This will help seal the wrapper together and all the cream cheese mixture will stay securely inside while frying.
Enjoy the Crab Rangoon Egg Rolls Baked or Fried
We prefer the fried taste as they seem to get a bit crispier and the little bit of oil that gets baked into the wrapper seems to enhance the flavor for us.
However, if you are on a quest to eat healthier, it is just as easy to make up and entire cook sheet of these little treats and pop it in the oven to bake. Save the calories of the oil; they will get crispy in the oven too.
If you want to bake these Crab Rangoon Egg Rolls:
Bake in an oven pre-heated to 400 degrees Fahrenheit for 20 minutes, turning halfway through.
This is an especially great way to make these if you are hosting a party or cooking for a larger crowd.
Egg Roll Wrapper Versus Wonton Wrappers
We have made crab Rangoon using wonton wrappers before; however, we love using the egg roll shaped wrappers best. They seem to be easier to dip in the sauce and they do not have that dry and crispy edge on the top.
Do you love egg rolls? They are very easy to make. Here is our favorite homemade egg rolls. We actually like them better than the restaurant version. Today, the recipe calls for pork; however, we have made them with beef, chicken, and crab. All good.
Have you ever heard of a Dessert Egg Roll? Another easy recipe with cream cheese and strawberries this time. However, you can use any type of fruit with the cream cheese. Finish them off with powdered sugar and you have a winner.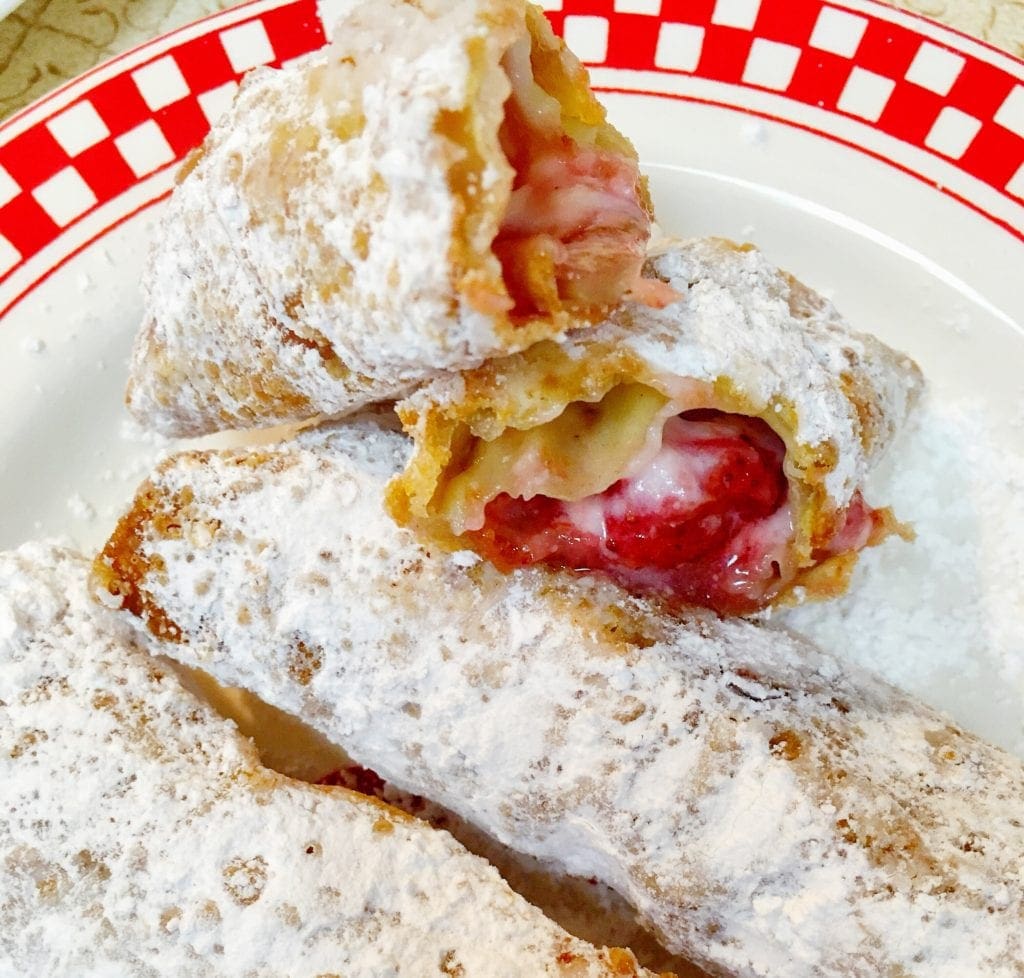 Other Restaurant Copycat Recipes
Normally, when we are enjoying our crab rangoon egg rolls, we like to have them with our fried rice or stir fry. That is the way that we love to enjoy them when we are out to eat. So, when we make this at home, we generally have this together at home too.
Recipe for Stir Fry – Very Easy and Yummy!
This is best if using day-old cooked rice. Otherwise, it does have a tendency to stick to the pan. Simple ingredients and tasty.
Crab Rangoon Egg Rolls
These Crab Rangoon Egg Rolls are just like the restaurant food you would enjoy when eating out with your family and friends. Simple ingredients and a few minutes in the fryer is all it takes to make these delicious goodies.
Ingredients
2

Cups

Vegetable Oil

for frying

8

Oz.

Cream Cheese

Softened

5

Oz.

Crab Meat or Imitation Crab

Minced

1

Green Onion

Minced

1

Tsp.

Worcestershire Sauce

1/2

Tsp.

Garlic

Minced

1/2

Tsp.

Salt

1/4

Tsp.

Lemon Juice

1

Egg

12

Wonton Wrappers
Instructions
Heat vegetable oil in a kettle over medium heat. Heat until approximately 350 degrees Fahrenheit.

If the cream cheese is not already softened, you can soften it in the microwave on power level defrost for 1-2 minutes. Mince onion and crab.

Combine the cream cheese, onion, crab, Worcestershire sauce, garlic, salt, and lemon in a mixing bowl.
Filling and Folding the Egg Rolls
Place the egg in a small bowl and mix using a fork.

Place about 2 tablespoons of filling on an egg roll wrapper.

Begin by rolling over the edge over the filling, fold in the sides and continue rolling. When you reach the end of the wrapper, use a brush or your finger and moisten the ends of the wrapper with the egg wash.
Frying Egg Rolls
Fry the egg rolls a few at a time for approximately 2 minutes or until golden brown.

Once fried, remove the egg rolls with a tongs and place on a plate lined with paper towel. This will allow any excess oil to drain away.

Enjoy plain or with your favorite sauce.
Nutrition
Serving:
1
egg roll
|
Calories:
105
kcal
|
Carbohydrates:
5
g
|
Protein:
5
g
|
Fat:
7
g
|
Saturated Fat:
4
g
|
Cholesterol:
40
mg
|
Sodium:
291
mg
|
Potassium:
65
mg
|
Fiber:
1
g
|
Sugar:
1
g
|
Vitamin A:
284
IU
|
Vitamin C:
1
mg
|
Calcium:
30
mg
|
Iron:
1
mg
If you loved this post, please share. It helps to show me that these types of posts are helpful – thank you!
I hope that you liked this recipe. If you are looking for more ideas on what to make, here are a few other recipes that you may enjoy.